10 Ways to Make Going Back to School Fun!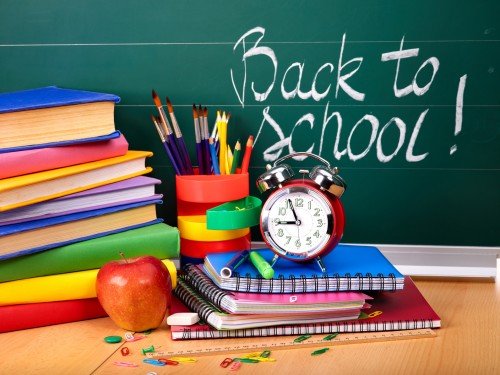 Can you believe it's August already? Where did the summer go?
If you've set foot in Target or any other major retailer, you know they've been ready for back-to-school season for a few weeks now. If you have school-aged children, they are probably in denial and dreading the end of their summer fun. Or maybe you have a tot who's off to nursery school or kindergarten for the first time this year and feeling a bit apprehensive.
Whether your kids are old pros at the back-to-school routine or doing it for the first time, there are ways you can make the process fun and less stressful for them.

10 Ways to Make Going Back to School Fun
Shopping: Although your kids may hate seeing that dreaded back-to-school aisle set up at Target, it does have a certain allure. A couple weeks before school starts, make a big deal out of taking your kids to get their school supplies. Make a list beforehand (or use the list the school gave you) and let them have fun choosing notebooks, pens, pencils and other items. This is a great time to remind them of kids in need as well. Research local charities/schools where you can buy new school supplies and donate them—get your kids involved in choosing products for needy children. Or, visit this site.
Breakfast: Getting kids to eat breakfast before school can be a bit of a battle. But on that very first day of school, try enticing them with their favorite blueberry pancakes or Belgium waffles. Let them know beforehand you're going to make it so they have something to look forward to on a morning that may be full of jitters.
Clothes: Couldn't get your kids excited about buying those back-to-school supplies? Well, I'll bet they will feel differently about a new wardrobe. Make this shopping spree an all-day affair with a stop for lunch at their favorite restaurant and a fashion show for dad when you get home. If the new notebooks don't get them excited to go back, hopefully the wardrobe will!
Labor Day Weekend: Nowadays, most kids start school sometime in mid to late August (although there are exceptions to this). This means they'll have a long weekend (Labor Day) shortly after they go back to school. Plan something ahead of time for the holiday weekend, even if it's just a day trip to the state park to go hiking. Having something fun to look forward to will help your kids get through those first couple weeks of school, which are always the toughest.
Brain Busters: Even if you've been diligent about making your kids read throughout the summer, chances are, there has been more swimming and other physical activities than academics. It's time to start easing them into a schedule that involves some cerebral activity again. Make it fun with flashcards! Buy a couple new packs of flashcards suited to your child's age and use them every night after dinner. It will get your child used to homework time in a fun, interactive way.
Lunchtime: Remember choosing your lunchbox for the school year? Well, times have change a bit, but kids do still bring lunches—just not in a Smurf-covered box. No, lunchboxes are way cooler now and made of much nicer material! You can find a million of them online—check out this site lunchboxes.com—or make it part of your back-to-school shopping spree. Now, what are you going to put in that ultra-cool lunch box? The internet is PACKED with amazing, creative, healthy ideas for lunches (check out this site). Pinterest is filled with great ideas, too!
Connect with Friends: In the summer, kids often lose touch with some of their school friends when everyone goes off to different camps or visit grandparents. Set up some play dates before school starts to help your child reconnect with friends. It will help him to feel less anxious about seeing everyone on that first day of school.
A New Routine: Getting up earlier, going to bed earlier, setting aside time for homework … from a kid's perspective, there's not a lot to love about the school routine as compared to summer. So give them something they can look forward to every day. Whether it's a half hour of cartoons before bedtime or helping choose what to make for dinner, they should have a part of the day they can look forward to.
Shoes: If the back-to-school clothes shopping didn't cheer up your kids, maybe the new shoes will! Boys in particular may find the idea of a new pair of super-cool sneakers irresistible!
Study Space: Does your child have a space he can write, read and draw without distraction or interruption? If the answer is no, it's time to create one! If there is space in his room to set up a desk, great! If not, designate a kitchen table or other table that's not near the TV and will be easy for you child to spread out worksheets, drawing materials and other items.
Whether your child is starting kindergarten or fifth grade, going back to school in the fall can be stressful. Emphasize the fun parts of the back-to-school ritual and get your child excited about learning and reconnecting with friends.