11 Grilling Recipes You Must Try This Summer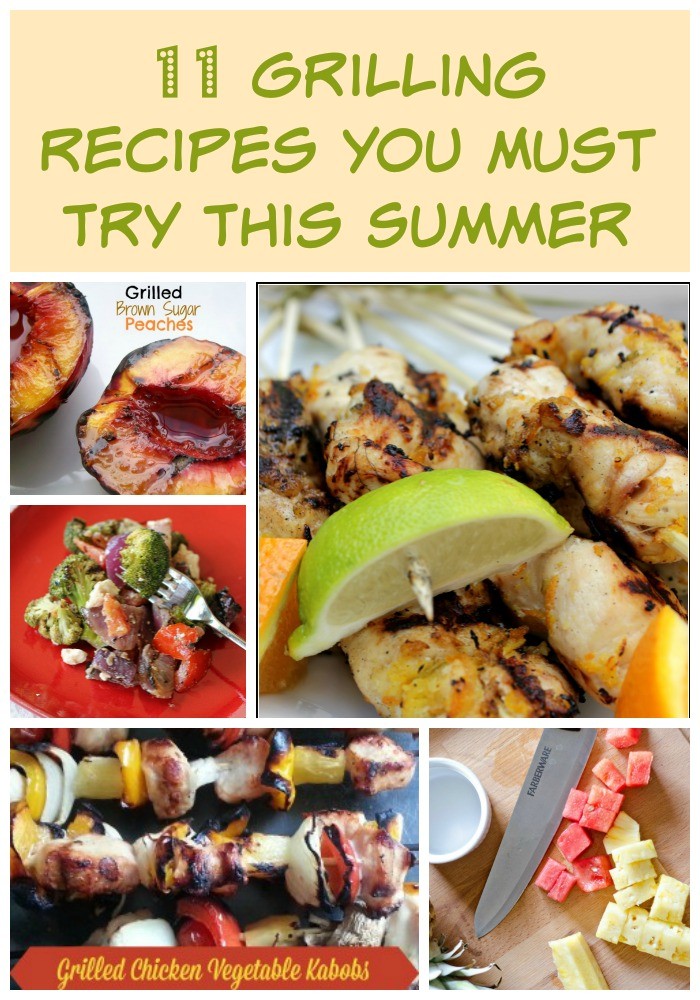 11 Grilling Recipes You Must Try This Summer
Grilling is the ultimate way to prepare food in the summer. There just isn't any other flavor like a fresh grilled hamburger patty or chicken breast. But killer flavor isn't the only reason to choose grilling. By grilling your food, you are essentially cooking outside and keeping your kitchen cool.
Tired of boring plain hamburgers and hot dogs? Here are 11 Grilling Recipes you Must Try this Summer!
Grilled Citrus Chicken Kabobs – Whether you serve these as an appetizer or for the main event, you can't go wrong with these quick and healthy kabobs for the grill! A great way to use different cuts of chicken as well!
Spicy Chipotle Burgers – Add a smoky "kick" to your grilled burgers this summer by adding some chipotle peppers! Use as many or as few as your taste buds call for; and you can use the leftover peppers in a marinade, salsa or BBQ sauce later!
Grilled Pineapple and Watermelon Fruit Kabobs – Dessert on the grill! I love that it's a matter of cutting fruit, popping onto the wooden or metal kabob, and grilling for 2-3 minutes a side. By cooking it over the heat of the grill, the whole flavor of the fruit changes. We've had to start making double batches to have leftovers for breakfast!
Homemade BBQ Sauce – Once you make your own BBQ sauce, you'll never go back to store-bought again! Whether you like to make yours sweet, spicy or with a tang, simple change-up this basic recipe and be sure to have it on hand when you fire up the grill. Doubles as an awesome sauce and dip during the entire year.
Grilled Corn with Honey Mustard Butter – Corn cooked in the husk on the grill turns out so sweet and flavorful that it's always a hit. It's best when you can soak it the night before; and I love that I can cook our vegetables right alongside the steak or burgers!
Garlic Parmesan Grilled Potato Wedges – So these actually pre-bake in the oven and get finished on the grill but they are so delicious you shouldn't pass them up! You could pre-cook  them at home and finish them while camping for a great addition to your meal. I love that I can give my family a bunch of flavor for very little cost.
Grilled Tomato Relish – This is a simple but tasty recipe calling for tomatoes, a dill pickle and a white or yellow onion. Slice them up, add a little oil and salt and grill them until they are tender. Once chopped and mixed together, you have an awesome topping for hot dogs, hamburgers or even in a potato or pasta salad!
Grilled Onion and Broccoli Salad – I love the taste of the grilled vegetables coming together along with the feta cheese and seasonings. It's great to eat cold too and makes a good choice for a summer pot luck.
Grilled Chicken Kabobs – A wonderful combination of chicken and bell peppers. These are easy to prepare ahead of time for a large crowd or just to cut down on meal prep time. Add your favorite marinade, seasonings or vegetables to make it your own recipe.
Spicy Burgers with a Cool Surprise – Right when you feel the burn, a surprise cool hits your mouth and offers a great tasting combo of spicy and cheese. Sure to be a huge hit at your next bar-b-que!
Brown Sugar Peaches – It's hard to believe this amazing dessert is made of two ingredients: peaches and brown sugar. These would be amazing with a little vanilla ice cream or sliced and tossed into fruit salad.
What do you think? Which of these 11 grilling recipes you must try this summer sound the best?