11 Water Play Ideas for Summer
Summer isn't my favorite season, I'm just not a fan of being hot. But summer has one redeeming quality, water play. Be it good ol' fashioned swimming, playing in the sprinklers, or a water fight, I'm there!
Today I'm sharing 11 water play ideas for summer that the kids (and probably you) will love! Getting wet and messy is how I enjoy summer. 🙂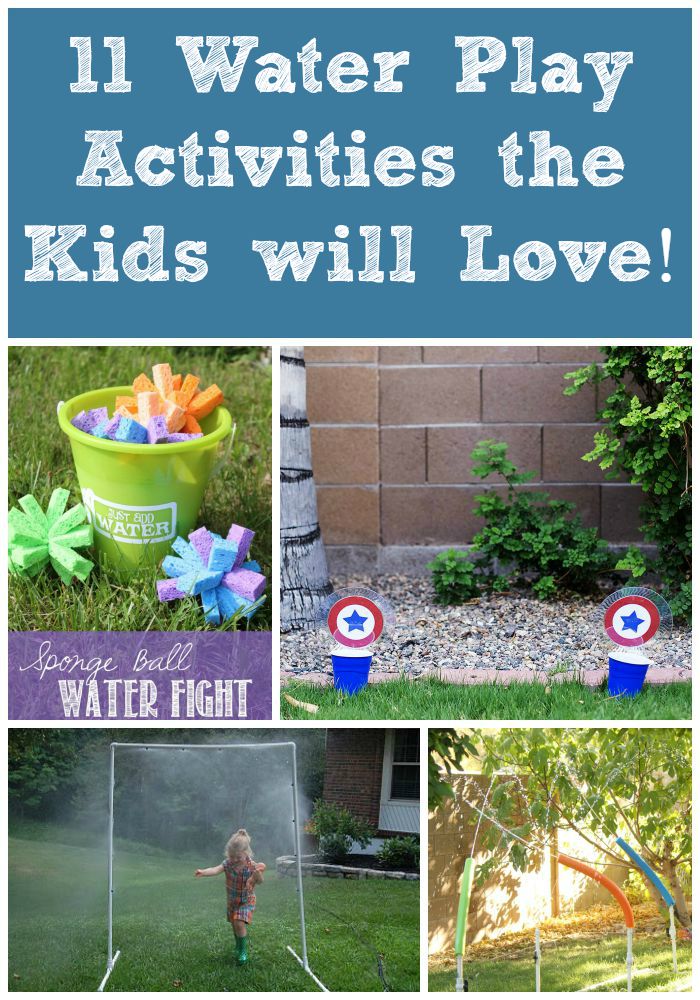 Sponge Ball Water Fight – Make these cute sponges, fill a bucket with water and head outside for some fun!
Trampoline Water Games – Learn about the different games the kids play with their trampoline and the garden hose.
DIY Water Blasters –  An awesome backyard project; the author says it takes less than an hour to put it together for a whole season of water play fun!
Water Shooter Tie-Dye Outdoor Fun – Let your kids tie-dye their own sheet using a water shooter and dye with these simple instructions!
Squirt Gun Targets – Use plastic cups and plates as targets to knock down with a shot from a water gun!
Kid Wash Sprinkler – With just a few pieces of pipe, you can set up a "kid wash" to run through, set over the kiddie pool or run their bikes through!
Make Your Own Slip & Slide – Remember these as a kid? Now you can make one for your kids in the backyard!
Painting with Water – So simple yet a great activity for the younger crowd.
DIY Water Wall – Just need a fence, plastic bottles, screws and water to set up this fun and wet activity for the kids.
Underwater Glitter Sand Box – Inside or out, this box is a great idea for sensory play this summer.
Instant Water Balloons – I saw a video of a dad filling these earlier this year and they look like a blast! They've sat in my Amazon cart all summer, as I'm just waiting for the right time.
Which of these 11 water play ideas will you be trying?