16 Uses For Essential Oils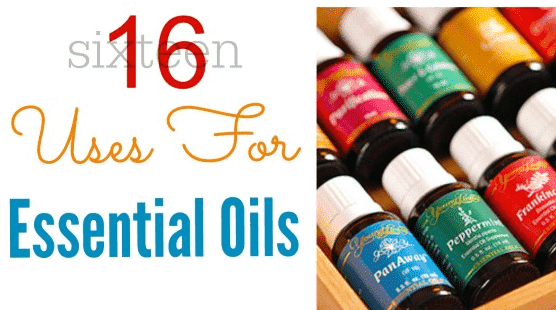 Ok. I'm going to be real with you for a minute. I had heard of essential oils, but I didn't know anything about them and I was skeptical. Really the only oil I had any experience with was tea tree oil and that was just to keep my wet pail and cloth diapers from stinking. I never imagined that I would end up being  THE crazy oil lady.
I began using Young Living essential oils for anxiety and sleep following the passing of my Daddy.  I'd had anxiety issues in the past, but didn't like the idea of taking prescription medicine to manage it, so I always just white knuckled through those times.  This time was different though. We are in the military and during a move to a new duty station I suddenly lost my dad. It was just too much all at once. I wasn't sleeping, and if I did fall asleep I would have nightmares. Soon I was struggling to make it through the day, sleep deprived and anxious.  Throw in dealing with the estate mess from my father passing and it was more than I could bear.  When my husband gently suggested I go see someone I knew I had to do something.
I reached out to my dear friend, Annie, after seeing her posts about the oils.  Purchasing that
starter kit
changed my life! Within two weeks of using the oils for sleep my sleeping patterns had returned to normal. I was getting restful, rejuvenating sleep!! My anxiety episodes have decreased as well. Now when I begin to feel anxious I go to my oils! I love having a safe, natural, and fast acting way to deal with the anxiety when it arises.
Oils have so many different uses which is one the reasons I gave them a try and why I ended up falling in love with them! Here are just a few we have used them for:
.
Allergies
Fevers
Tummy Aches
Sleeping Aid
Anxiety
Stress
Bug Bites
Cuts and Scrapes
Pain
Cleaning
Headaches
You can also use them to make:
.
Lotions
Facial Scrubs
Pain Cream
Sunscreen
Bug Spray
After ordering the
starter ki
t I was able to get my daughter off of her over the counter allergy medicine!  I wish I known about these amazing oils when she was a baby to help with those stuffy noses and viral fevers that are so miserable. All of this is why I am now the crazy oil lady. I want to share these amazing oils with everyone!!
.
So, what exactly, are essential oils? They are liquids and aromatic compounds that are vital to the processes of living plants. The oils help the plants to fight off bacteria, viruses, parasites and fungi. Homeostasis is their goal. How do they do it? The particles are very, very, very (microscopically) small and are able to penetrate cell membranes. Once in the cell the essential oils are able to clean up receptor sites, reprogram DNA, deliver oxygen, and erase or deprogram miswritten codes in cell memory.
Now that you know how they work, why Young Living? For me it was simple. Quality, quality, quality.  Young Living has been in business for 20 years, longer than any other essential oil company.  It's founder, Gary Young, is obsessed with quality. Young Living had a seed to seal process and guarantee. This means they over see every step of production. Beginning with selecting the seeds, growing the plants on farms that Young Living owns or co-ops with, distilling their own plants and testing their products to ensure consistent quality, and bottling the oils for distribution.  You can read more at 
http://www.seedtoseal.com/en
It's my ambition as I approach my mid 30's (GASP!) to maintain youthful, fresh, smooth skin. I'm slightly obsessed with Lavender, Lemon, and Honey body scrub. Here's how you can make it:
.
Lavender, Lemon, and Honey body scrub
Ingredients
1 cup brown sugar
½ cup coconut oil
1 Tablespoon honey
5 drops lavender essential oil
5 drops lemon essential oil
Instructions
Combine all ingredients into a glass jar, stir well and enjoy! Lately I've added 5 drops of bergamot with great results!
For more information on Essential Oils or to order your starter kit, please visit my website:
http://bit.ly/1msyvbo

.