2 Simple Entertaining Ideas +Giveaway!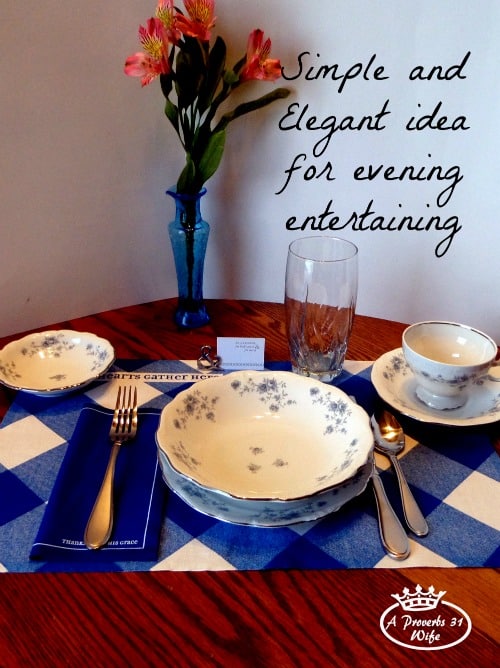 In today's society, we no longer offer hospitality. Instead, we call it entertaining and there are huge expectations that go with it. How about 2 simple entertaining ideas that truly allow for hospitality without all the stress of planning something fancy and serving it?
Hospitality verses Entertaining:
Entertaining makes one think of a fancy meal with at least 5 courses. A spotless house, and a kitchen that shows no signs of having prepared those 5 courses are also expected. It's the stress of getting everything together and in front of the guests. It's the being so stressed and busy that you never actually get to talk with your guests. And it's the sigh of relief after everyone is gone.
Hospitality is much simpler. It's the front door thrown wide in welcome, it's the inviting smiles of friends as they great you and pull you inside with a hug. It can be a simple meal, or maybe not even a meal but just a few snacks. It's the laughing together and spending time with your friends.
2 Simple Entertaining Ideas
Idea number one: A quiet evening with with a few close friends where you serve a meal and then enjoy talking together and catching up.
This is truly the time to pull out your nice dishes. I understand that it takes time to wash china when you could just toss things away, but getting out the "pretty stuff" is just one way to tell your guests that they are important.  In addition, many times when the meal is over, your women guests are willing helpers with the dishes, and it can give the guys time to talk "guy stuff".
This is a time to pull out place-mats, cloth napkins, and even place-cards if you like.  Your menu can be simple but filling. I've placed dishes for soup and salad, a desert, and then coffee or tea afterwards.
Menu idea for a gathering of close friends:
I used my fine china (garage sale find), and regular flatware for the table settings. The place-card and holder came from Mary and Martha. The place-mat and cloth napkin are from Mary and Martha as well. Both of these are reusable up to 6 washings. They are very nice, slightly more expensive than paper and much cheaper than actual cloth. The place-mat says Grateful Hearts Gather Here, and the napkin says Thankful for His Grace.
~~~~~~~~~~~~~~~~~~~~~~~~~~~~~~~~~~~~~~~~~~~~~~~~~~~~~~~~~~~~~~~~~~~~~~~~
Simple entertaining idea number two: Game night. These are best for Sunday evenings when there isn't church or something else going on. Winter time is the best for this because one cannot be outside much and Sundays can seem long when it gets dark by 6:30.
For your basic game night you will need: salty snacks, sweets and drinks; and again coffee and teas are perfect.  I popped corn here, and put out chocolate and gummy bears, along with hot chocolate, teas and coffee. If you wish to serve some actual food, consider buying and baking freezer pizzas or just order in pizza for complete simplicity.
The theme you want here is fun. You don't put out fancy dishes because you are going to be playing games; paper works great in this case and is easy to move around when the cards are flying.
I used some fun stuff from Mary and Martha here as well. The boxes that I put the candies and teas in, say Goodness and Love. While the boxes that I put the popcorn in say "He fills my heart with good things". They are just a small part of the new paper-ware products found at Mary and Martha. Both styles of boxes are very sturdy and are a fun way to add color and scripture to your gatherings.
What I hope you will take away from this post is: Hospitality and entertainment can go hand in hand. You can offer warm hospitality and keep things elegant (or casual) at the same time, leaving you free to enjoy being with your guests.
Disclaimer: I was sent the items from Mary and Martha in exchange for a fair and honest review of them.  Since I find ordinary reviews boring, I instead chose to show you the fun and useful ways in which I will use them.