2012 Acura TSX Sport Wagon: Family Car With A Sportscar Feel
If you are in the market for a family car, take note. The Acura TSX Sport Wagon has all of the functions and storage space a family needs, while keeping up with all of the power and sport features that makes Acura a favorite of car lovers everywhere.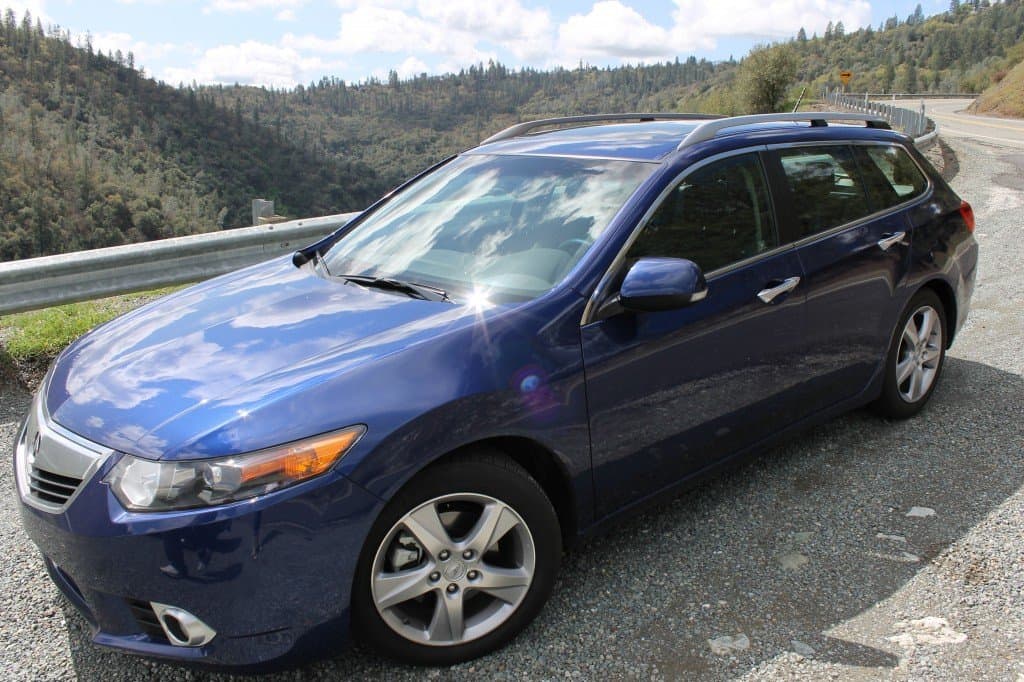 I had the pleasure of driving my own family around in the TSX Sport Wagon and enjoyed the experience so much that I didn't want to return it! There are so many features made to make your life a little easier, which is the most appealing thing to a parent when looking for a new car.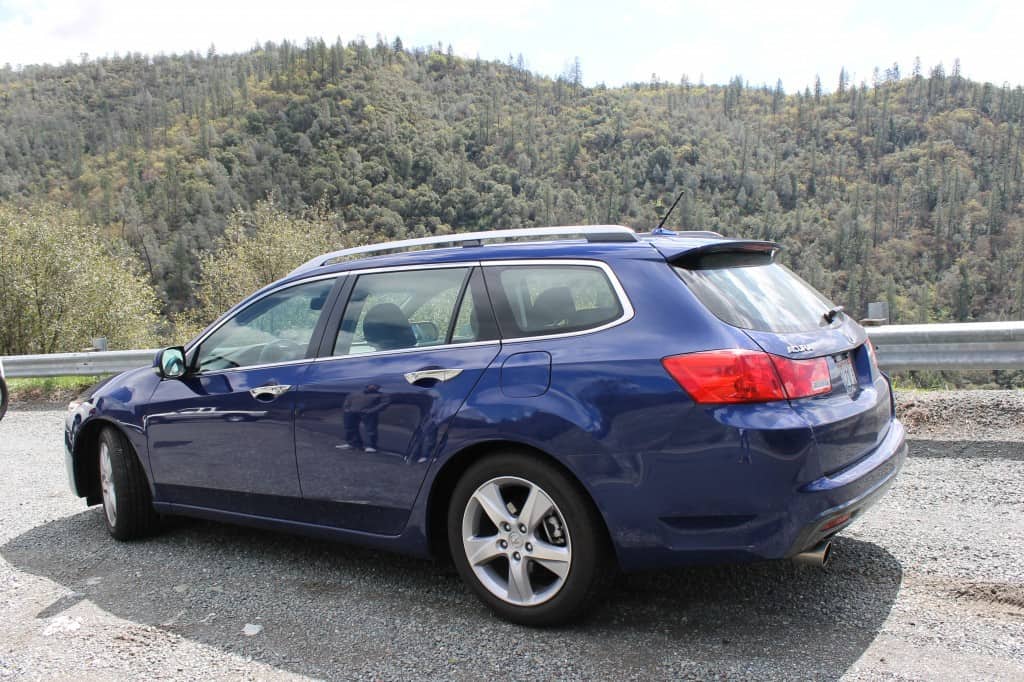 We are looking to grow our family and need a car with a little more space than your typical sedan, but we are NOT looking forward to the gas bills of an SUV or minivan. The TSX Sport Wagon is a wonderful middleman, offering all the storage space of a bigger car but with a combined 25 mpg to save you from the excruciating gas bills.
Storage
There is so much storage space in this car, not JUST in the trunk, but throughout the car—13 storage spaces, to be exact—in addition to several beverage holders. At least six storage spaces are within easy reach of the driver, including:
A center-covered storage bin, which contains a USB port, auxiliary audio input and 12-volt power source.
A driver's door bin
An enclosed change tray
A covered center console compartment
An overhead sunglasses case
A cubbyhole on the side of the front center console
Rear passengers enjoy:
Dual beverage holders
Bottle holders in the door panels
Deep front seat-back pockets
And in the cargo area in the back you'll get this space:
With the rear seats up, there's 31.5 cubic feet of cargo space as measured below the window line.
The 60/40 rear seat backs fold flat with the head restraints in place, doubling the main cargo space to 66.2 cubic feet.
One large, hidden compartment flanked by two separate smaller ones lies beneath access doors in the cargo area floor.
An additional compartment inside the left wall is designed to hold emergency items such as road flares and a first aid kit that's available as an accessory.
Flat sidewalls and a carpeted floor ease loading and unloading.
Cargo hooks in the floor make it easy to secure items in place.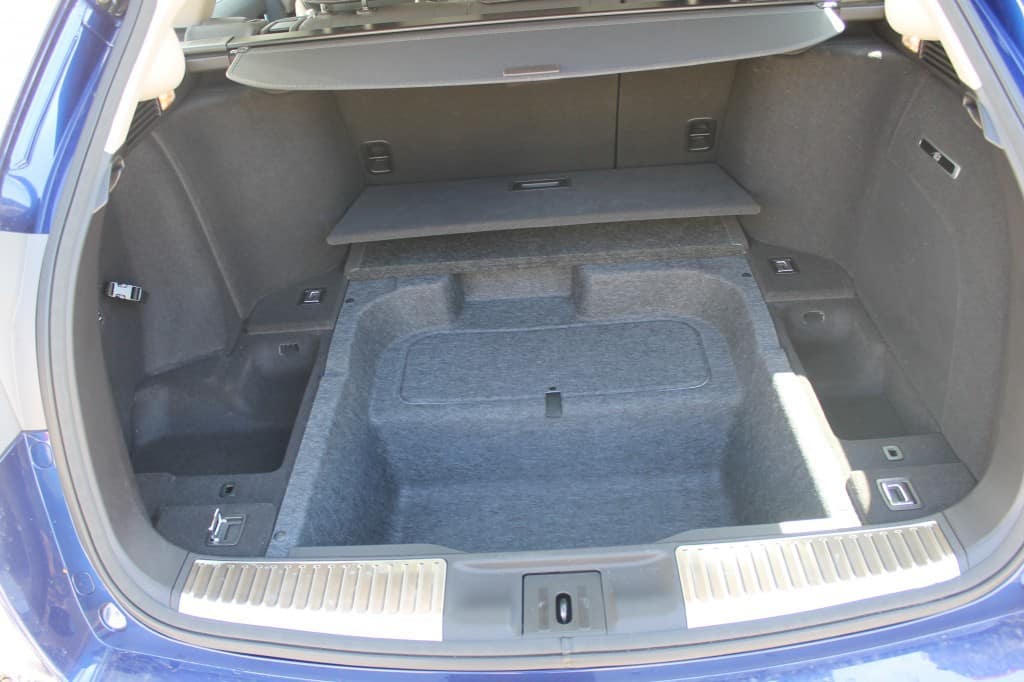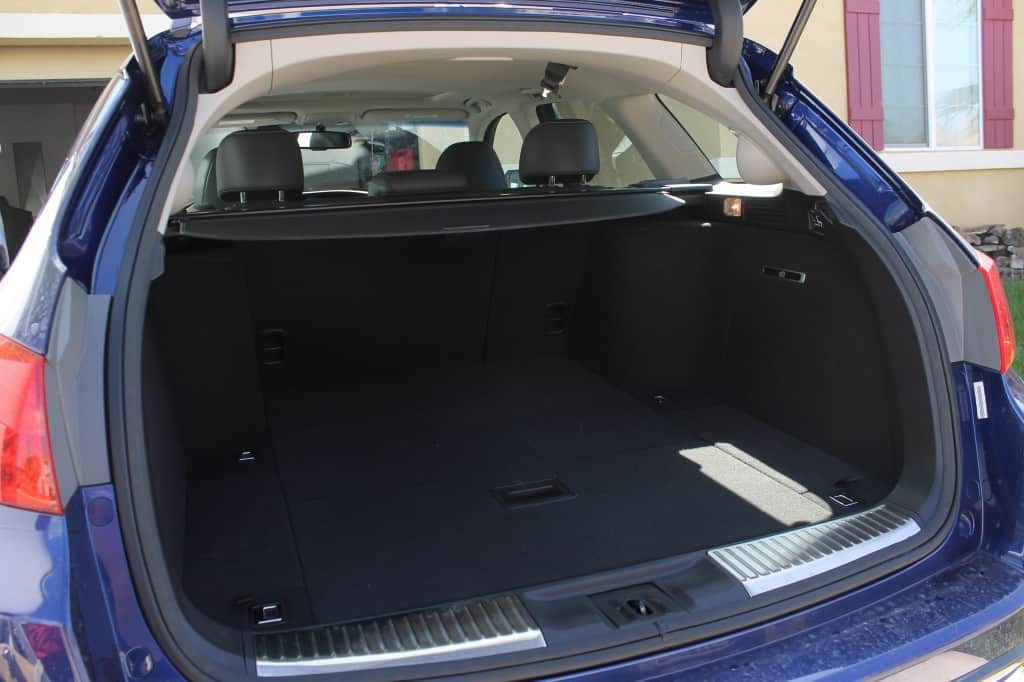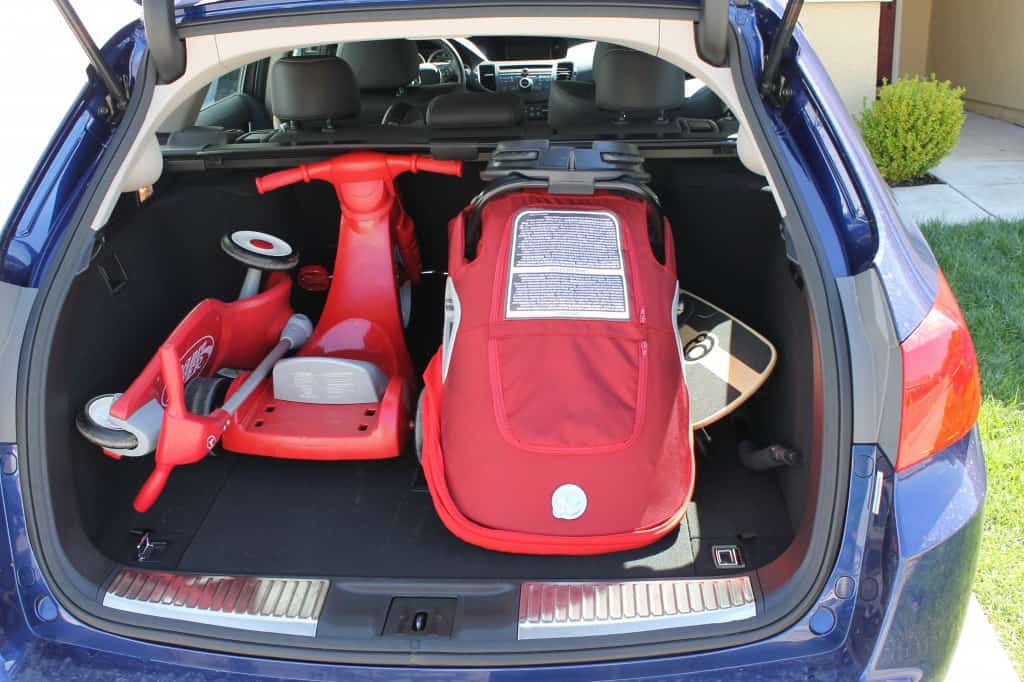 We fit my bulky stroller (which completely fills up my current sedan's trunk), my son's tricycle, and his scooter, with the diaper bag in the hidden space below to keep it close, but out of the way, and there was still room to spare! I can imagine family road trips would be a lot less cramped with storage space like that for all of the luggage.
This car isn't your average family wagon, though. We've come a long way since the days of the Griswold family truckster, folks, and my previous view of a wagon has gone out the window after driving the TSX Sport Wagon.
Performance
This car is a really fun drive! It has tons of power and feels like a sports car. While it is a five-speed automatic, it also comes with a sport shift feature to give it the benefits of driving a manual, but with the ease of driving an automatic. No clutch needed here! Just use the steering wheel-mounted paddle shifters, which deliver quick, precise shifts at your fingertips. You can also quickly downshift while in "drive" for easier passing! This feature was definitely my husband's favorite, and one mine, too. We have only ever driven manual cars, but the Sport Shift mode is a fun feature.
Technology
We also loved the navigation (available in the optional technology package) and sound system in it. Easy to use and completely customizable, it is displayed on a large, in-dash screen with easy-to-read menus and a large selector knob, which makes it easy to navigate. The steering wheel houses the audio system controls, and in the optional technology package it also has a button for voice recognition, making it even easier to man without taking your eyes off the road.
A neat part of the sound system we noticed was the speed-controlled volume! As we would slow down coming off the freeway, the volume would come down a bit in order to make up for the lack of noise. I tend to switch the volume back and forth as I drive and I found that I didn't have to do that at all in this car!
This car comes standard with Bluetooth HandsFreeLink system  that  works with many Bluetooth-enabled cell phones to let you receive and initiate phone calls through the TSX Sport Wagon audio system without ever taking your hands off the wheel. A one-time pairing process on a compatible phone enables you to communicate wirelessly, and up to six phones can be paired to the system. When available, an incoming call will display the number if it is entered into the speed-dial list. The phone can then be operated through the vehicle audio system without ever leaving your pocket or purse. On models with the Technology Package, HandsFreeLink functions can be viewed and operated through the navigation screen. You can download all of your compatible phone's numbers at one time into the navigation system's hard drive. Bluetooth functionality is a needed feature in cars anymore, and the Bluetooth in the TSX Sport Wagon is very clear on both ends.
Another reason to upgrade to the Technology Package is the rear view camera.
While some cameras are fish-eyed and hard to use, the camera on the TSX Sport Wagon is crisp, clear and includes guidelines to let you know your safety area. Also, when the car is in Reverse, the side mirrors tilt down to make it easy to see if anything or any person is near the car. One of the best reverse systems I've used.
Comfort
This car was so comfortable to sit in, front and back! I have back issues, thanks to pregnancy, and sitting in this car was great! I loved the lumbar support in the driver seat because I like to put a lot of pressure on my lower back, and it was easy to switch it back to a normal position for my husband to use. The Driver's seat has eight-way power adjustment with memory for two different drivers, and the passenger seat moves four ways. Both front seats have dual level heat, and have a dual zone climate control, making things even more comfortable for both the driver and passenger. There is plenty of leg room in the front seats, and average legroom in the rear seats. I sat in the back and was comfortable, and I am 5'9″ with long legs, but my son was able to kick the front seat with little effort.
A wonderful feature we appreciated was the air vents in the rear seats. My son was able to to stay comfortable without my blasting the front air vents, and that was great.
The features every parent will want to know about are:
Latch anchors and upper tether anchors on the two side rear seats
Automatic windows lock
Child safety locks on the rear doors
The rear door opens and closes automatically, making it easy for a parent with no free hands
Plenty of storage for all of your child's needed accessories
Bluetooth Link makes for safe, hands-free talking on your phone
Rearview camera allows for safe back up
Cup holders in the backseat for those sippy cups!
After driving the TSX Sport Wagon on the freeway, in stop-and-go rush hour traffic, and on the side streets and the back road hills of the Northern California gold country, we are seriously contemplating purchasing one for our family. We enjoyed the power, appreciated the storage, and my son loved that it came in blue.
The Acura TSX Sport Wagon is the perfect blend for a growing family on the go!
* Acura provided a TSX Sport Wagon for review, but all opinions are my own.