2013 Holiday Gift Guide: Gifts For Moms

Can you believe there are only 23 days left until Christmas? Time sure flies during the holiday season which means the stores tend to be packed and holiday shopping can get overwhelming. Some of my favorite items can be found online are unique stores that will have that special mom you are shopping for in awe of the thoughtfulness you put into her gift. I have compiled  a list of some of my favorite items I just know she will love. Here are my top 10 favorites!
Custom Name Bracelet
The Nameberry Store: $29- $49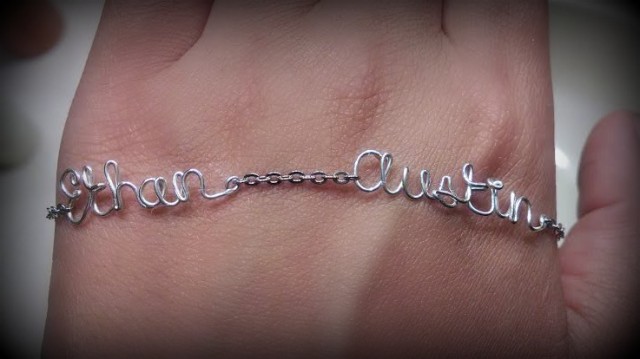 This delicate and original bracelet features one to three names hand-wrought in sterling silver or gold-filled wire by jewelry designer Heather McGuire exclusively for Nameberry. A thin chain of matching palladium- or gold-plated brass, for strength, connects the names. The perfect gift for any mom, or for yourself!  The basic $29 price is for one name; a bracelet with two names is $39; and $49 for three names.
Skip Hop Duo French Stripe Diaper Bag
Skip Hop: $64
Duo's multitude of pockets and compartments easily organize diapers, bottles, sippy cups, food and toys, while keeping your phone, camera, wallet, keys and other personal items safe and dry.
The Duo features our patented Shuttle Clips, allowing it to quickly and easily convert from a shoulder bag to a stroller bag. When attached to the stroller, you can leave the shoulder strap attached or remove it for a cleaner look. The Duo has ten pockets in total and magnetic closures throughout.
Eco Candle – Lavender & Lemon
Elm Baby: $10.50
A fresh blend of lavender and tangy lemon (which can help decrease nausea). This all-natural, soy candle has no toxins, carcinogens or pollutants and burns for 30-50% longer than a petroleum-based paraffin candle.
Bounce Back Aromacology Spa Kit
Basq NYC: $58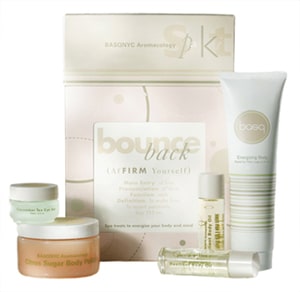 Bounce Back Spa Kit is the perfect head-to-toe lift! Strengthen and firm in 2 steps, polish then nourish. Soothe swelling and fight fatigue with cooling eye gel and energizing lotion. Perfect during or post pregnancy or weight loss, and for an overall lift. This kit has all you need for gorgeous skin at tremendous value. Essential oils and plant extracts have powerful benefits for the body while their scents affect mood, energy level and overall health. Start with Citrus Sugar Body polish – the first step to toned skin. Massage into skin to prevent spongey areas from forming and settling in while the toning oils and butters strengthen and refortify skin. Follow with Resilient Body Toning Oil, packed with Essential Fatty Acids that actually work with your skin for deep, intense conditioning. Zap eye area puffiness and the appearance of fine lines with the cooling, refreshing eye treatment of our Cucumber Tea Eye Gel. Then for an overall fatique buster – use Energizing Body Lotion all over body. Revitalizes your body and mind for a refreshed feel.
Cabernet Sauvignon Caramels
Sea + Cane Sweets: $20
California Cabernet Sauvignon marries caramel and creates a soft, sweet and juicy treat! Candies are individually wrapped and packaged in a cute kraft paper box. 8 pcs are packeged in a kraft paper bag or 20pcs in a cute kraft paper box.
Snow Drop Anemone Personalized Recipe Cards
inkello: $19
One set of twenty personalized recipe cards printed in letterpress with silver, peach and blue-green ink. Your name is set by hand in vintage metal type and printed on each card using an antique letterpress. The stack is neatly tied with a wheat-colored string.
Milk Bottle Measuring Cups
Anthropology: $24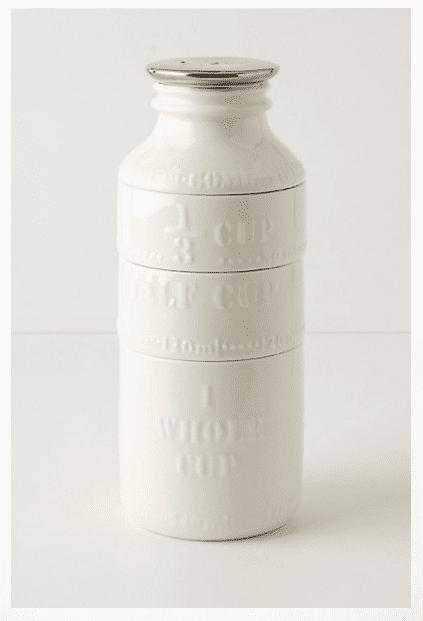 This old-school style cooking set breaks apart to reveal colorful measuring cups perfect for measuring precise ingredient amounts.
Sterling Silhouette Necklace – Bespoke
Bespoke Custom Gifts: $130
Artisan Megan Fales' handcrafted sterling silver pendants are modern heirlooms: The polished silver silhouettes stand out against an oxidized (blackened) silver oval for the perfect mix of contemporary and traditional. The beautiful quality of this weighty, well-crafted pendant shines through. Comes on an 18-inch oxidized silver chain. Custom silhouette pendants are also available
Riedel 'O' Stemless Wine Glass Cabernet & Chardonnay/Viognier Mixed Set (Set of 8)
Wine Enthusiasts: $119
The Riedel Stemless O Wine Glasses are the newest revolution in glassware. Casual yet elegant, these wine glasses are appropriate for fine wine enjoyment, as well as casual sipping. The wine glasses were shaped to fit into a dishwasher and fine-tuned to enhance the pleasure of your favorite wine varietals. In keeping with the Riedel glassware tradition, these wine glasses have become the benchmark for stemless glassware. Machine made in Germany of lead-free crystal. Gift boxed in sets of 2. Dishwasher Safe.
Birchbox
Birchbox.com: $30-$200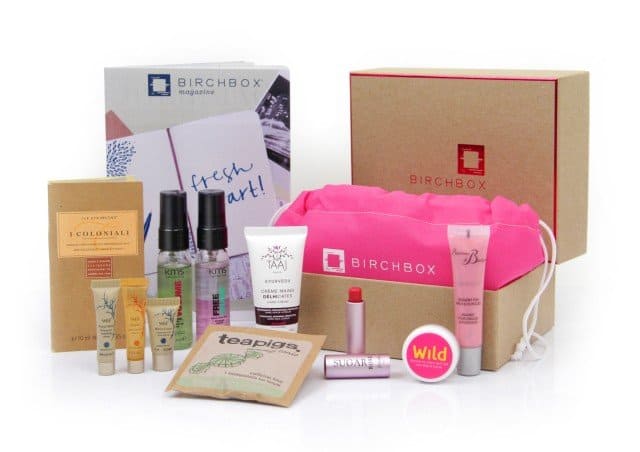 Still confused on what to get that special lady in your life? Birchbox is the best route to go!  Each month, she'll receive a selection of samples that they've tried (and retried) themselves. They source their samples from both well-known brands and emerging gems. The women's subscription includes everything from skincare to makeup, as well as fun non-beauty extras. Birchbox offers 4 different subscriptions for as little as $30 all the way to $200.