It can be quite overwhelming as a new parent to figure out what products you need for your newborn. With thousands of products out there, what should a new parent get? I have compiled a list of my favorite must-have items that I know will help any new parent out. Whether this is their first or fourth, each of these baby items will make your life easier so you can focus on what really matters, your baby.
Pello Floor Pillows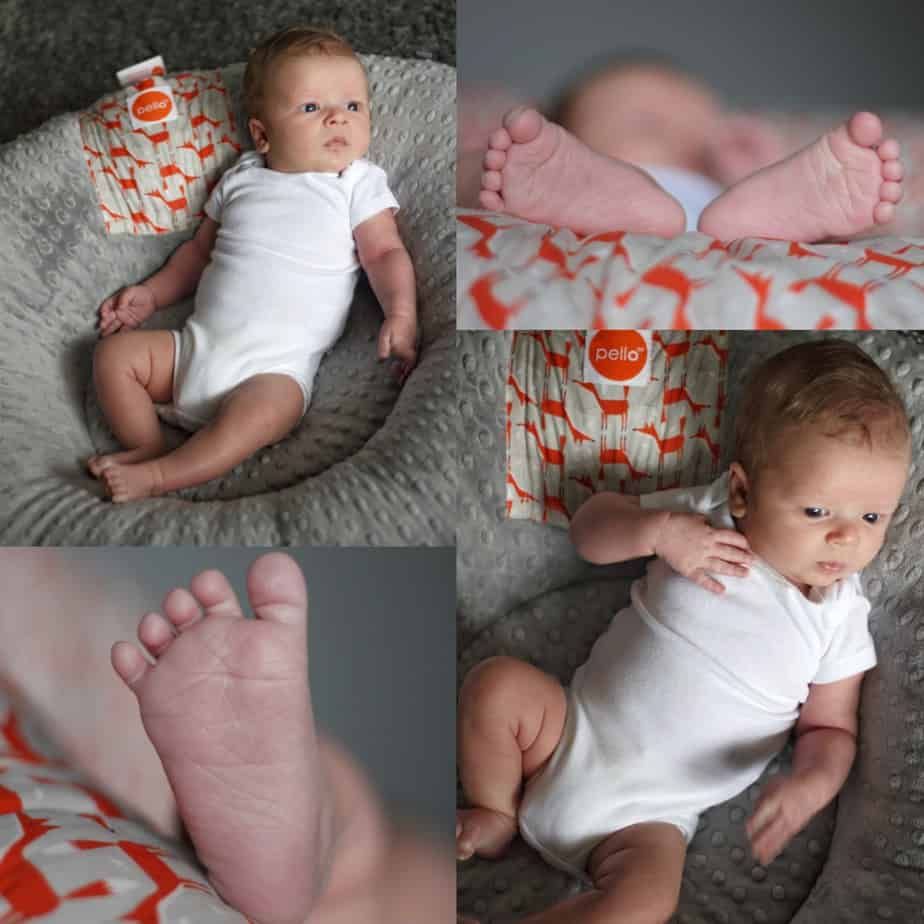 After bringing my son home from the hospital, I wanted a place where I could relax with him. A safe place where he could lounge and be comfortable during the day and still kept me free from the constant holding when I needed to get up and do things. The Pello pillow was everything I could have asked for and more. He napped so soundly on the pillow and it left him feeling comforted. Now that he is getting bigger, we are finding even more use from it. Not only is he still able to nap, but he can lay propped up and is able to stretch out and interact with us. We even use it for tummy time to develop his neck muscles. I love that parents can use Pello throughout their child's growing stages. When my son is learning to sit up, he can use his Pello and it'll add comfort in knowing if he falls forward, to the side, or back, he will have a a soft landing.
Designed by a mom, the Pello Floor Pillow goes beyond the standard play mat, positioning pillow, or baby gym. The Luxe Floor Pillow provides comfort and support, promotes muscle development, and encourages independent play. It also comes double sided for some added fun and to change things up a bit depending on what you want to use it for.
Pello retails for $120 and you can find out more by visiting: https://pellobaby.com
Little Unicorn Swaddle Blanket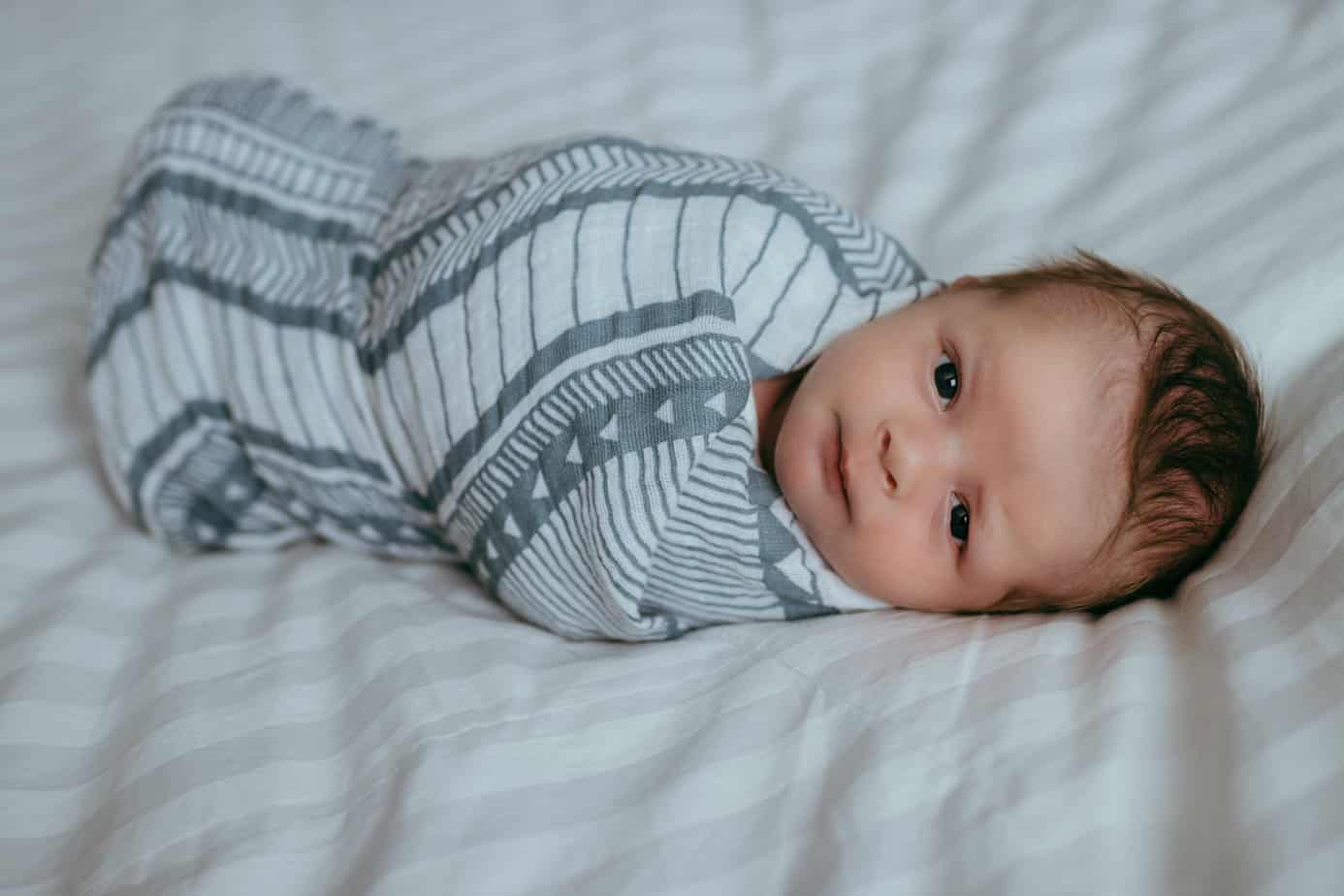 You may recognize this swaddle blanket from my article on Little Unicorn and it's because I am seriously in LOVE with it. They have a ton of different designs for their swaddle blankets to choose from, each one super trendy and modern. They are lightweight, breathable, and the perfect size to use for swaddling, a light blanket, nursing cover and more.
Starting at around $16, you can find out more by visiting: www.littleunicorn.com
Moby Wrap
A favorite between the mom's at Simply Real Moms is the Moby Wrap. It's the best way, in my opinion, to keep your baby close to you while keeping your hands free. We use our Moby Wrap every day, whether it's getting things done around the house, out running errands, or visiting with friends. We wrote about our love of the Moby Wrap which you can read about here.
Each wrap is a one-size-fits-all, and adjusts to grow from newborns starting at 8lbs, infants, and toddlers up to 30-35lbs depending on which wrap you choose. It also:
Offers front and hip carrying options
Soft, breathable fabric
Comfortable to wear for extended periods of time
Machine washable
Moby Wrap retails for $49.95 and you can learn more about it by visiting: www.mobywrap.com
DockATot
DockATot is the #1 baby lounger on the market and if you ask me, yes, it's worth every dollar. My little guy, as well as every one of my friend's baby's absolutely LOVE their DockATot and all sleep so soundly in it. The cocoon design will leave your little one feeling comforted and protected. Your newborn can relax, sleep, play and grow while hanging out in their stylish DockATot. It has been a true lifesaver for us and a product I will always recommend. There is simply nothing else like it on the market that allows mothers to feed, soothe, and bond with baby.
The Deluxe+ dock is the ultimate docking station for your baby ages 0-8 months old or 5-22Ibs. Multifunctional and multitasking, the Dockatot™ Deluxe+ offers a safe and comfy spot that lets baby rest, lounge, play, cuddle, do tummy time and get diaper changes. Deluxe+ docks are lightweight and portable, allowing for easy travel. Additional covers are available for purchase to match your mood, room and style.
Designed with love in Sweden and made in Europe. All materials used are breathable, washable and hypoallergenic. DockATot™ offers excellent air-permeability. All filling materials are sourced from world-leading suppliers with hygienic and non-toxic properties.
DockATot Deluxe+ retails for $185 and you can learn more by visiting: www.dockatot.com
TWELVElittle Diaper Bags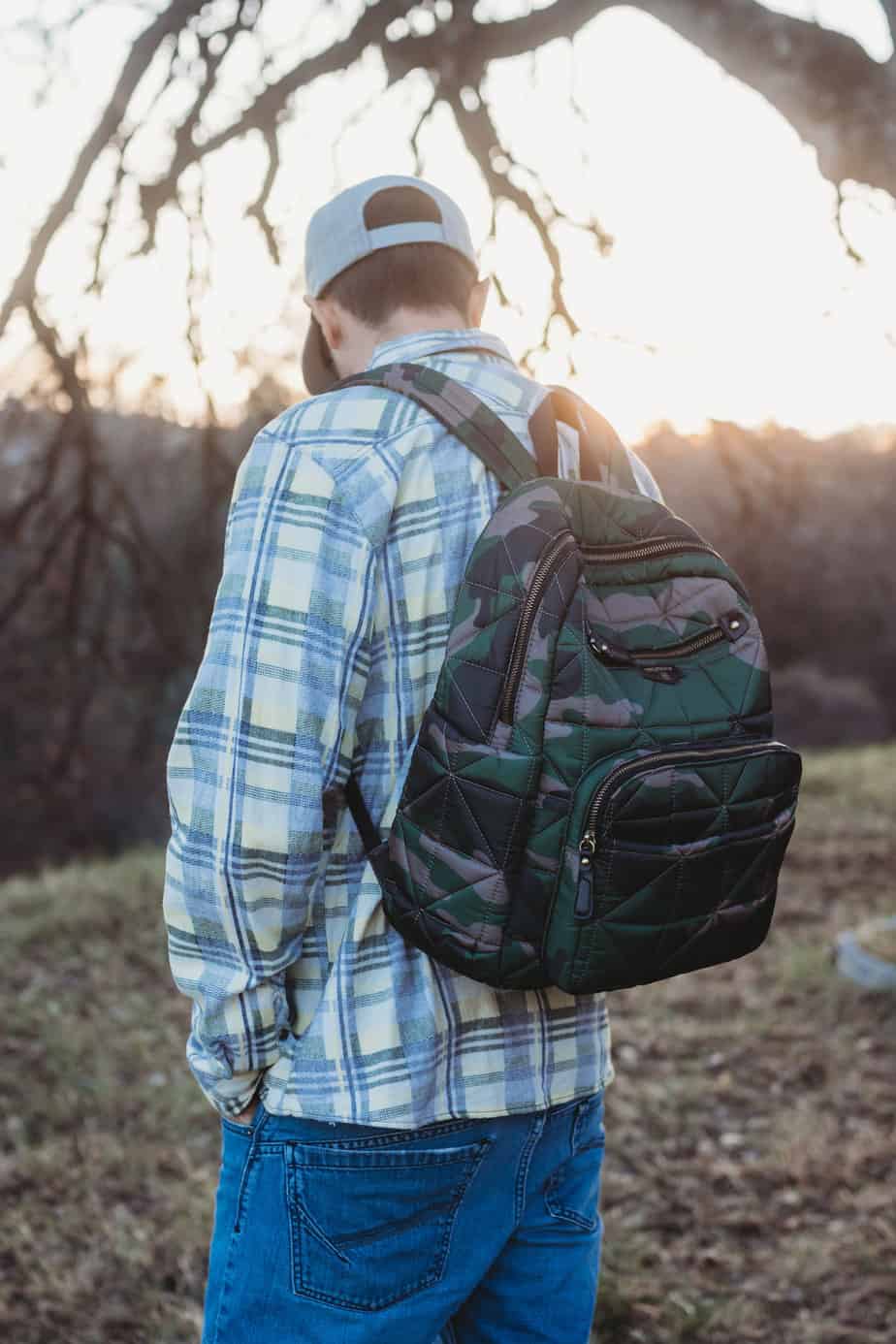 Meet the best diaper bag on the market. Both stylish and practical, TWELVElittle is everything you could ask for in a diaper bag. There are a ton of different compartments for you to organize and pack the necessities you need for on-the-go. The diaper bag featured in the photo is the Companion Backpack in Camo Print which is perfect for both dads and moms. Their new diamond quilt Companion Backpack is made with soft and lightweight water resistant fabric. The spacious main compartment allows room for all baby essentials, and with multiple exterior and interior pockets, organization is simply effortless.
Other features include:
Water-resistant coated soft quilted polyester with 100% genuine leather trim.
Two large front zipper pockets and two side insulated bottle pockets.
Padded shoulder straps with adjustable roller.
Quality webbing top handle straps.
Entire back panel is padded for back comfort.
Hidden zipper pocket on bottom of back side for dirty item quick storage.
Large top zipper closure for easy access.
Polka dot interior lining is coated with PVC-free water-resistant coating.
Two interior elastic top slip pockets for bottles, diapers or wipes.
Interior zipper pocket and two easy access slip pockets.
Comes with modern triangle print lining changing pad.
Free of harsh chemicals such as PVC, BPA and Phthalates.
With this being my third child, I have gone through a lot of diaper bags and can tell you the TWELVElittle diaper bag will get me throughout the entire stage of my son being in diapers and continue on for hiking trips, city trips and more.
The Companion Backpack retails for $179 and you can find out more by visiting: www.twelvelittle.com
Pacifier Clip
If your little one takes a pacifier, you will want to get a pacifier clip. It'll keep the pacifier from dropping on the ground and getting dirty, plus they look so cute and stylish. There are many different pacifier clips out there, but personally, I am a huge fan of these leather ones from an etsy shop. I love how durable they are and the fact you can even get them personalized with your child's name on them.
These leather pacifier clips start at $12.99 and you can find out more by visiting; http://etsy.me/2mNtgvu
Lorena Canals Washable Rugs
These MACHINE WASHABLE floor rugs are the perfect accent to any nursery. You may remember when we featured them in our boys' room makeover as the rugs have been a hit on our Facebook page since then.
Lorena Canals rugs are designed beautifully, for whatever style or theme you want in your child's nursery. The fabric used is extremely plush and luxurious that'll you'll want to lay on it while watching your child sleep. I often find myself sitting on our rug, nursing my baby and taking in every little moment with him
Each rug is unique and different as they are handmade. Due to that, there may be minor variations in shape and color but I can assure you they take care of every detail.
Details include:
Machine-washable: it can be easily washed at home in a conventional washing machine.
Handmade: handmade, created with care and produced individually by our artisans.
Eco-friendly: Non-toxic dyes, 100% natural cotton.
Light: due to its flexible and soft structure.
Easy to match: get a cozy room by matching it with other accessories.
Prices vary depending on the rug and size, but the rug we have featured is the Azteca Natural and retails for $248. You can find out more by visiting: www.lorenacanals.us
Cybex Cloud Q Infant Car Seat and Mios Stroller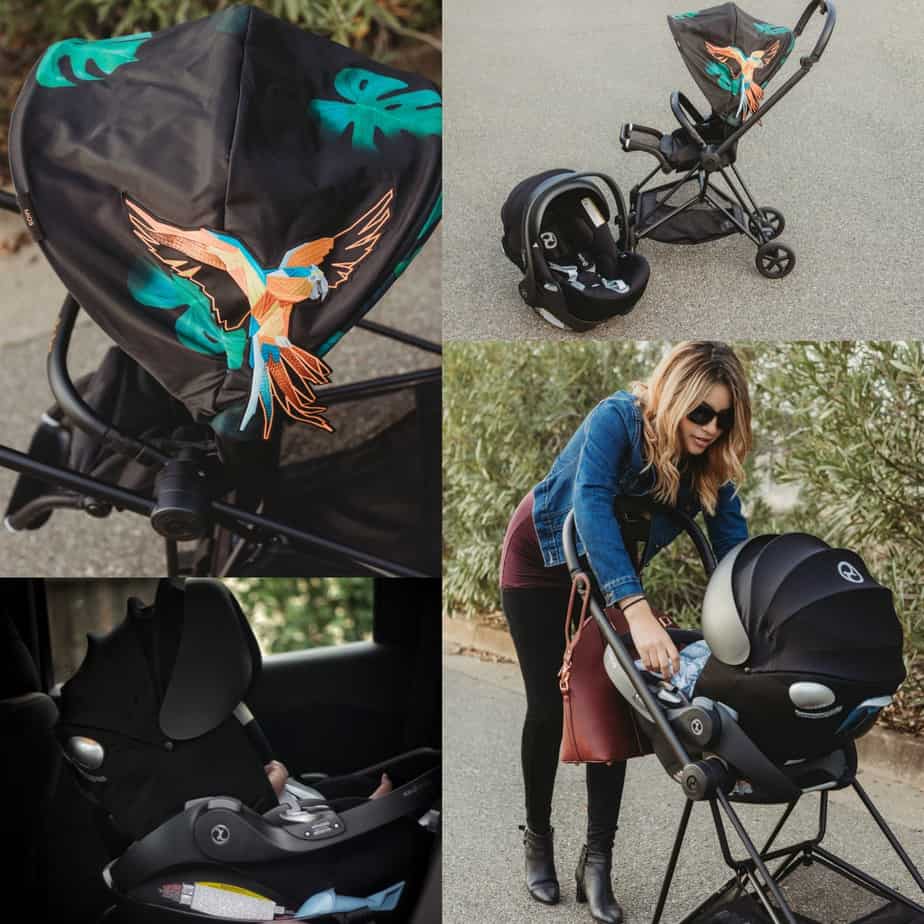 You'll need a car seat before you even leave the hospital with your little one and one of my favorite infant car seats has to be the Cloud Q from Cybex. This stylish and modern car seat is the perfect place to keep your baby safe on the road. It may look like a normal infant car seat to you, but it is so much more than that thanks to these unique features:
Ergonomic design with near-flat recline position outside of the car
Removable newborn inlay for premature and very small babies
11-position height-adjustable headrest with integrated harness guides
Telescopic Linear Side-impact Protection (L.S.P. System)
Integrated XXL foldaway sun canopy
Travel system ready by adding CYBEX and other brand strollers
The only "con" I would say about the Cloud Q is the fact it's pretty heavy compared to other infant car seats, but in my opinion, all the "pros" overshadow the heaviness. In fact, the Cybex Mios stroller makes it easy to take your child from car to strolling in no time. You can simply remove the stroller cot from the frame to make it work flawlessly with your Cloud Q car seat. The frame easily folds up and can be stored in the back of your trunk space and when ready to use, the infant car seat clips right in. Since the Cloud Q can recline, you can push your baby while they sleep comfortably.
Cybex Cloud Q Infant Car Seat starts at $399 and the Cybex Mios Stroller starts at $549 and you can find out more by visiting: http://cybex-online.com/us
*Mios stroller featured is the Birds of Paradise from the Fashion Collection. Retails for $849.
Binxy Baby Hammock
Wondering how you'll be able to do a grocery shopping trip with a newborn? Sure you can put their car seat in the cart, but then you will be limited to space and how much you can put in your cart. Sure you can bring your spouse so they can push the cart, while you push a stroller, but who wants to do that? With Binxy Baby, you can grocery shop with ease as the hammock allows for parents to easily lay their child on the hammock, or set their car seat right on top. You will have access to the entire cart by doing this and your child will be safe and out of the way. You can read all about the Binxy Baby hammock on our review article.
Binxy Baby retails for $49.95 and you can find out more by visiting: www.binxybaby.com
*I received some items to review, all opinions are my own.