3 Sprouts Storage Bin: A Must Buy for Any Modern Nursery!
When a friend introduced the 3 Sprouts Company to me, it was love at first sight. Their website sucked me in with beautiful products and gave me inspiration for the gender-neutral nursery I am planning for my second baby due in June. I've decided to do a jungle theme and the 3 Sprout storage bins will be a great addition to the nursery.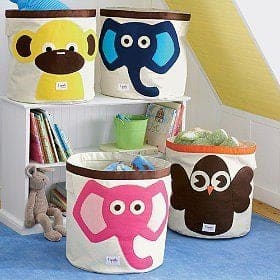 The only problem was, these bins were so darn cute I just couldn't decide which one to get. I seriously wanted them all! I finally settled on the blue elephant, mostly because I am in love with the way my son makes elephant noises right now and because of this, elephants make me smile these days.
When I opened up the bin for the first time, my son walked right up to the elephant and gave it a hug and a kiss. I am planning on putting this in the nursery for the new baby, but it looks like Reece might need one too!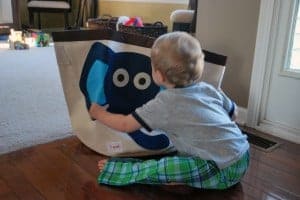 I was amazed at how big and sturdy this storage bin is. The online pictures, while gorgeous, just don't do the bins justice—you have to see one of these in person to appreciate how adorable and functional they really are. I can't believe how many toys our elephant bin holds; and to make it even better, the bin is coated with 100-percent polyethylene on the inside so messy spills occur (and they will), it easily wipes away clean!
It's hard to tell in the picture, but this bin fits a TON of toys. I am easily able to fit more than 30 toys in mine!
The bins are 17.5 inches high and 17 inches in diameter. Made of organic cotton canvas with ecospun felt, each one features a colorful animal. And yes, you read that right, on top of being over-the-top adorable, they are also organic; nothing beats adorable AND organic!
These sacks provide a great organizational solution for any child´s room and fold easily when not in use. They are also stylish enough to compliment any modern room. They can even be placed in a living room and still look great! (see below)  They come in many different animal designs—check out their website for all of the options. I do warn you, you might spend half your paycheck on this site!
 "3 Sprouts was created by three friends who share a love of babies and an appreciation for unique and modern products. Having worked in design in New York and Toronto for such high profile companies such as Kate Spade, Barneys New York and Holt Renfrew, we were inspired to create a collection that appealed to both parents and children." —3sprouts.com
Not only did these modern designers create cute storage bins, but they also sell storage boxes, wall organizers, hooded towels, caddies and picture frames. I seriously want to buy everything on this website; I MUST buy one of these darling diaper caddies soon!
Don't forget to like 3 Sprouts on Facebook and follow them on Twitter for fresh design ideas and product specials!
**Stay Tuned: On SimplyRealMoms.com this Wednesday, we will have a special surprise from 3 Sprouts!
**Disclaimer:  I received a product to review but these words are strictly my own.