5 Deliciously Healthy Rotisserie Chicken Recipes
As a busy mama, I'm constantly looking for ways to get healthy meals on the table quickly without sacrificing nutrition. The store-bought rotisserie chicken has always been a lifesaver for me because it takes care of the most time-consuming part of dinner. There are so many creative ways you can use a rotisserie chicken and I love having leftovers around for lunch the next day!
Some of my clients are intimidated by cooking, so picking up a rotisserie chicken is a great first step away from the drive thru and towards an "almost" homemade meal. Over time I've been inspired to upgrade the regular rotisserie chicken and use it as a tool for delicious, healthy dinners. All of these recipes are grain free, gluten free, and dairy free.
BUTTER LEAF LETTUCE TACOS
Serves 2-4
Ingredients:
1 pound shredded rotisserie chicken
¼ cup Primal Kitchen mayonnaise
Juice of 1 -2 limes
1 tablespoon coconut aminos
4 cups shredded purple cabbage (about ½ small cabbage)
1 butter lettuce head, leaves separated
1 avocado, pitted, peeled and sliced
¼ cup fresh cilantro, chopped
Trader Joe's "Chili Lime" seasoning blend (optional)
Lime wedges for serving (optional)
Directions:
In a large bowl mix the mayonnaise with the juice of one lime, coconut aminos, and whisk until combined. Add more lime juice if needed to thin out the consistency. Add the cabbage and toss to coat.
Place the lettuce leaves on plates, these are your taco "shells".
Fill each lettuce leaf with chicken, cabbage mixture, sliced avocado, and cilantro. Squeeze the lime wedges on top and sprinkle with Trader Joe's "Chili Lime" seasoning. Enjoy!
COCONUT CAULIFLOWER RICE
Serves 3-4
Ingredients:
1 pound broccoli florets
1 tablespoon coconut oil
½ onion, diced
¼ cup coconut milk
6 cups of cauliflower rice
½ teaspoon sea salt
½ teaspoon black pepper
1 pound shredded rotisserie chicken
1/4 cup coconut aminos
2 tablespoons sesame seeds
Directions:
Fill a large sauté pan 2/3 full with water and bring to a boil. Add the broccoli florets and blanche for 4-6 minutes, until fork tender. Drain the water and set broccoli aside.
In the same large pan, add coconut oil and bring to medium heat. Sauté onion until lightly caramelized, about 5 minutes. Add coconut milk, riced cauliflower, salt and pepper. Stir fry on medium heat until cauliflower is cooked thoroughly. (It's ok to add frozen cauliflower straight from the bag, but allow longer cooking time.)
Add broccoli, shredded chicken, and coconut aminos to the cauliflower mixture and stir to incorporate and warm.
Top with sesame seeds when serving. Enjoy!
COLLARD WRAPS
Serves 2-4
Ingredients:
1 pound shredded rotisserie chicken
4 collard greens leaves
½ cup hummus made with olive oil, not canola or soybean oil (I like HOPE brand)
½ cup shredded carrots
½ cup broccoli sprouts
½ cup thinly sliced cucumber
Trader Joe's 'Everything but The Bagel" seasoning blend (optional)
lemon wedges for serving (optional)
Directions:
Wash and dry collard leaves and assemble on a plate. These are your wraps.
Spread each collard leaf with desired amount of hummus down the middle of the leaf.
Top with chicken and veggies, keeping the filling in the center of the wrap.
Sprinkle with optional "EBTB" seasoning and a squeeze of lemon juice. Wrap up like a burrito and anchor with a toothpick if necessary. Enjoy!
CHICKEN ZOODLE SOUP
Serves 4-6
Ingredients:
1 tablespoon extra-virgin olive oil
1 onion, diced
1 cup diced celery
1 cup diced carrots
8 cups bone broth or chicken broth
2 teaspoons sea salt
1 teaspoon dried basil
1teaspoon dried oregano
½ teaspoon black pepper
1 pound yellow squash or zucchini, spiralized into noodles*
1 pound shredded rotisserie chicken
*If you don't have a spiralizer, you can purchase pre-spiraled veggie noodles at many grocery stores. Another option is to use a vegetable peeler and press firmly into the squash to make long ribbons.
Directions:
Heat the oil in a large skillet over medium-high heat. Add the onion, celery and carrots and cook for five minutes, stirring often.
Add the broth, salt, basil, oregano and pepper. Cover and bring to a boil. Once boiling, reduce the heat to low and simmer for 20 minutes.
Add the squash noodles and chicken, cook for 10 more minutes.
Remove from the heat and divide into soup bowls. Enjoy!
GREEN CHILI EGG CASSEROLE
Serves 6-8
Ingredients:
1 tablespoon extra-virgin olive oil
1 onion, chopped
6 ounces baby spinach
10 – 12 large eggs
1 cup unsweetened almond milk
¼ cup arrowroot powder or gluten-free baking powder
1 teaspoon baking powder
1 teaspoon garlic powder
1 teaspoon cumin
1 teaspoon sea salt
½ teaspoon black pepper
8 ounces (2 cans) chopped green chiles (mild or spicy – your preference!)
1 pound shredded rotisserie chicken
Parmesan cheese for topping (optional)
Cilantro and red pepper flakes for topping (optional)
Directions:
Preheat oven to 350 degrees F.
Heat a medium pan with olive oil over medium heat. Add onion and spinach and sauté until onion is translucent and spinach is wilted, about 5 minutes. Remove from heat.
In a large bowl or Kitchen Aid mixer, whisk eggs and milk together until light and frothy. Add the arrowroot flour, baking powder, garlic powder, cumin, sea salt and pepper. Whisk again until well combined, about 30 seconds. Stir in the canned green chiles.
Layer the bottom of an 8×11 casserole dish with your cooked spinach and onion mixture. Top with shredded rotisserie chicken, followed by the egg and green chile batter.
If using parmesan, sprinkle the top of the casserole mixture with desired amount of cheese.
Place in oven and bake for 40 – 50 minutes. Check the casserole at 40 minutes. Pull from the oven when the egg mixture is set and edges are starting to brown. For a crispy top, set under the broiler for 2 – 5 minutes, keeping a close eye on the casserole.
Remove from the oven and allow to cool for 5 minutes before slicing and serving. Sprinkle with extra parmesan, fresh cilantro, and chili pepper flakes.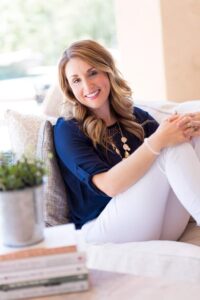 This post was brought to you by Lindsay from Lindsey Lives Well
Lindsay Young is a Certified Transformational Nutrition Coach and Certified Strength & Conditioning Specialist living in sunny Southern California. She's a wife, mama of 3, food enthusiast, and embracer of imperfection. Lindsay specializes in helping busy women develop a nutrition and lifestyle plan that fits into their real life, so they can gain health without losing their minds. Download her free Busy Women's Weekly Planner to help keep your food & fitness on track. Come say "Hi!" on Instagram, Facebook or email at lindsay@lindsayliveswell.com