5 Easy Ways to Get Glam Fast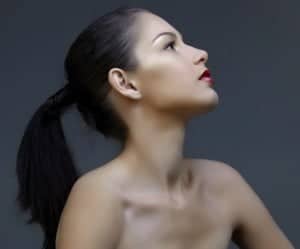 Chances are, looking glamorous is not at the top of your to-do list every day. But even though you spend most of your time being mommy, there are occasions that call for a beauty boost.
Never fear, there's no need to block an hour or two of time you don't have to gussy yourself up for date night or an evening out with adults. Try one (or all) of these tricks for the fast track to an instant polished style.
1. Conquer Red Lipstick: We all know red lipstick is the glam go-to. If you don't own a tube, visit your nearest make-up counter and have a consultant help you choose the right shade for your skin tone. If you're feeling bold and the rest of your look is fairly toned down, apply the lipstick and see yourself transform. But be careful—red lipstick looks awful if not applied carefully, and it needs to be reapplied through the night.
Feeling like there's too much room for error? Try this: Apply a neutral lip liner all over your lips (should be close to your natural lip shade). Then apply your red lipstick over it. Press your lips together and blend well. The neutral shade will tone down the red a bit. You'll still have a nice, bold lip shade, but it will be a little less shocking if you're not used to wearing bright color.
2. Get Sloppy: You've just found out you're expected at a fancy dinner and you need to wear open-toed shoes. No time for a pedicure refresher and you have a hard time recreating that perfect salon look on your own toes.
Here's what you do: Remove the old polish from your toes. Then grab your favorite bottle of polish (can be any shade, bright, light or dark) and slop it all over your toes. Don't bother trying to stay on the nail. Get it on the sides and tops of your toes if you must. Let it dry for a couple hours (or even overnight). When you take your shower or bath, wait for five or 10 minutes until your skin has softened, then lightly scrape the polish off the surrounding skin with your fingernail. It will come right off and leave you with a salon-worthy polish job!
I picked up this trick from a magazine years ago and still use it in a pinch!
3.  Lighten Up: Go out and buy yourself a white eyeliner/shadow pencil or very light concealer. Apply it in the corners of your eyes and at the top of your brow bone. Rub some concealer under your eyes as well. Then apply your eye make-up. You may want to go back and highlight a little more when you're finished. This will work WONDERS in making you look more refreshed and awake. Let's face it, doing this trick is more likely to happen than a three-hour nap!
4.  Redefine Neutral: Getting sick of your boring old brown or black eyeliner? Try another neutral shade like deep plum, charcoal gray or navy. Color on your eyes doesn't have to mean scary blue eye shadow from the 1980s! It can be subtle and sexy—just find the right shade for your eye and skin color!
5.  Sleek and Sexy: When it comes to pulling yourself together quickly, your hair can be a major road bump. Washing, drying and styling takes time. No time? Skip the washing and drying … and most of the styling. Pull your hair into a ponytail—but not that mom ponytail you wear every day!
Brush your hair into it a deep side part, pull it back and secure it in the middle of the back of your head. Use hair spray all over your head to secure loose strands and discreetly tuck bobby pins behind ears to keep shorter hairs in place (use bobby pins the same color as your hair and a clear elastic around the ponytail). If you have time, curl the ends of the ponytail. Run a glossing product over the length of the ponytail for shine.
There! You've pulled yourself together and look like a million bucks without spending two hours in front of the mirror. Nobody will ever know your glamorous self was covered in spit up a half hour before you walked out the door!