7 Best Productivity Apps for Moms
Managing a busy household can be challenging to say the least. Juggling appointments, extra-curricular activities, deadlines, meetings and other commitments require busy moms to use a rock-solid personal organization system. Perhaps you've purchased your shiny new Smartphone, and now you're ready to rev up your productivity — but where do you start?
Good news — there's plenty of productivity apps at the App Store to kick start your family's personal productivity. Whether you want to get things done more quickly, never miss an important event or appointment, or free up your time so you can take a minute to relax — there's an app for you.
The productivity experts at LightArrow, Inc. created a list of our seven favorite apps based on the simple idea of making life easier for you and your family. We hope this helps you get started!
Free
Drop­box is great app for storing documents, which can help reduce clutter. This free ser­vice lets you instantly share these items by cre­at­ing and send­ing a link to friends, fam­ily, or oth­ers—whether they're Drop­box users or not. You can sim­ply place a folder on your com­puter, copy any file into that folder, and it becomes avail­able on all your other com­put­ers and Android, Black­Berry, and iOS apps. This is a fan­tas­tic way to share fam­ily pho­tos and videos, and any other docs. Great uses for document storing include instruction manuals, receipts, report cards, photos, videos, and pictures of your kids' artwork.
Free
The Ever­note app is for seri­ous note tak­ing, but you can also store scanned documents and photos, and you can record voice notes. You can take notes anywhere you carry your Smartphone or Tablet (ditch the paper notepad in meetings). Creating shop­ping lists and making to-do lists for you and your family is a snap. It's syn­chro­nized across all of your devices includ­ing Mac, web, and Win­dows so there's no excuses for for­getting an impor­tant item again. Practical uses include storage of scanned insurance cards, important receipts, immunization records, and photos of business cards.
$2.99
Toodledo is a handy to-do list, which can help you tur­bocharge your pro­duc­tiv­ity. It's a pow­er­ful app that goes everywhere with you—your mobile devices, your e-mail, on your cal­en­dar, or in your web browser. With Too­dledo, you can set alarms or reminders for tasks that are due, and it can ana­lyze your tasks so you can make the most of your time. No more excuses for for­get­ting soccer practice or remembering to pick up a loaf of bread. With this app, you're guaranteed to make more quality time with your family.
Promotional Price – ¢.99
This app takes personal organization to the next level. It uses an organic view of productivity to truly reflect how things get done. Life­Topix goes beyond notes and to-do lists. With Life­Topix, you can plan complex events like a daughter's wedding, a family vacation, or a large landscaping project. Integration with Evernote, Dropbox, and Toodledo makes LifeTopix the hub for projects with tasks, notes and documents. Event and project planning include many elements, such as service providers, shopping lists, bookmarks, travel companions, itineraries, and more. A powerful calendar keeps you on track and furnishes handy reminders.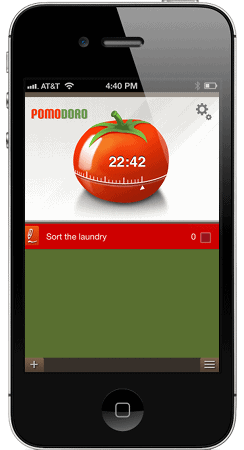 $1.99
The Pomodoro Technique is a way to get the most out of time management. It was developed by Francesco Cirillo in the 1980s, and is now practiced by everyone from preschoolers to business executives to get things done everywhere. In a nutshell, this app is a timer that splits up your work into pomodoros, which are 25 minutes of work and then five-minute breaks. Then the next pomodoro starts. This is a fun and handy technique for teaching children to do chores or for helping them to concentrate on homework for 25 minutes at a time. For more information, visit Pomodoro World, where you can learn more how others take advantage.
Free
Most everyone using the Internet these days has discovered Yelp. If you haven't, it's the grassroots website that includes more than six million reviews of businesses across the United States, Canada, Ireland, and the UK. Reviewers, described as "Yelpers" review everything from restaurants to hardware stores. Perhaps you're visiting the coast in Northern California, and you want to play golf with your friends. Rather than wasting time making phone calls or e-mailing friends, Yelp is a great resource to identify the courses nearby, whether they're open to the public, and to learn about the challenge and pace of the course.
Free
According to the Rochester Institute of Technology, "Sixty-two percent of moms surveyed have a barcode scanner app on their mobile device to help them find deals (29 percent more than the general population)." Why? Because barcode and QR code readers can actually save you money. You can scan the barcode of most products with your iPhone, iPad, or iPod touch, and then RedLaser searches the Internet for the item's price at thousands of online retailers. How cool is that? As an added bonus, it will show you the nutrition and allergen information associated with a food or drink item. This is especially helpful if you have children with food allergies.