9 Breastfeeding Must Haves
I struggled hard to breastfeed my first son. It was something that didn't come easy for us and left me feeling pained and miserable. When it was time to have my second child, I researched a lot more and felt more confident with myself as a mother and knew I really wanted to be successful with breastfeeding. There were so many things available that had I known, it would have helped me become more successful with breastfeeding.
Breastfeeding doesn't have to be challenging, it should be enjoyable and the moments spent nursing should be a special bonding time for you and your little one. Over the years I have found these items to really help breastfeeding moms not only at home, but on-the-go as well.
Lansinoh Soothies Gel Pads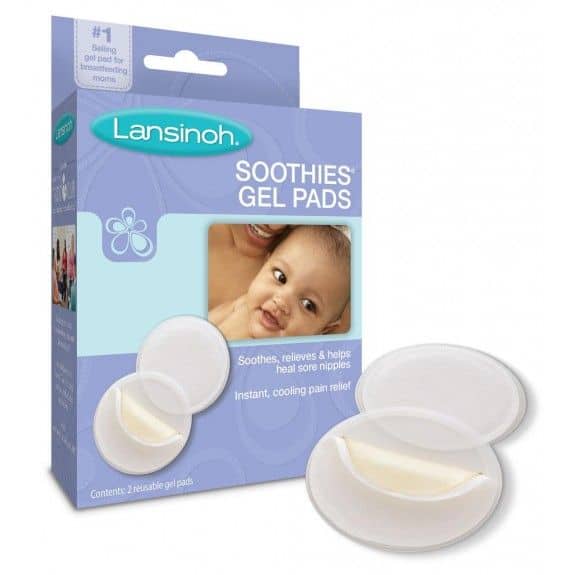 These. Are. A. LIFESAVER! Seriously! Sore nipples are no joke for the first several weeks of breastfeeding, but you will want to give it some time before you decide you can't handle the pain and give up. It does get easier, I promise. With the help of Lansinoh HPA Lanolin, which helps to protect sore and dry nipples, Lansinoh Soothies Gel Pads will become your best friend.
Lansinoh Soothies Gel Pads provide instant cooling relief to soothe and heal sore nipples so moms can continue to breastfeed. The gel pads are safe, absorbent and can be reused for up to 72 hours. They come with a fabric backing to help protect sensitive nipples from rubbing against clothing. Made from glycerin, Soothies Gel Pads are vegan.
Another helpful tip that I have always done was wearing a bikini top in the shower until my nipples started to feel better. It may feel a bit weird, but the water pressure of my shower hurt my nipples so bad and by doing this, I was able to shower in comfort without needing to turn my breasts away from the running water.
Buy gel pads here: https://www.lansinoh.com
Pello Comfy Cradle
Not only does Pello make my absolute favorite floor pillow for babies, they also make one amazing and stylish nursing pillow.
Pello Comfy Cradle creates a comfortable position for nursing, bottle feeding and holding, while gently supporting baby's head. The Velcro strip and seam allows for a custom fit.
Why Comfy Cradle?
NURSE AND BOTTLE FEED IN COMFORT: If you've ever gotten a sore or sleepy arm while
nursing or feeding your baby, the Pello Comfy Cradle is for you! The soft, yet supportive, Cradlewraps all the way around your arm to keep it protected, and even features a crease down the middle to allow your elbow to bend comfortably.
SUPPORTS BABY'S HEAD AND NECK: The Pello Comfy Cradle offers your little one extra soft
support for their head and neck while they snuggle in your arms, allowing for better digestion and
comfier mealtimes. It is reversible so your baby can rest on cool, moisture-wicking cotton or snuggly,
luxe brushed poly.
EASY TO FASTEN AND REMOVE: To wrap the Pello Comfy Cradle securely around your arm, just
fasten the sturdy Velcro strip in place and slip your arm through. The adjustable Velcro provies a snug hold around your arm, so the Comfy Cradle will never slip or shift as baby relaxes into its soft cushioning.
MULTIPURPOSE DESIGN: When you're not nourishing your little one, the Pello Comfy Cradle can be unfastened and flattened out to form a tummy time pillow or a cozy spot for baby to rest.
SAFE AND WASHABLE MATERIALS: Made with 100% cotton and luxe brushed poly, the Pello Comfy Cradle is both exceptionally durable and soothingly gentle against baby's skin. A non-allergenic and naturally flame retardant 100% polyester filler keeps your baby safe and sound while they relax. All materials are washable and resilient, so you can count on the Comfy Cradle through countless launderings.
Buy nursing pillow here: https://pellobaby.com/comfy-cradle
Milk Snob Nursing Cover
Nursing in public can be kind of scary, but I assure you it doesn't have to be. Being discreet with a gorgeous cover is the best way to nurse while you're out and about. Milk Snob is my favorite nursing cover, not only is the material extremely soft, but it can also be used as a cover for car sears, shopping carts, high chairs, infant swings and more.
Buy nursing cover here: https://milksnob.com
GoGoVie Premium Baby Carrier
Take it from me, you are on-the-go and your baby starts fussing, making cues that they are hungry. It can be a moment of panic if you are a new mom, especially when you are still trying to figure out how to hold them and get comfortable enough for the both of you. Nursing doesn't have to stop you in your tracks. You can easily nurse on-the-go thanks to GoGoVie.
GoGoVie is the ONLY hybrid sling and soft structured carrier on the market. The Founder, who is also the first African American woman to manufacture a baby carrier in the USA, created this carrier as she saw a demand for a carrier that can go through a high active lifestyle and provide comfort to those who are breastfeeding. Her story is quite impressive as she raised 4 children of her own and had up 14 other children living in our home at one time. You can read more of her story here.
The carrier was a bit different to put on compared to other structured carriers I was used to using, but thanks to the YouTube tutorials, I figured it out and realized how comfortable GoGoVie is and how much easier it did make for breastfeeding. Having three kids of my own, sometimes I don't have a minute to stop and nurse my baby for 20 mins, and thankfully I now don't have to.
The cradle nursing position is definitely my favorite, and while it's more ideal for a newborn to be in that hold, my son still loves it but we will be upgrading to a different nursing position in the GoGoVie soon now that he has more neck control.
The GoGoVie carrier is Ergonomically Designed and has 7 CompleteCarry positions that was created for proper breastfeeding positioning. It also has a VestBack that provides optimum comfort and support. There is even a built in nursing cover if you feel like covering up. 
Buy baby carrier here: https://www.gogovie.com
Lansinoh Thera°Pearl® 3-In-1 Breast Therapy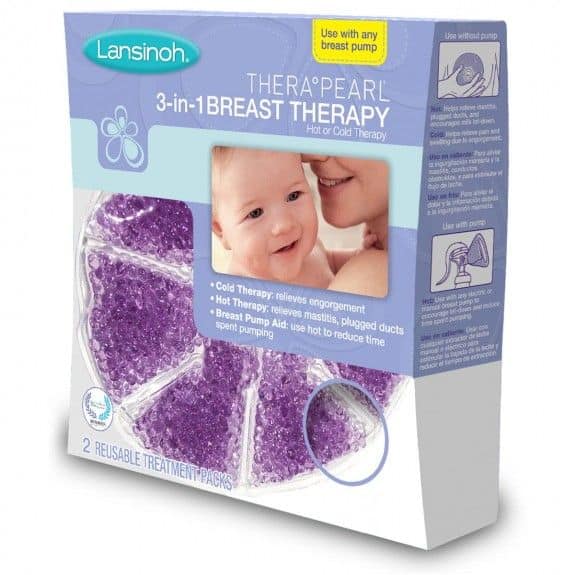 If you've ever had a clogged duct or mastitis, you will know that pain is NO joke. Thankfully there is a product on the market that can help. Lansinoh Thera°Pearl 3-in-1 Breast Therapy gel packs provides therapeutic relief for the most common breastfeeding challenges. Cold therapy is great for relieving engorgement while hot therapy helps relieve plugged ducts and mastitis and encourages milk let-down. It's the only product of its kind designed to work with a breast pump to encourage let-down and reduce time spent pumping. Microwave safe and free of BPA and BPS.
Buy gel packs here: https://www.lansinoh.com
Booby Boons Lactation Cookies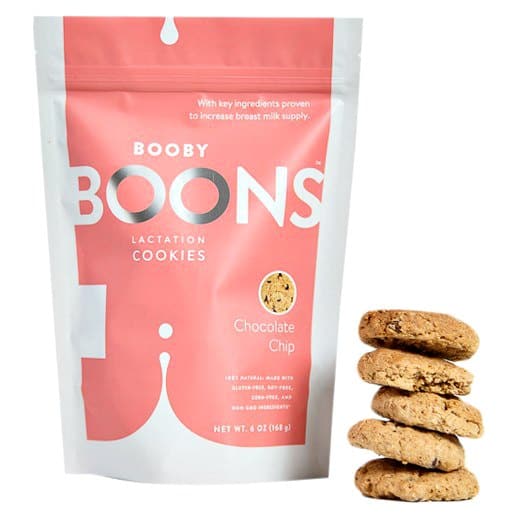 Nothing can stress you out more than when you start to notice your milk supply decreasing. It's something many moms worry about but thankfully there are products on the market that can help boost your supply. Booby Boons Lactation Cookies are a delicious option, containing the purist of ingredients including Stork and Dove's proprietary blend of natural, non-herbal galactagogues proven to increase breast milk supply naturally and safely.
For more information on ways to increase your milk supply, I recommend you reading one of our most popular article: Increasing Your Breastmilk Supply.
You can buy lactation cookies here: https://www.storkanddove.com
Simple Wishes Nursing Bra
This bra is EVERYTHING! I have one in black, nude, and leopard and rotate them. Not only does this nursing bra make me feel sexy, it's extremely comfortable and doubles as a hands free pumping bra. You can read more about my favorite nursing bra HERE.
Buy nursing bra by visiting: http://simplewishes.com
Nighty Night Nursing Light
I hate to break it to you, but your nights of sleeping will be over for quite a long time. One thing I recommend is when your baby wakes up to nurse during the night, to keep it quiet and dark so they can start to recognize when it's play time and when they need to be asleep. Having a dim light to help find the nipple and babies mouth at night is highly recommended. The Nighty Night Nursing Light is a lightweight clip-on light that attaches easily to clothing to make nighttime feedings easier. A soft glow lets mom see better to help ensure proper positioning and latch in a darkened room without having to turn on bright lights that may disturb baby or wake dad. An adjustable timer and optional vibration alarm provides added support for nursing moms and helps to track feedings by gently alerting you when time is up.
Buy nursing light here: http://amzn.to/2tJkzcb
Lansinoh Smartpump Double Electric Breast Pump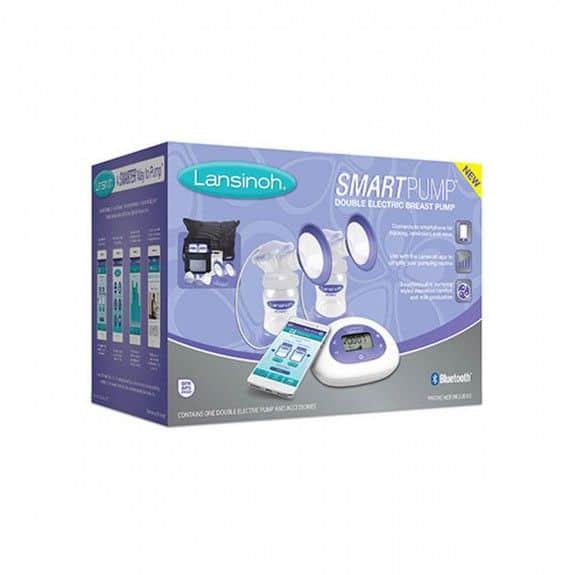 Whether you have engorgement or want to pump to have some milk for a rainy day, a breast pump is something breastfeeding moms should have on hand. I can't tell you how many times, especially in the beginning, I would wake up with breasts full of milk and a baby who only wanted to nurse for 5 mins, which left me in pain and unable to sleep.
Thankfully, I had the Lansinoh Smartpump Double Electric Breast Pump. This Double Electric Breastpump uses Bluetooth® technology to connect seamlessly to the Lansinoh Baby App to track pumping sessions, baby's activities and more, simplifying your pumping routine. Three customizable pumping styles mimic baby's natural feeding pattern to maximize milk production and comfort. Hygienic closed system design guarantees no milk backup in tubing or motor for easier cleaning.
Buy breast pump here: https://www.lansinoh.com
(I received some items to review, all opinions are my own)