A Final Reaping | Harvest Series pt 4 with Fall Printable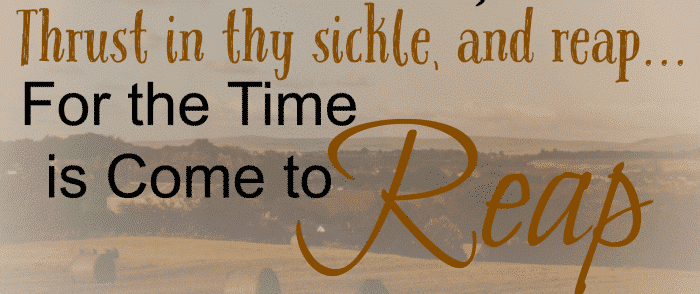 A Final Reaping
The entire book of Revelations is so awe-inspiring to me. Chapter 14 verse 15 gives us a vision of the future, the angel cries out "Thrust in thy sickle, and reap: for the time is come for thee to reap; for the harvest of the earth is ripe."
This command is given to "one that sat on the clouds with and appearance to the son of man with a golden crown upon his head". This gives us the vision that Christ will bring his people home.
Following this we read of the sinners being reaped and thrown into the winepress of the wrath of God. But the sinners are reaped of another angel. Christ only "reaps" his bride.
In thinking of the harvest, not only are we the workers in God's harvest as we read in pt 1 and 2 of this series, but we are a part of God's harvest as well. A part of the bride of Christ.
What does it mean to be part of God's harvest?
We are Redeemed
And they sung a new song, saying, Thou art worthy to take the book, and to open the seals thereof: for thou wast slain, and hast redeemed us to God by thy blood out of every kindred, and tongue, and people, and nation. Revelations 5:9
We are Forgiven
In whom we have redemption through his blood, the forgiveness of sins, according to the riches of his grace. Eph. 1:7
We are Born Again
Beloved, let us love one another: for love is of God; and every one that loveth is born of God, and knoweth God. 1 John 4:7
We are Made New
Therefore if any man be in Christ, he is a new creature: old things are passed away; behold, all things are become new. 2 Corinthians 5:17
We are at War
For we wrestle not against flesh and blood, but against principalities, against powers, against the rulers of the darkness of this world, against spiritual wickedness in high places. Eph 6:12
We Face Adversity
Yea, and all that will live godly in Christ Jesus shall suffer persecution. 2 Tim 3:12
But We are Given Strength
Therefore I take pleasure in infirmities, in reproaches, in necessities, in persecutions, in distresses for Christ's sake: for when I am weak, then am I strong. 2 Cor. 12:10
And Will Receive a Crown of Righteousness
Henceforth there is laid up for me a crown of righteousness, which the Lord, the righteous judge, shall give me at that day: and not to me only, but unto all them also that love his appearing. 2 Tim. 4:8
Changing into His Likeness
But we all, with open face beholding as in a glass the glory of the Lord, are changed into the same image from glory to glory, even as by the Spirit of the Lord. 2 Cor. 3:18
Obtaining Eternal Life
He that hath an ear, let him hear what the Spirit saith unto the churches; To him that overcomes will I give to eat of the tree of life, which is in the midst of the paradise of God. Rev. 2:7
To Live with God Forever
And I heard a great voice out of heaven saying, Behold, the tabernacle of God is with men, and he will dwell with them, and they shall be his people, and God himself shall be with them, and be their God. Rev. 21:3
I don't know about you, but I rejoice to be a part of the "harvest of Christ" to live in his presence forever… What a glorious day that will be!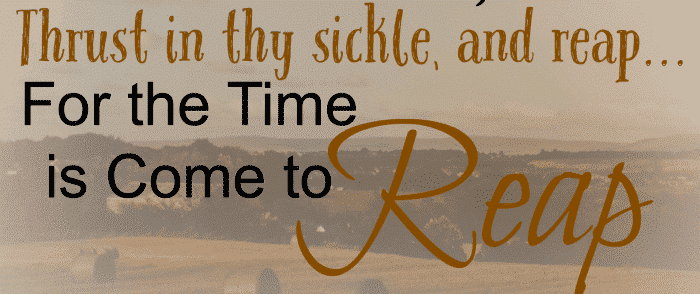 Want the A Final Reaping printable?
I've added it to the subscriber's freebies page for you. If you are reading this post in an email, look either to the right side or clear down at the bottom for a subscriber's freebies button and that will take you right there.
If you are a subscriber but reading this on the web, you can check your email for my latest mailing, wait for the next one or just email me. I will be more than happy to send it directly to you (although it may take a day or so). kendrastamy@hellosensible.com
And if you aren't a subscriber, it's pretty easy to become one, and you will receive access to the freebie page right after you confirm your subscription!