A Little Pepper on Everything! #FreshGround with Ozeri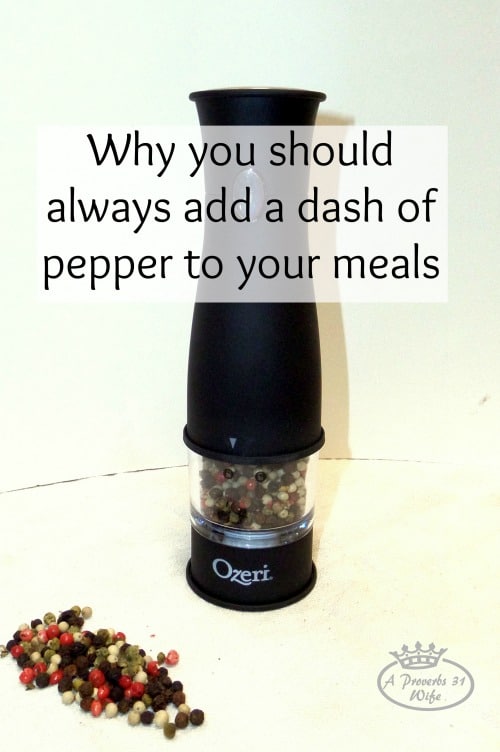 Around our house, pepper is a big deal. Not only does it make our foods taste great, but it also has some pretty great health benefits! Jason likes to put a little pepper on everything (except for fruits and deserts lol) a friend of mine even puts it on her fruit. But I'm not so sure about that one. 🙂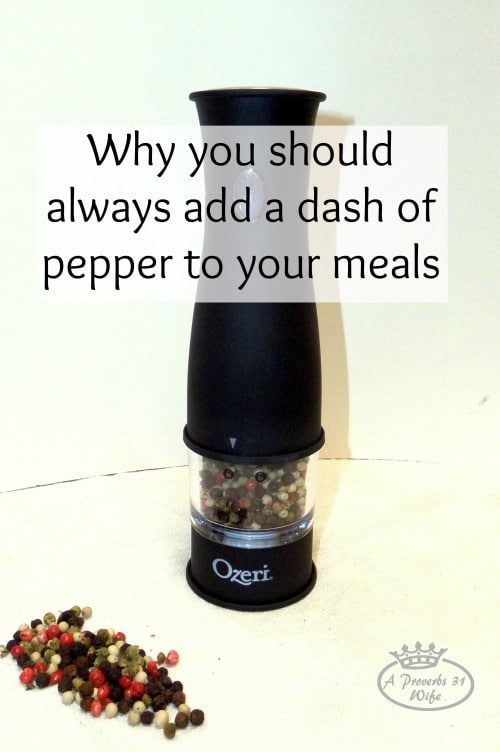 Pepper is a warming herb. Meaning it is spicy on the tongue of course, but it triggers your stomach to produce more hydrochloric acid which helps with digestion and can even help prevent heartburn. If it passes through to the intestines it helps fight against the bad bacterias that cause gas.
Black pepper promotes healthy sweating and also acts as a diuretic. Also offers antioxidants and antibacterial effects, which is yet another reason it's so good for the digestive system.
And as if you needed yet one more reason to love and put a little pepper on everything; the outer layer of the peppercorn stimulates the breakdown of fat cells!
Black pepper also offers the following:
Wonderful source of Manganese and VitKGreat source of Copper and Dietary fiber
Good source of Iron, Chromium and Calcium
Of course, the best way to put a little pepper on everything is by using a pepper grinder. The flavor is super fresh and in Jason's mind the only way to use pepper.
However, our pepper grinder was something I bought at our local grocery. It looked nice and it worked for awhile. But twisting the top took forever and made my wrist hurt.
When Ozeri offered to send me their Artesio electric pepper grinder to try, I jumped on the chance.
Fresh ground pepper at the push of a button? Call me interested!
The first thing I did was take it apart. Not all the way :), but just enough to put batteries in it and add the peppercorns.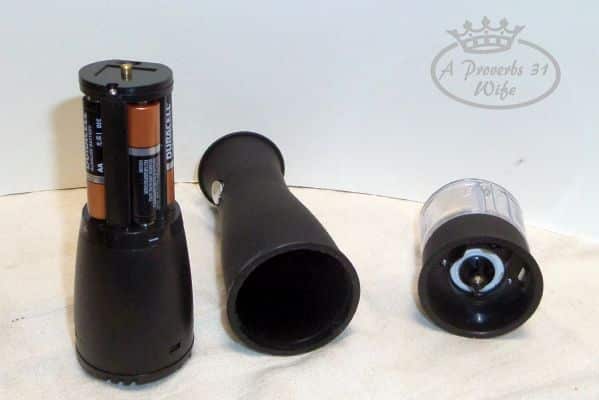 It takes 4 AA batteries to operate this sweet little thing and I would guess it holds about 2 tablespoons of peppercorns.  I would prefer that it held a bit more than that, since I figure I will be refilling it every month. However it can also be a good thing because even peppercorns can go stale. I always keep my extras in the freezer.
Like any other pepper grinder, this one can be adjusted. It will go from super fine to cracked. It also features a light that turns on while grinding. At first I thought it rather silly, but after using it, I realized it made it very easy to see just how much pepper I was adding. And since it grinds really fast it's probably a good thing I can see it. 🙂
Check out how it works below!
The Artesio pepper grinder can be found on Amazon for only $10.97. (affiliate link) Considering I paid that much for my old manual grinder, I consider that a great deal!
So, using my new pepper grinder I can put a little pepper on everything, except fruit that is!
Disclaimer: I recieved the above item free of charge from Ozeri. All thoughts and opinions are my own.