Adding Energy To Your Kid-Friendly Recipes with Alison Sweeney
With summer here and all of our kids home from school, it is important to keep up with healthy snacks throughout the day that will not only taste yummy but also serve a purpose!
Blueberries are one of our family's favorite healthy snacks, and they are so much more than a yummy treat (although, don't tell my son that, he thinks they're "candy").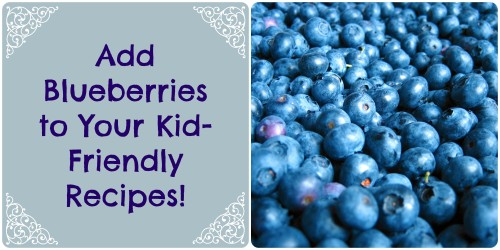 The health benefits of blueberries are even bigger than you might know. They're low in fat, have just 80 calories per cup, are full of  antioxidant and anti-inflammatory properties, and add healthy energy to your daily balanced diet! By adding blueberries to some of your favorite kid-friendly recipes, you are throwing in a kick of energy to keep your kids going all day long. Find all of the benefits of blueberries on the Blueberry Council's awesome website!
Biggest loser host and mom of two Alison Sweeney is the new face of blueberries, helping to get the word out about infusing healthy flavor and fun into your daily family routines. We had the pleasure of interviewing her about keeping your kids involved in the kitchen AND about blueberries:
SRM: What is your favorite way to incorporate Blueberries into breakfast, such an important meal to gain extra energy?
ALISON: I have oatmeal with blueberries, agave and cinnamon every morning. It's great because there are only 80 calories in a cup of blueberries and I know I'm also getting fiber and vitamin C.
SRM: What do you suggest to moms whose kids are picky eaters to help keep a healthy, balanced diet for their kids?
ALISON:  Get them to help in the kitchen! When I invite Ben and Megan to help make their own snacks or meals, they become much more interested in what they're eating and as a result are more willing to try new foods.
SRM: What is your favorite meal/snack to prepare with your children?
ALISON: We just tried these Blue Banana Boats – not only are they healthy & delicious, but the kids love to use their imagination to build the boats. Smoothies are also fun and easy as an after-school snack.
What is your favorite meal or snack to prepare with your children? We have a favorite Blueberry Pull Apart Bread recipe that my son LOVES because it is so fun to eat (and it gets those ever-important blueberries into his "dessert"!)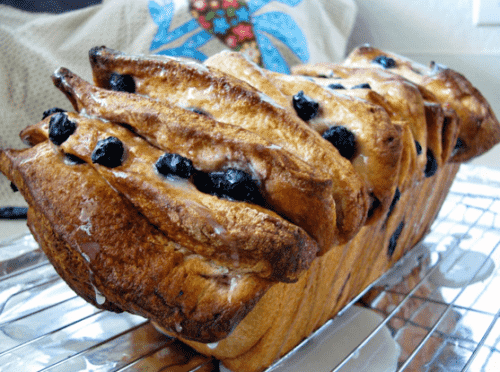 This recipe comes from our friend Bex at Bex Built a Family, find the entire recipe HERE and make it for your family today!
Another delicious treat to include blueberries in a snack is this yummy lemonade recipe:
Pink Blueberry Lemonade
Ingredients
1⁄3 cup sugar
1-¼ cups fresh blueberries, divided
1⁄3 cup lemon juice
Instructions
In 1 quart glass measuring cup, combine sugar, 2 tablespoons of the blueberries and ½ cup water
Microwave on high until hot, about 1 minute
Stir until sugar dissolves
Add lemon juice and enough water to make 1 quart
Chill
Fill tall glasses with ice cubes, add chilled blueberry mixture and remaining berries, dividing equally
Garnish with lemon slices if desired
To make Blueberry ice cubes
Place 3 berries in each of 12 ice cube cups
Fill with water and freeze
36 berries equals about ¼ cup
Quick notes
Yield: 1 quart (4 one-cup servings)
Number of servings (yield): 4
Visit the Blueberry Council's Facebook, Twitter, YouTube and Pinterest pages for more inspiration, and share your favorite Family-Friendly Recipes!
*Compensation was provided by the Blueberry Council, but all opinions are my own.