After Your Juice Fast Ends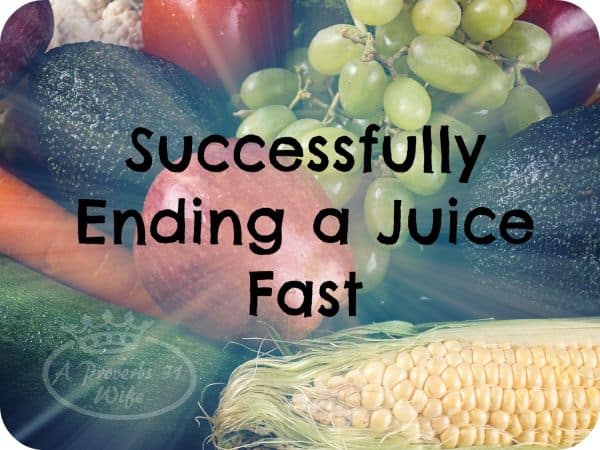 After your juice fast ends; you may be left with a sudden "Now What?" feeling.
However, the transition can be as easy or difficult as you make it. When you begin adding whole foods back into your diet, your body will begin another stage of the cleansing process.
You may notice while juicing, that you don't need to "poo" very much. After all, the only thing that is going in, is liquid. Making sense, therefore, that the main thing to come out would also be liquid.
Before your juice fast, it is common to have gunk caking up the walls of your intestines. While you are on the fast, this gunk will soften and come away from the walls.
After your juice fast ends, and you begin sending whole foods down the chute again, this gunk is pushed away and expelled. Adding the wrongs things too fast can cause a lot of digestive upsets.
I had read a few horror stories about ending a juice fast and they all had to do with what happened when the juice fast ended. So I did some research and here is how I ended my juice fast.
After your juice fast ends. My story:
The first day after my fast ended was a church potluck (carry-in). I made a salad of fresh veggies and my salad dressing to take. I started my day as usual. A hot herbal tea and a yummy juice. At lunch, I enjoyed a plate of salad and a small serving of fresh fruit. Home again, I finished the day with juice.
That first week after my juice fast ended, I juiced 2-3 times a day and slowly added in other foods. I stayed away from dairy, and gluten as well. The following Sunday, I was in a situation where I couldn't bring my own food and did have to make a few choices. Fish and peanuts being a few of them. 🙂
The second week I continued adding in more and more foods. At this point, I said nothing was off limits, but all things in moderation. I never experienced any of the severe stomach cramps I had heard of, no diarrhea, nothing. All went well and smooth.
My goals for the future:
Moderation. If I really want something fine, but I am careful with my portion sizes. Which is something I had never done before.
Exercise. I really dislike getting hot and sweaty, but there are different core training exercises you can do without all the sweat.
Limit meat. We buy our meat from local farmers, meaning we know where our meat is coming from and the health of the animals. However, if there is nothing else learned from this juice fast, I have learned this. This meat and potatoes girl doesn't need meat to survive. *shock!*
Soaking grains, and making my own bread. I have done this in the past, but then became lazy and quit. Time to take control of what goes into the foods that go into my mouth.
Limit eating out. Need I say more? 🙂
Eat raw. Making sure to add plenty of fresh fruits and veggies to my day.
Continue juicing. Just because my fast is over, doesn't mean I should quit giving my body those delicious drinks that are so full of nutrition.
More info on after your juice fast ends:
I had read that I would gain back 3-5 pounds once I started eating solids again. Sure enough, I did gain back about 3 pounds. Then A. Flo stopped by for a visit, and I gained another pound back. And then A. Flo went away, and one day I stepped on the scales and discovered that I was back to the original 15 pounds lost! I started at 160 and am now at 145. Totally worth nearly a month of juicing. 🙂
So, I'm not sure if I will keep losing weight or not, but I am quite pleased to have kept off those 15 pounds. Perhaps this summer I will do another juice fast; you know, when the fruits and veggies aren't so crazy expensive! 🙂
Do you have any advice on eating habits?
This will most likely be the last juicing post I share for a while. Although you can be sure, I will continue sharing wonderful and healthy recipes!
And you can always find great info on the Reboot With Joe site!
Disclaimer: You are responsible for your own health choices, and juicing is not recommended for pregnant or nursing women.
Sharing here: Natural Living Mondays,