Alice in Wonderland Party Décor
This post is brought to you by Bobbi.

This is part 2 of an Alice in Wonderland Party Series: Check out Part 1 and Part 3.

When throwing an Alice in Wonderland inspired party there is so much that can be done with decorations, and most of it is really easy.
Singing Flowers:
My first project was the singing flowers.  I simply bought bouquets of flowers for around $5 at Garden Ridge and glued googly eyes on them.  Voila!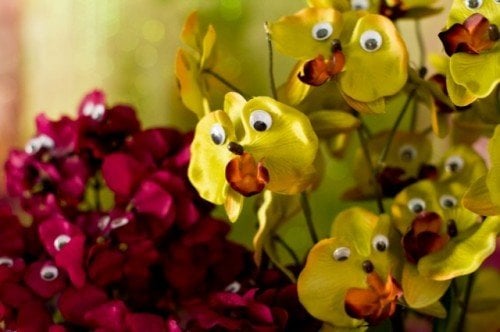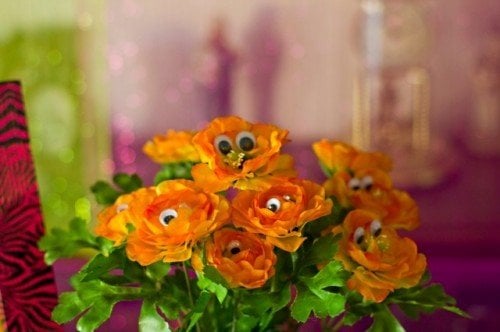 Croquet:
Next, I had to have croquet!  Luckily, we already had an old set in the attic so that saved on the cost.  I drew a few card soldiers on poster board, cut them out, and duct taped them to the croquet wickets.  Then I zip tied a few plastic flamingoes onto the mallets and we had an Alice in Wonderland game of croquet!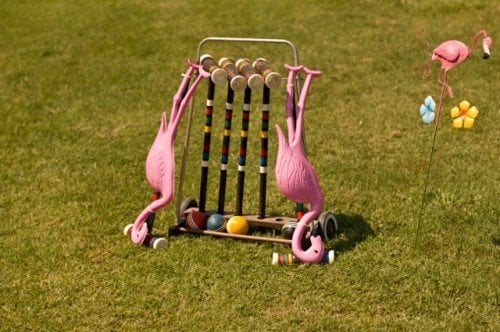 Cheshire Cat Sign
I also made a cute Cheshire cat sign to set on the table with the cake.  For this, I bought a wooden picture from Hobby Lobby.  I wrapped the outside of the frame with pink zebra striped duct tape.  Then I used some bright yellow poster board for the inside.  I chose the quote "We are all mad here" as it's one of my favorite said by the Cheshire cat, but I changed it up just a bit.  I then printed out a picture of the cat and glued on a flower.  It was very easy and turned out so cute!
Photo credits: Meagan Ready Photography
"This Way, That Way"
The last decoration I made was a "This Way, That Way" sign. I just used some scrapbook paper I already had and some ribbon.
Photo credits: Meagan Ready Photography
Bobbi resides in Oklahoma City with her husband, daughter, and 14 crazy pets.  She received her B.A. in psychology from the University of Oklahoma, and currently teaches senior English at an amazing charter school.  When she's not enjoying her time teaching her students or chasing her toddler around, she is usually reading a good book or watching her favorite basketball team, The Oklahoma City Thunder.