Preschool and Kindergarten Back-to-School Books!
Children often anticipate school with a mix of excitement and anxiety. Ease the transition into preschool or kindergarten with some fabulous books! I love reading Maisy Goes to Preschool: A Maisy First Experiences Book
to my preschool class on the first day of school and ending the year with Junie B. Jones and the Stupid Smelly Bus (Junie B. Jones, No. 1)
. It's amazing how much their perception of school changes in a year! I hope you love this list of some of my favorite going back-to-school books. Click any of the book titles in this article to view the books on amazon.com.
Maisy Goes to Preschool: A Maisy First Experiences Book
By: Lucy Cousins
Preschool for Maisy means a day filled with friends and things to do, from the time she hangs her coat on a special peg to the time she says good-bye. There's painting and snack time, stories and nap time (and a bathroom break in between). Soon everyone's ready to haul out the instruments and make some noise, then head outside for a turn at the sandbox or slide. In a bright, full-size storybook full of familiar scenes, this child-friendly look at a day in the life of a preschooler is one that newcomers and seasoned pros alike will be happy to share.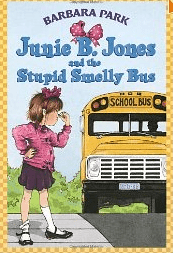 Junie B. Jones and the Stupid Smelly Bus (Junie B. Jones, No. 1)
By: Barbara Park
Remember when it was scary to go to school, because it was your first day and you didn't know anything? Meet Junie B. Jones, kindergartner. She's so scared of the school bus and the meanies on it that when it's time to go home, she doesn't.
By: Philemon Sturges
Illustrated by: Shari Halpern
Come along to a warm, friendly world of reading and writing, singing and painting, and all-around fun that will make you want to yell, "I love school!"
**This is a favorite in my classroom year after year!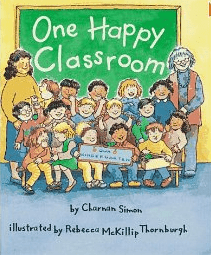 One Happy Classroom (Rookie Readers)
By: Charnan Simon
Illustrated by: Rebecca McKillip Thornburgh
Set in what appears to be a kindergarten classroom, this simple little book features double-page spreads of children engaged in activities such as greeting their teachers, painting, walking to the lunchroom, eating apples, and resting on their mats. A few words on each page add comments such as "Two stuck zippers" and "Nine pairs of partners."
Miss Bindergarten Gets Ready for Kindergarten (Miss Bindergarten Books)
By: Joseph Slate
Illustrated by: Ashley Wolff
It's the first day of kindergarten and Miss Bindergarten is hard at work getting the classroom ready for her twenty-six new students. Meanwhile, Adam Krupp wakes up, Brenda Heath brushes her teeth, and Christopher Beaker finds his sneaker. Miss Bindergarten puts the finishing touches on the room just in time, and the students arrive. Now the fun can begin! This rhyming, brightly illustrated book is the perfect way to practice the alphabet and to introduce young children to kindergarten.
By: Natasha Wing
Illustrated by: Amy Wummer
It's the night before preschool, and a little boy named Billy is so nervous he can't fall asleep. The friends he makes the next day at school give him a reason not to sleep the next night, either: he's too excited about going back! The book's simple rhyming text and sweet illustrations will soothe any child's fears about the first day of school.
By: Lauren Thompson
Illustrated by: Bucket Erdogan
After stowing away in a backpack, Mouse discovers all the wonders waiting at what appears to be a preschool or kindergarten. As Mouse explores each new station (blocks, books, pots and pans, plants, and more) with wonder and enthusiasm, author Lauren Thompson includes catchy phrases that kids will love repeating out loud.
By: Paulette Bourgoise
Illustrated by: Brenda Clark
Franklin learns to overcome his fears on the first day of school. Perfect and relatable for young children.
Do you have any books you like to share with your children at the beginning of the school year?