Beaches All Inclusive Resort In Negril, Jamaica

We had the pleasure of spending 5 days at Beaches in Negril, Jamaica for the Beaches Moms Social Media on the Sand conference and had the time of our lives! We played, danced, ate, laughed, ate some more, drank and soaked in the warm Jamaican sun. We arrived in Jamaica as new visitors having never been and left with a piece of the laid back "No Problem!" feel in our hearts. With so much to do and see, we share our favorite experiences of our trip so that you can plan yours out with no question that you're making all the right decisions!
Location
Beaches Negril is located on the stunning 7 Mile Beach on the west side of the island of Jamaica. The sand is white, the ocean clear and turquoise and it's surrounded by lush green trees. Coming from northern California, we were drawn to the warm ocean water, making night swims a part of each day to watch the sunset while we lounged in the shallows. It takes about 90 minutes to get to Beaches Negril from the Montego Bay airport, but the included shuttle is air conditioned and the drivers are wonderful tour guides! If you have to wait for a shuttle, make sure you partake in the complimentary food and drinks at the Sandals lounge inside the Montego Bay airport while you wait!
Food
I've heard nightmare stories about the food at some all-inclusive resorts so I think I arrived at Beaches Negril a little nervous about the food situation. Boy I was worried for nothing! The first evening we went to The Mill buffet for dinner and while it was pretty standard buffet food we were pleased with the local dishes to try. We went to The Mill every morning for breakfast as well. The second night we had reservations at The Venetian, the upscale Italian restaurant. This was by far our favorite meal the whole week we were there. If nothing else, go for the Arancini (deep fried cheesy rice balls) and their signature cocktail, the Italian Kiss. We tried several appetizers and main dishes for our meal and everything was beyond amazing. We also ate at Kimonos, their tepanyaki restaurant and Soy, their sushi restaurant for dinners and enjoyed both equally. Mariachis and the BBQ window were great lunch spots! I stopped in every day at the Cafe de Paris for coffees (ask for a little spirit added to your coffee!) and delicious crepes as a mid-morning snack too.
Overall we were so very impressed with the food at Beaches. We enjoyed everything we tried!
Drinks
While the alcohol is flowing at Beaches, take the time to visit the different bars on site.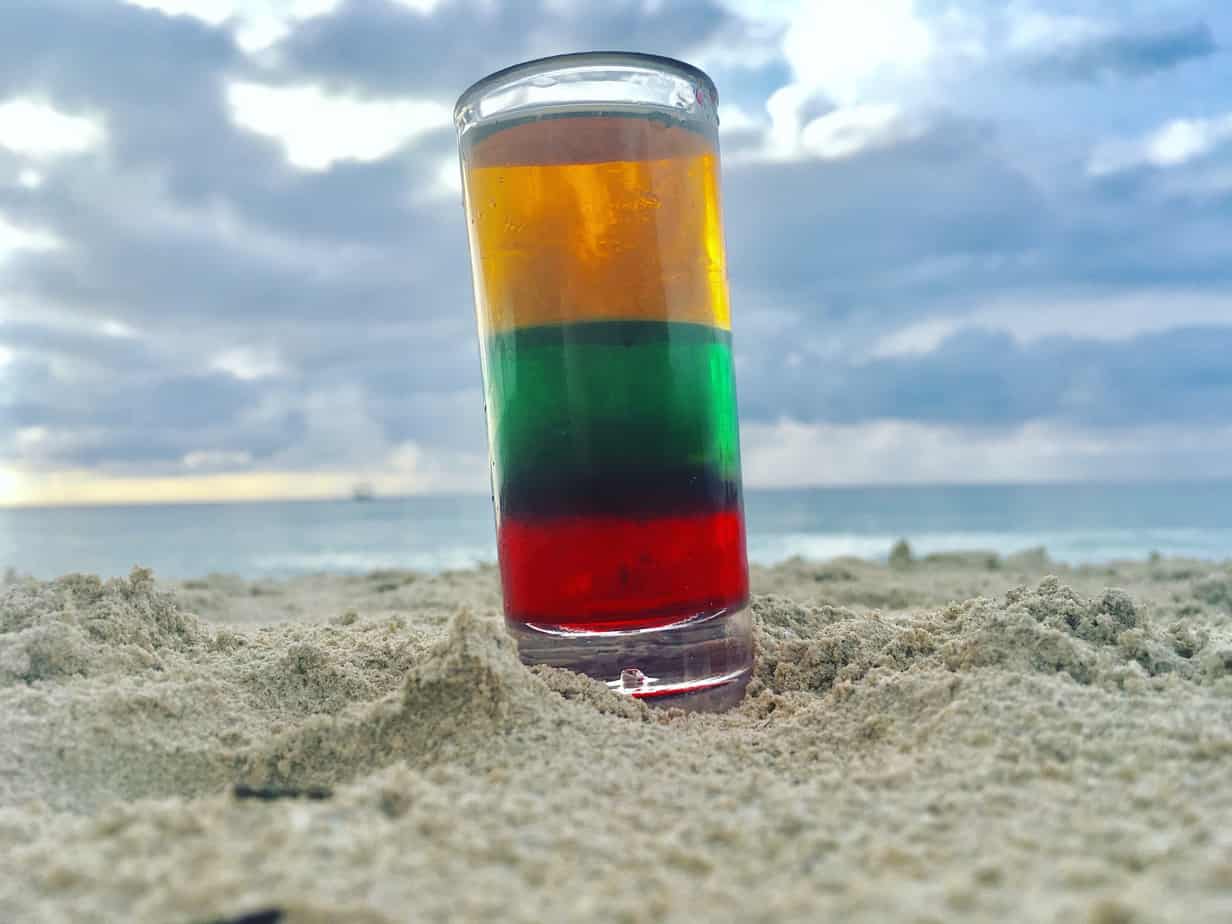 There are several bars you can order from and each has different bartenders. Different bartenders means very different experiences! We tried out all the bars before deciding we would stick to the bar at the main pool because my husband and I fell in love with Adrian, one of the bartenders in that bar. He was delightfully personable and was the most amazing mixologist! With just a few suggestions of tastes I liked he was mixing up all kinds of drinks for me and each one was ON. POINT. None of the other bartenders seemed to have the same cocktail creativity as Adrian so we always made sure to find him when we wanted a drink. My husband said that Adrian's Long Islands were fantastic (I took his word for it…not my cup of tea…haha). If you like a stronger drink, let them know! Ask for extra rum in your piña colada or make your drink a double! Just be sure to pace yourself so you can enjoy your whole stay!
Activities
Beaches Negril has so many exciting activities to do, you may not get to them all! We sure tried. My husband was beyond excited to find out that they include motorized boat activities like wake boarding, tubing and water skiing and signed right up for sessions out on the board. We sailed in the Laser Bug Boats thanks to an amazing lesson,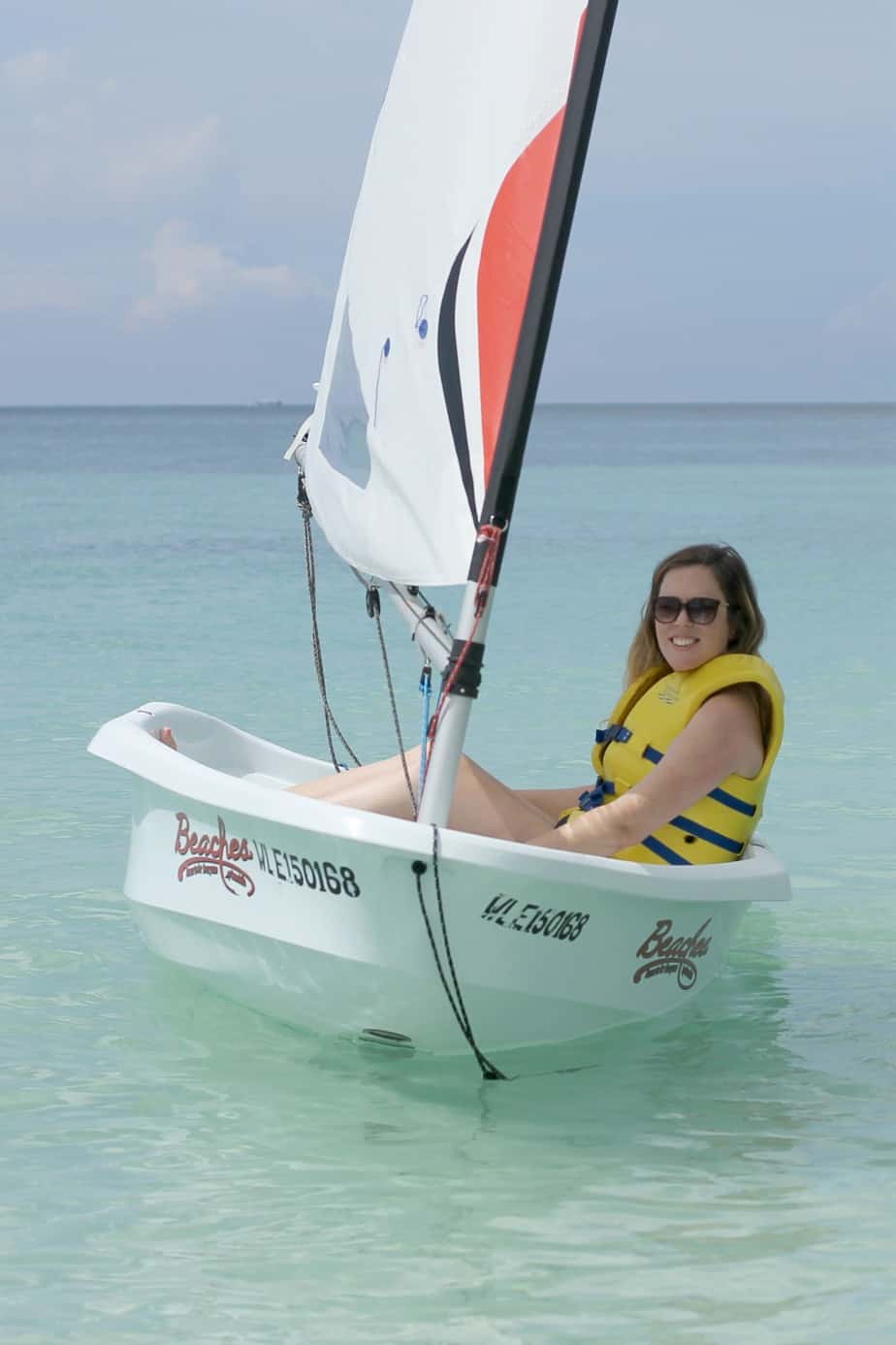 went paddle boarding,
rode on the banana boats, rode the waterslides over and over and spent countless hours in the pools and splashing in the ocean. We didn't get to go snorkeling or try out Snuba-a cross between snorkeling and scuba diving-so we'll just have to go back for more. All of the water sports include one on one instruction if needed, too! On top of the water sports, there's tons of on-land sports and activities, resort parties, shows and classes and what my kids would have drooled over-the X-Box lounge. The X-Box lounge is a large room filled with TVs and X-Box consoles, each with a different game ready to play at any time! If the kids want to be outside, the Pirate Island waterpark and the lazy river that winds around it are both super fun and a great way to play while they cool off! There's no shortage of fun to be had, that's for sure.
Rooms
We stayed in a King Bed room in the Montpelier Buildings with a balcony that overlooked a gorgeous garden and courtyard and over to the beach.
We didn't spend too much time in our room thanks to the amazing activities but the bed was comfortable and the room was clean and well taken care of during our visit. The bathroom was simple but had the vanity outside of the bathroom, making getting ready easy if someone else was showering. Some downsides were that with some other all inclusive resorts there is alcohol in the rooms and this was not the case at Beaches Negril. Not that there isn't plenty all over the resort but something to be aware of (not sure if other rooms include alcohol).  Also, the bathroom door has shutters rather than a solid door. Being married for almost 10 years, this was no problem for us but it may be a problem if you are rooming with friends!
Staff
The staff at Beaches Negril makes your stay as memorable as it can be. We were greeted with smiles and jokes, stories and songs everywhere we went on the resort. The activities staff is phenomenal, coming out to dance and sing with us every night and hosting games and contests during the day. We heard raves about the staff in the Kids Camp daycare and kids not wanting to leave them behind! We felt like family from the moment we stepped foot into Beaches Negril and we can't wait to go back and take our kids next time!
Check out more of our trip here:
Our stay was discounted as part of the Beaches Moms conference but all opinions are my own