The Benefits Of Tummy Time With Your Baby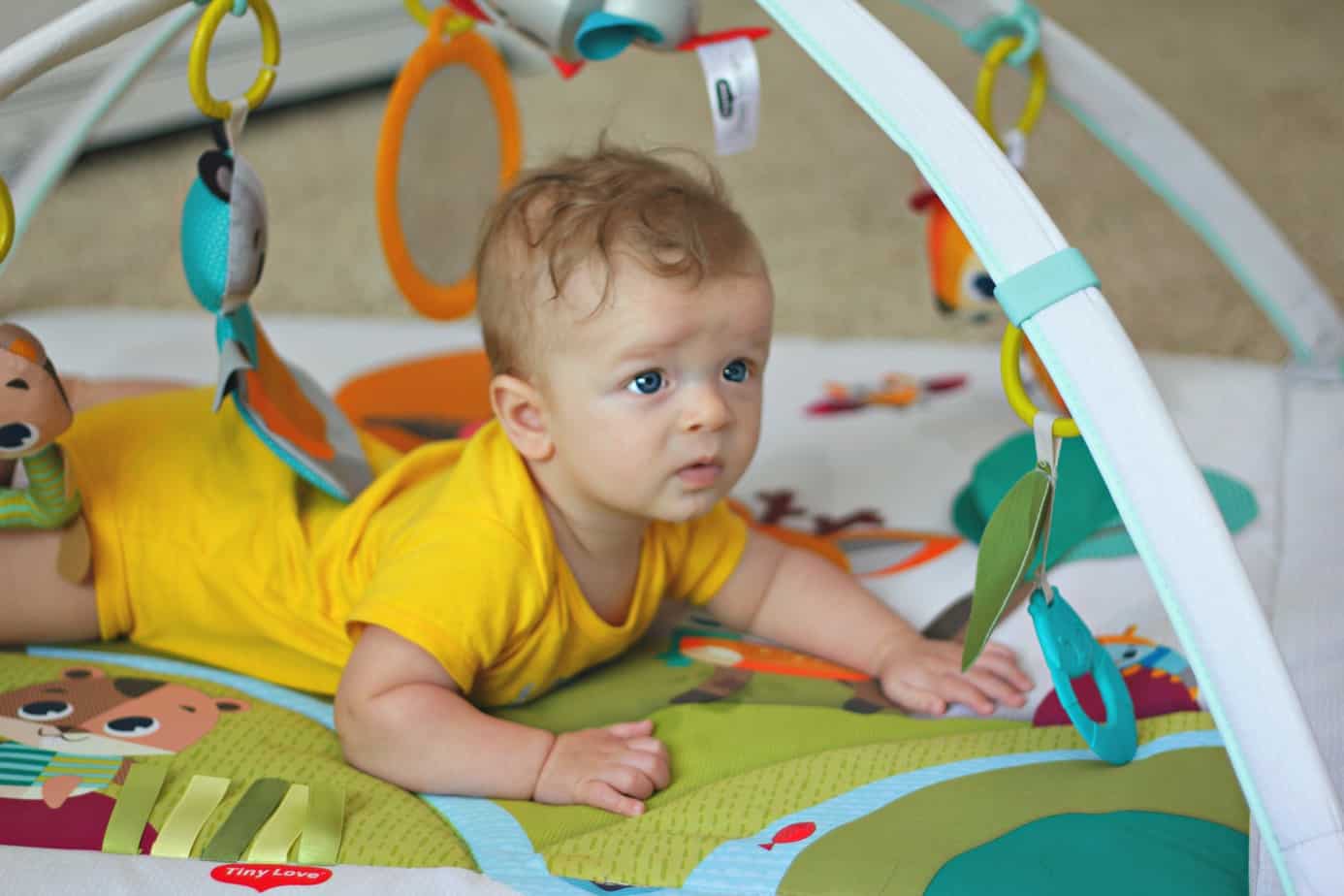 Huge thanks to Tiny Love for sponsoring this post. All opinions are my own.
From the moment your baby is born, they are ready to learn and take on this big new world. They need all the help from us for the growth and development that will happen during the next couple years, especially the first few months of their life. Tummy time plays a huge role in this early developmental period and should be started right away. I'm not talking about putting them on a play mat right away, but from birth, spend time tummy to tummy with them a few minutes here and there. When they get a little bigger and get the OK from their pediatrician, start doing tummy time on a play mat.
Many new parents are so nervous about starting tummy time, I know I was that mom. Babies may cry, fuss, and get upset, but learn to power through that. As long as the tummy time is being supervised, it'll eventually be so rewarding. It can turn into some great bonding time for you and your little one. This world is new for them, so give it time, be patient and don't stop trying.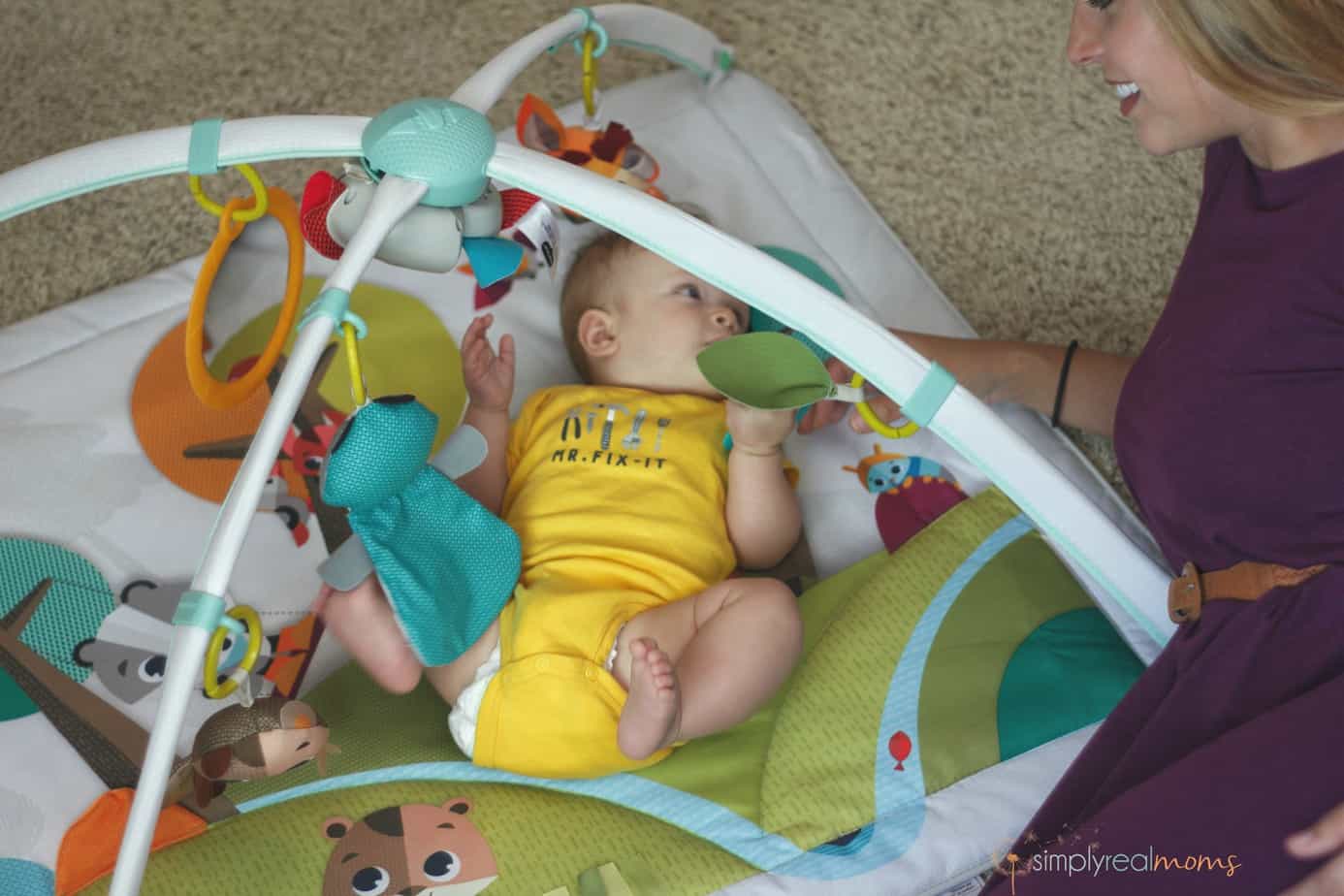 So why is tummy time so important?
Tummy time helps to:
Develop strong neck and shoulder muscles
Helps master head control
Boosts motor skills
Prevents the back of their head from developing flat spots (plagiocephaly)
Alleviates gas pain
Helps practice for other milestones like rolling over, crawling, and sitting up.
Here are some ways to make tummy time more enjoyable for the two of you.
Start slow. I recommend doing for a minute then work your way up in 5 minute increments until you get to 30 minutes by the time they are 5-6 months old.
Get down to their level
Make it fun by playing with them
Help them roll over
Make it a routine
Invest in a great play gym
Investing in a great play gym has always been so key for me. As a mom to now three children, we've spent a lot of time using a baby play gym over the years. I've been using the Tiny Love Into the Forest™ Gymini Deluxe with my little one and honestly, tummy time has never been more fun. Something that seemed like a task before has quickly become enjoyable for not just him, but for our entire family.
The Into the Forest™ Gymini Deluxe has everything to make tummy time stimulating for our little ones. The simplistic design isn't overwhelming and lets the babies really focus on the features that matter. Everything crafted has been carefully conceived using Tiny Love's 7 Developmental Wonders™ that help with baby development milestones, including motor skills, visual and auditory cognition, and the senses.
Gross Motor Skills
The spacious play area lets babies stretch their bodies, experiment with movement and rollover, while the activities, mirror and electronic bird toy help extend tummy time.
Fine Motor Skills
While lying on the back and tummy, baby practices grasping skills and develops hand control.
Cognition
The Gymini® grows with babies and supports your little ones through their cognitive development. It helps them understand the idea of cause and effect through simple play in the first months and, as they grow, helps them develop and learn with its more sophisticated features.
There are also adjustable arches in the Gymini Deluxe that is the most important and differentiated feature. It encourages babies to play on their tummy, giving them lots of space, without the overhead arches interfering. Tiny Love calls the open mode of the arches Tummy-Time mode. This open mode also allows the parent or siblings to easily join the baby on the mat.
When it's time for baby to get a break from their tummy, there's so much to enjoy while laying comfortably on their back.
I can't begin to tell you how helpful the Gymini® has been when I need a break. My son just loves spending time playing with everything. So many adorable animals and fun textures. Whether on his back or tummy, he can easily grab toys, chew on toys, listen to music and watch the adorable electronic bird light up.  His favorite thing though, is looking at himself in the hanging mirror.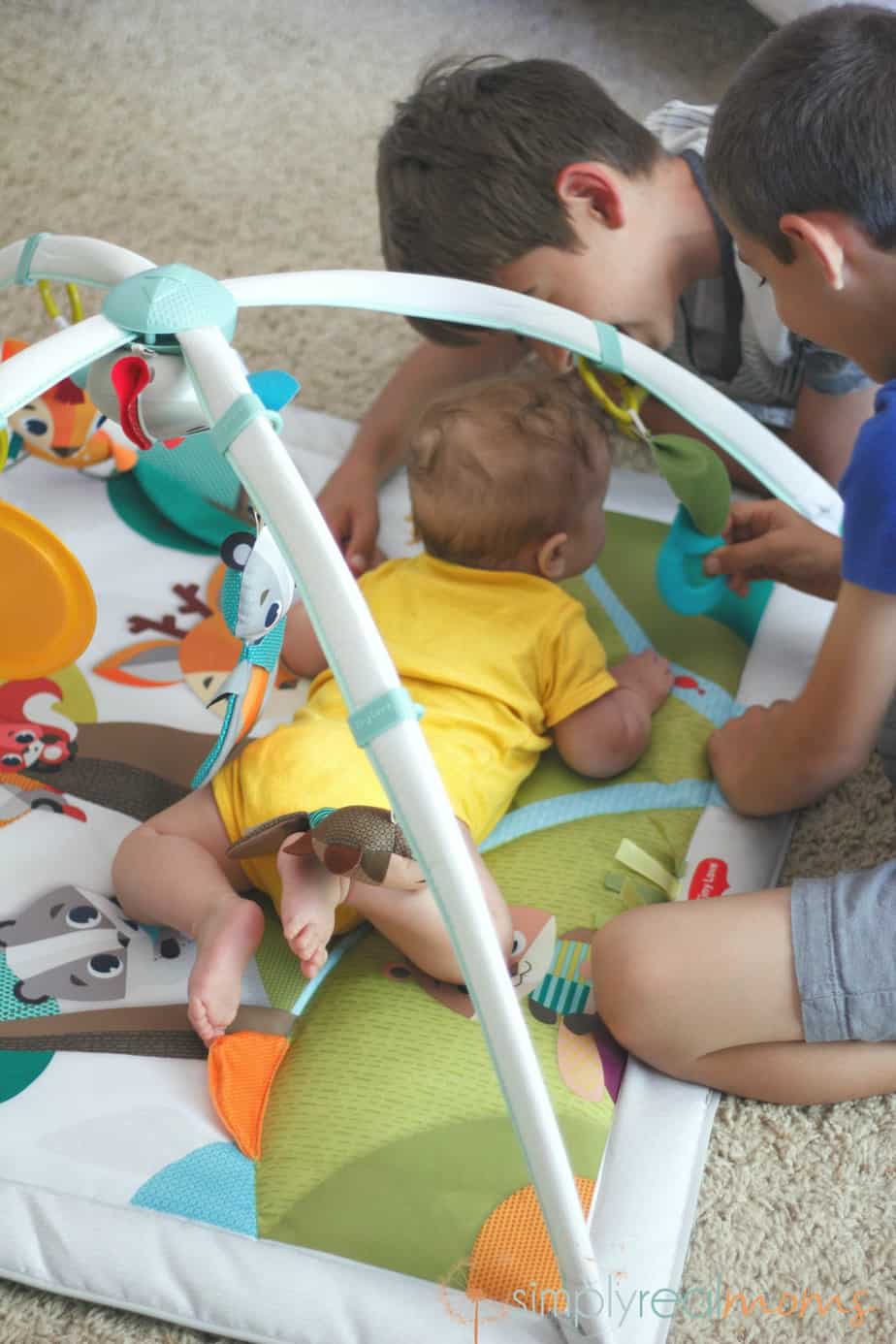 The Tiny Love Into the Forest™ Gymini Deluxe is honestly the perfect play mat for your growing baby. What are some of your favorite ways to bond with your little one?
To learn more about the Into the Forest™ Gymini Deluxe and other Tiny Love products, please visit: http://www.tinylove.com/.
* This should never replace advice from your child's pediatrician.