Best Garden Fertilizer for a Bumper Crop!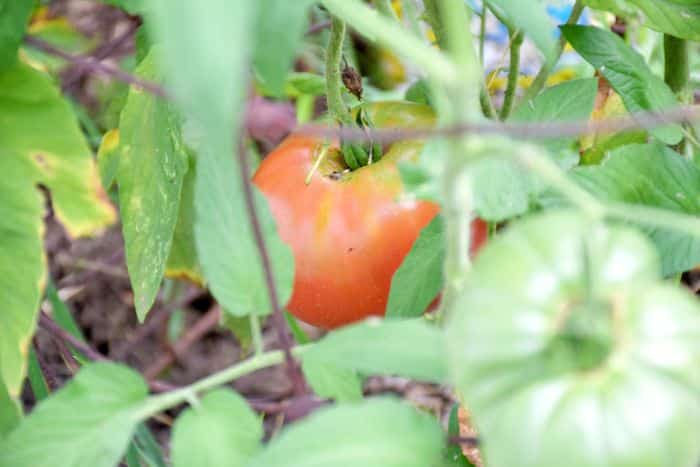 When growing a garden we all know the soil needs lots of organic matter. Plenty of leaves, compost, manure, and mulch. We want to build the soil up and we want to use the best garden fertilizer possible. Jason typically dumps on 13x13x13 (nitrogen, phosphorus, and potassium) and tills everything together.
All of the above is good and we plan to continue doing it. Especially piling on the carbon (wood chips, leaves etc) and adding a high nitrogen manure on top (like chicken poo) in the fall. But I've found the best garden fertilizer for spring and it may not be what you expect.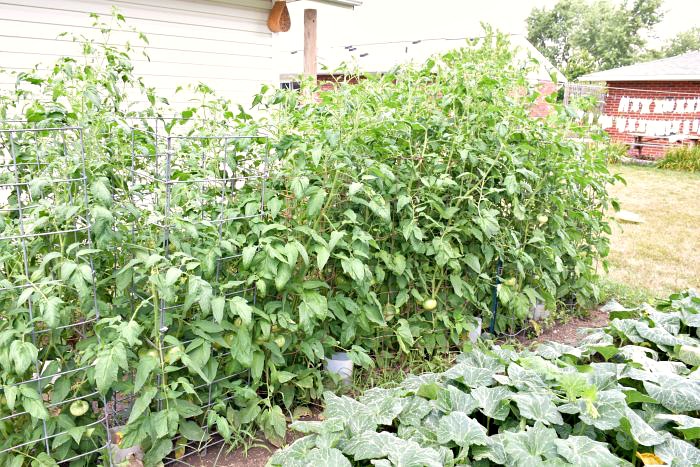 Let me explain 🙂
I showed up at the farm where we have a herd share to pick up my weekly gallon of milk, and like always I read the notes and lists of extra available items. 1 item read as follows: "Sour milk for feeding pigs or use as fertilizer $2". While it made sense to feed it to pigs, the fertilizer part was interesting to me.
But as I drove home, a little memory jiggled to the top. A patch of grass that always grew 2-3x thicker and taller than the grasses around it. When we milked, occasionally a cow would need medicine and her milk would be dumped while she was on the medicine.
That lush green patch was where we dumped the bad milk!
Another memory popped up. In the Farmer Boy book (part of the Little House Series), Almanzo grows a prize winning pumpkin by feeding it milk.
The next week I went to get my gallon of milk and looked for the sour milk. Sure enough, he still had some. I bought a bucket full, took it home and dumped it around the young tomato plants. This stuff was sour, curdled and chunky, but being raw milk, it wasn't too offensive, I was really curious to see what would happen.
Within 2 weeks, I could see a huge change. The plants had doubled in size and were already in bloom! Most of the early blooms didn't set, but another week showed tiny tomatoes setting.
I bought another 2 buckets of the sour milk and poured it along the bean rows, in our raised beds and on a few potted plants that we had wintered over.
Now in July we're seeing the results. Typically we don't get ripe tomatoes until the end of August (blame the long growing season of the plant, the poor subsoil that town gardeners deal with, whatever), but we are already getting tomatoes! Jason just brought one in the other night and another one is on the vine nearly ready to be picked.
The green beans are also doing amazing. However… I poured the sour milk right at the plant stalks. This was a bad idea since the roots didn't need to go anywhere due to all the nutrients needed being right there. We have to be careful picking them or they uproot.
The best garden fertilizer would be milk!
Why milk? I'm not a scientist, but I have a few theories.
First of all, raw milk is incredibly nutrient dense. Especially this milk as it is from cows fed an all grass/hay diet.
Secondly the overgrowth of bacteria (what makes milk sour) would be highly beneficial to the soil's microbes, fungi and beneficial bacteria.
Finally, this is a ready nutrient. It doesn't need broken down first like organic matter, nor does it need time to dissolve/work like a granular fertilizer.
Does the milk HAVE to be raw? I would guess not… however, pasteurized milk won't have the same enzymes and good bacteria in it as the heat kills them so there could be a difference. I guess the only way to find out would be to give it a try.
So what do you think? Will you try putting milk on your garden next spring?