Best Summer Baby Products for 0-6 Months
Summertime is quickly approaching which means the heat will be here before you know it. As someone who has had two summer babies, I know the importance certain products have in making sure you and your new baby have an enjoyable summer. There is no need to sit inside, when you should be out enjoying the sunshine and warm weather. It's not only healthy for you mentally, but having your baby exposed to some vitamin D is always a good idea.
I have put together a list of my favorite summer products that I recommend for your little one.
BreathableBaby is a company that I have known and loved for about for 7 years now. They make bedding that is safe to use because it allows better and easier breathing for your baby. Safety is their top priority. It is the starting point for their product design, and they take extra steps (like consulting with doctors and rigorously testing our products) to make sure all their safer sleep solutions are safe enough for your family.
You may have seen their Breathable® Mesh Crib Liners when searching for safe alternatives to crib bumpers, but did you also know they make blankets? You may be thinking why on earth should you use a blanket during the summertime, but babies like to feel warm and secure. They enjoy being bundled and with BreathableBaby's Deluxe Modal Knit Baby Blanket they can while still getting that airflow that is needed.
This blanket is SOFT! It is honestly our favorite blanket we own. Not only does it keep babies warm during the winter, but it'll keep your baby cool during the summer. It's basically a two-for-one in my opinion. It breathes well and is also very absorbant.
You can buy BreathableBaby by visiting: https://amzn.to/2FTwq8o
The Regalo Baby Play Yard is seriously a must-have this summer. If there is one thing you need to buy, make it this! I can't express how convenient this play yard is, we use it almost every day when we are outside.
This Play Yard is truly portable. It's lightweight, easy to carry, and in less than a minute the Regalo Baby Play Yard can be opened for use or closed and put away in its carrying case.
It's replaced our pack n' play and I will always recommend this to any parent out there. The best part is it comes in either a 6 Panel or 8 panel size and both retail for under $100.
If you are camping, spending time at the beach, or just want a safe place for your little one (indoor or outdoor), the Regalo Baby Play Yard is it!
You can buy Regalo Baby by visiting: https://amzn.to/2rv6oTP
With summertime adventures here, babies need some bath products that are good for their skin. Healthy Times is a vegan baby skincare line that we just absolutely love. They are formulated to soothe, protect and nourish baby's delicate skin with luxurious blends of botanical extracts and oils. All products are hypoallergenic, fragrance and BPA-free, and contain no sulfates or parabens.
My 5 month old has really sensitive, dry skin and we can't say enough great things about the Healthy Times Gentle Shampoo and Wash and Soothing Baby Lotion.
Use these gentle, tear-free formulas to get the sunscreen out of your baby's sun-bleached locks.
Antioxidant-rich green tea extract, soothing chamomile extract, and creamy shea butter cleans and detangles, leaving your baby's hair silky-clean and easy to comb.
Moisturizing sunflower seed oil and jojoba seed oil are certified organic ingredients.
Don't let a day of beach play leave your baby with rough and irritated skin. Instead, let luxurious coconut oil, antioxidant-rich green tea extract, soothing chamomile extract, moisturizing sunflower seed oil, and creamy shea butter help maintain the velvety touch of baby-soft skin.
Moisturizing coconut oil, sunflower seed oil and jojoba seed oil are certified organic ingredients.
You can buy Healthy Times by visiting: https://amzn.to/2rsni6c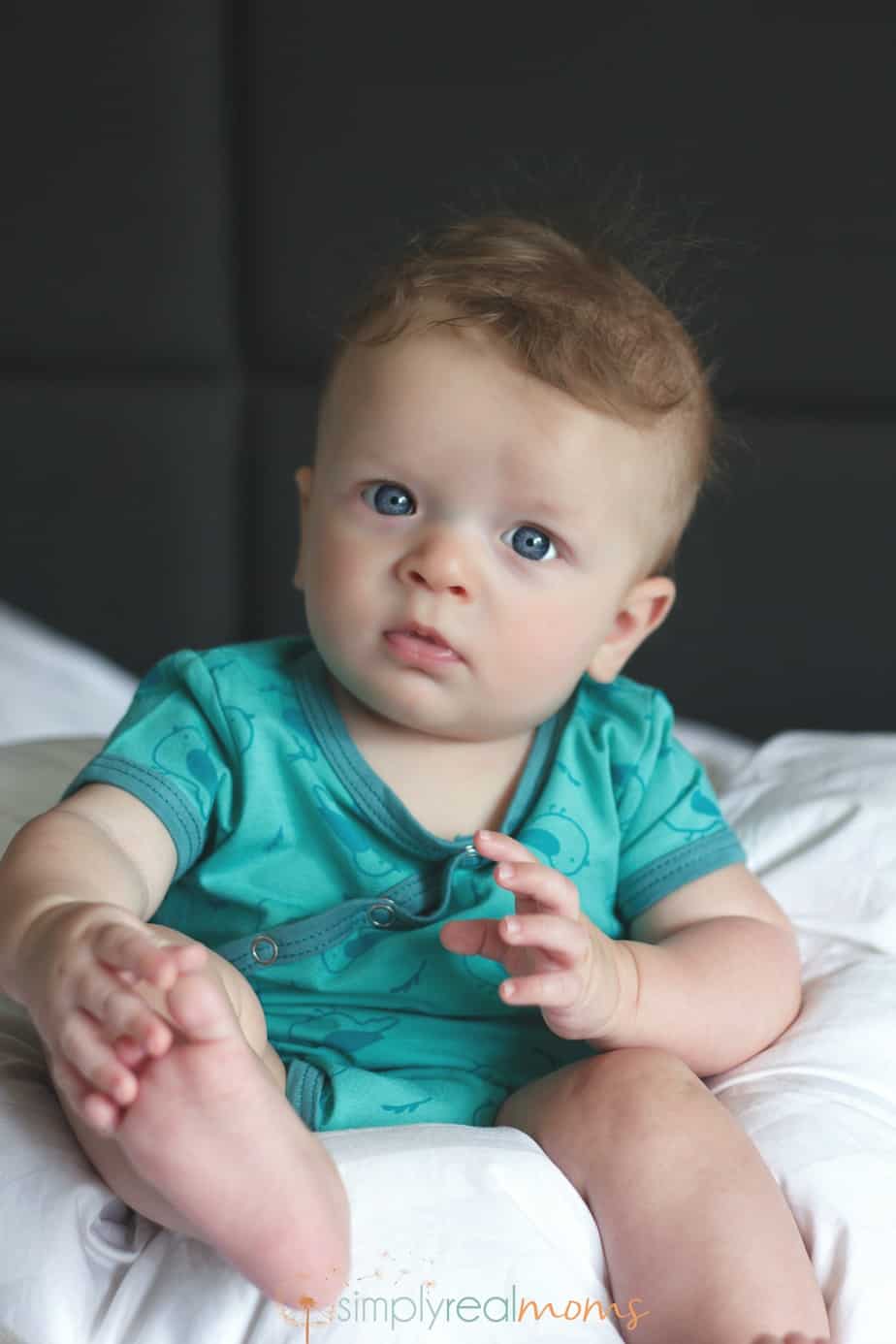 It is recommended that babies start using sunblock at 6 months, so what do you do when you are going to be outdoors for a while? The good news is there is an incredible children's clothing line made to protect our sweet babies from the harsh UV rays.
Meet Lark Adventurewear, my new favorite clothing line. With clothing made of UPF50+ there really isn't another option when it comes to summertime wardrobe. Their clothing blocks 98% of all harmful UVA & UVB rays, which gives parents a better peace of mind while taking their little ones out.
Lark Adventurewear clothing are all:
Eco-Friendly
Contain NO Chemicals or Synthetic Fabrics
Made in the USA 
UPF 50+ 
Wicks-Moisture to protect from sun and sweat
Honestly, I have never felt a onesie so soft and made with this high of quality before. There are many clothing options available for both boys and girls, and include onesies, dresses, rompers, long sleeved tees, and more.
You can buy Lark Adventurewear by visiting: https://www.larkadventurewear.com/
I love nothing more than babies in swimwear. They are just so cute! Most babies love the water and you will want to not only make sure they are protected when they go out in the sun, but that they are comfortable as well.
Snapper Rock sunsuits are made of quick drying, breathable UV50+ fabric that blocks 98% of all harmful rays. From baby one piece sunsuits, to cool mix and match swim sets, rash tops, boardies, hats and kaftans, Snapper Rock has your kids covered head to toe.
You can buy Snapper Rock by visiting: https://amzn.to/2jHE8cT
It's no surprise baby's eyes are really sensitive, so why not protect them. Getting your little one used to sunglasses at a young age will save you the headache of trying to introduce it to them when they are older.
Real Shades is the perfect sunglasses for your little one's eyes. Not only are they extremely comfortable on their head, they are extremely durable. Your little one can bend them, flex them, or even try and eat them and they won't break. They are 100% UVA/UVB protective and available in polarized! My favorite part about them is the removable strap. It really helps to keep these shades on the little ones, especially when they are still trying to work on their head control.
You can buy Real Shades by visiting: https://amzn.to/2HYiH62
Summertime is for playing and who doesn't love a good toy to travel with? We are obsessed with all things Finn + Emma. There really isn't anything on their site that we don't love.
Ramey the Raccoon is my little guy's favorite pal and for good reason. This hand-knit raccoon was made using G.O.T.S. certified organic cotton yarn and wool stuffing. He is also non-toxic and has eco-friendly dyes. 
There are so many great toys for your summer trips at Finn + Emma. From stroller toys and rattles, to pacifier clips and even weekend outfits.
You can buy Finn + Emma by visiting: https://amzn.to/2K2SdwJ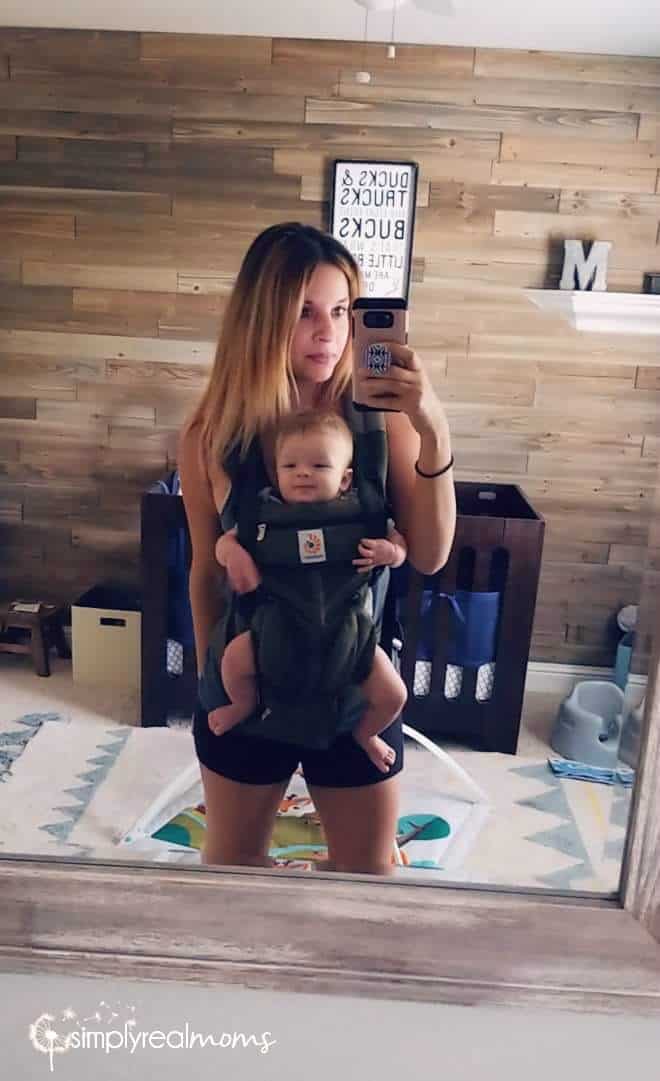 When you're on the go, the best thing to do is wear your little one. Whether you are out hiking, on the beach, or even just grocery shopping, baby wearing is not only convenient, it's a great way to bond with your child. Wearing your baby during the summer heat may not sound like fun to you, but with the Ergobaby Omni 360, baby wearing during the summer has never been so nice.
This all-in-one, newborn ready Omni 360 Cool Air Mesh has all the carry positions plus ultimate ventilation to keep you both cooler. Omni 360 grows with baby from week 1 to 48 months and offers a perfect fit for all parents.
Breathable, lightweight all-mesh carrier
Ergonomic, forward facing option starting as early as 5 months
Adjustable from newborn to toddler
Lumbar support for extra back comfort
You can learn more about Ergobaby by visiting: https://ergobaby.com/baby-carrier/omni-360
or purchase directly :https://amzn.to/2KKU6iJ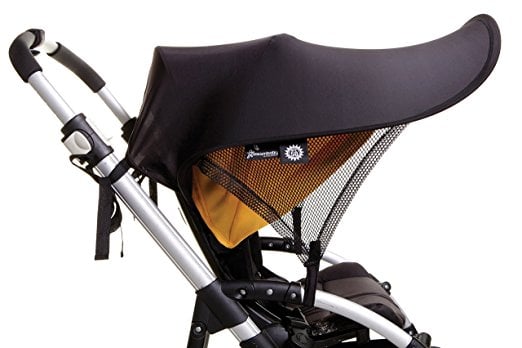 The Dream baby Stroller buddy Extenda-Shade is part of our brand new range of stroller shades which protect your child from the sun's rays with ease and style by extending the stroller's shade. Featuring a UPF of 50+ protection, you can be assured your little one will be safe on those bright days. The Extenda-Shade is suitable for use on larger strollers that have a canopy. They fold away for easy storage and come with a clear, reusable plastic bag making them perfect for travel.
You can learn more about this extended stroller shade by visiting: https://amzn.to/2rqQrOs
Hot temperatures aren't fun for anyone, especially when you're in the car. We know as a concerned parent you always want to ensure baby isn't overheating. This is why we've designed a new mirror with a remote-controlled fan. Breeze™ features two fan speeds and is adjustable, so you can tilt it towards baby for the perfect angle. Plus, the fan features an auto shut-off which turns the fan off after approximately 10 minutes of use. The Clear-Sight™ mirror offers superior reflection and a distortion-free image, making it easy to always see your little one in the back seat. The Breeze™ will really blow you away!
You can learn more about this Auto Fan by visiting: https://bit.ly/2rrqoGF
Disclosure: I received some items for review purposes, all opinions are my own. Article contains affiliate links.