Brilliant Banana Breakfasts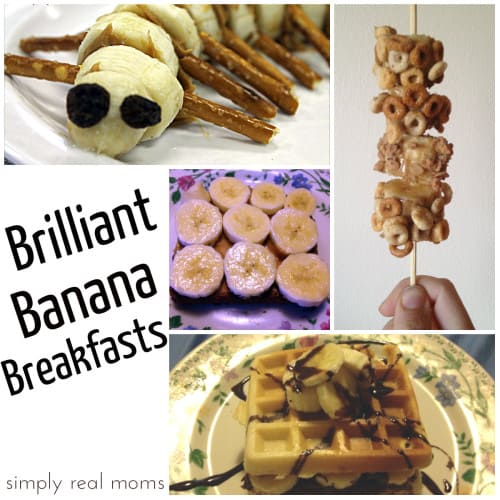 Bananas make a great, filling start to your day. But eating a banana by itself can get pretty bland and boring. Try spicing things up a bit with these delicious ways to have bananas for breakfast!
Banana Sushi Kabobs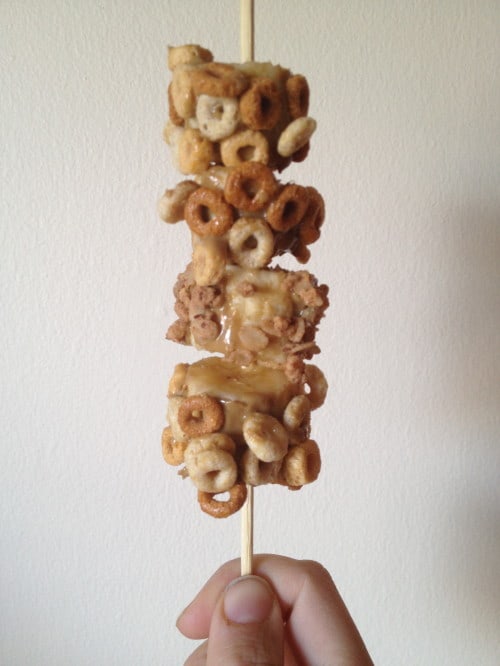 I've seen ideas for banana sushi floating around Pinterest for awhile now. I love bananas and peanut butter (and almond butter or sunflower butter), so I thought the idea of rolling slices of banana in peanut butter and cereal was great! I made some banana sushi, which was delicious. But it was so messy! In order to try to find a neat solution, I put it on a stick. This was an instant hit with my toddler. He ate two bananas like this one morning!
Instructions: Slice a banana into bite size pieces. Roll the banana in peanut butter. Then roll the banana in your favorite cereal (we use Cheerios and granola). Slide the slices onto a skewer and enjoy!
If you don't have any skewers, you can enjoy this treat simply as Banana Sushi: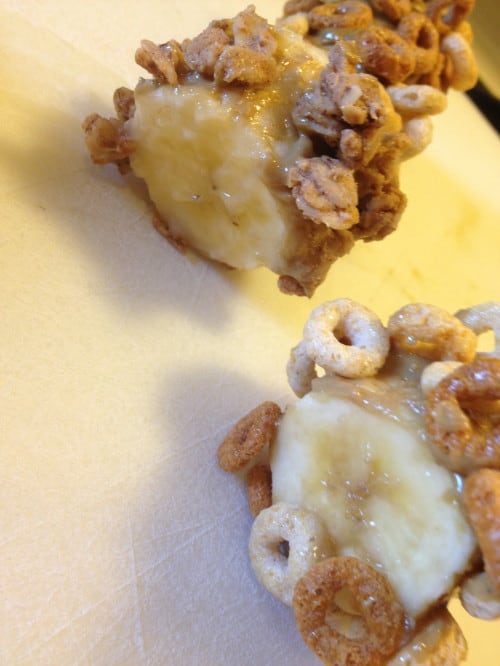 Nutella Banana Waffles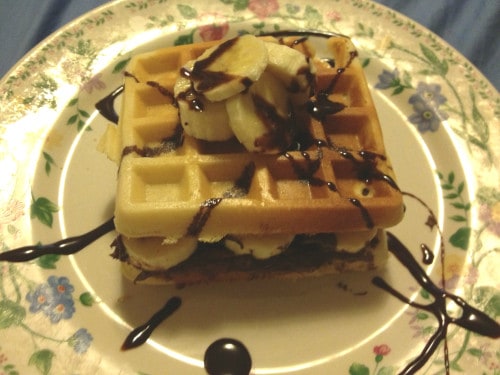 Turn any morning into a special one with Nutella Banana Waffles. Find our recipe for Amazing Homemade Waffles here.
Instructions: Start by making two waffles. Place one on the plate and spread it with a thin layer of Nutella. Add sliced bananas on top of it and place the second waffle on the bananas. Top the waffles with some more sliced bananas and chocolate syrup.
Banana Peanut Butter Toast
This is a great, easy breakfast for a weekday morning. We especially enjoy peanut butter and bananas on raisin toast!
Instructions: Toast bread. Spread it with peanut butter. Top with sliced bananas.
Banana Caterpillar
This is a fun banana meal to make with your children. All it takes is peanut butter, bananas, raisins and pretzel sticks. Read the directions in the article The Very Banana Caterpillar.