Busy Mom's Guide to an Inviting Home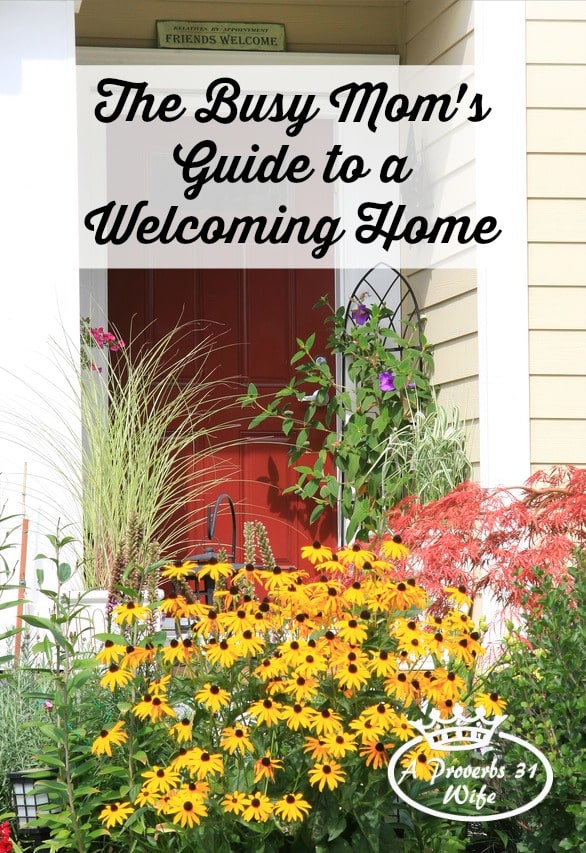 Ever walked into your home, saw the mess and wanted to go hide under your sheets? Yeah, me too. But I have a system for creating a home that is welcoming instead of repulsing. Today I'm sharing the busy mom's guide to an inviting home.
Creating an inviting home doesn't require a huge cleaning spree, nor do you need to spend a ton of money. Instead, you must spend a little time each day to insure a home that welcomes you.
The Busy Mom's Guide to an Inviting Home
Step 1:
Welcome visitors (and yourself) inside.
Start at the front door. Consider your front door the door that most people enter through.
If you like seasonal decor and have the time for it, let your front door announce the season (or holiday if you really have time) to the world. If you don't have the time, creativity, or money for seasonal stuff, just hang a simple welcome sign. You could really simplify and place a vinyl "Welcome" decal (affiliate link) to your door and be done with it once and for all.
Whatever you choose, have something that makes you smile when you see your front door.
Step 2:
Locate trouble areas.
Step inside. Stand right inside your front door and look around. What is the first thing you see? Is there an area that falls right into your view that is quite frankly an eyesore?
The kitchen table becomes my trouble area. I come in the garage door, visitors enter by the front door. Both doors offer a full view of the kitchen table. Over time I've noticed that if the kitchen table was messy, the entire house looked cluttered. A clean, or at least organized kitchen table makes the rest of the house looked better too.
In your home it could be the table, a counter, or even a couch. Once you've located your main trouble spot, you can then began to fix it.
Step 3:
Clear and organize trouble spots.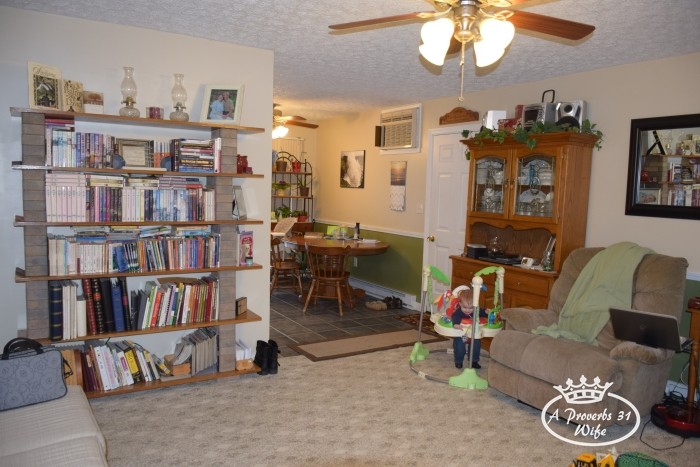 In our house, and I will guess yours is the same, trouble spots are where you dump everything when you get home.
Mail, work related papers, half-finished projects and even books like to take up residence on our kitchen table. This is basically where everything gets dropped the minute I walk in. What doesn't get dropped on the table, lands on the couch.
Over time, stuff really adds up. The challenge is to find a place for it all.
When my table gets snowed under, the easy way to clear it is pull the trash can over. Kidding! While that may actually be the easiest, it's definitely NOT the wisest.
Instead, I sort through the mess. Generally I have a few piles: mail, trash, clothes (don't judge!), and books. Next I take each pile to the room it belongs in, sometimes I put everything away at that point, other times I just dump it and finish clearing my table before returning to finish putting things away.
While clearing your trouble area, I recommend the sorting and dumping into each room for one reason only. You are busy. You don't have time to painstakingly put everything away at the moment. Your current goal is to clear your trouble spot.
Step 4:
Creating better habits.
Most days my table is still a little cluttered, however I've been able to create habits that keep it clean. I walk in, drop stuff like normal, but there's a slight change. I hang my coat and scarf right away instead of dropping them on the couch.
Once Kolton is out of his seat, I immediately park it where it belongs. Finally, I return to the table and put away everything I just dropped there.
It's become a pretty good routine for us.
Once you know your trouble area and know what causes it, you can create better habits as well. Place children's papers in a box at the door, or in a drawer. Only place the ones you need to do something with right away on your trouble area. Better yet, create a strategic place for things that need attention (teacher's slips etc).
Step 5:
Don't bring it in.
If junk mail and trash filled your trouble area, consider placing a trash can beside your door. When I go out to get the mail, I sort through it while walking back to the house and often make a short stop at the trash can. By taking a simple detour, I keep most of the junk mail out of our house completely.
Final Thoughts:
If you have kids, toys are inevitable. Instead of fighting that battle (they do need something to play with), work to keep toys contained in a designated area. Focus on keeping dirty clothes, general clutter and trash out of immediate view when you step inside and your house will appear so much more welcoming.
There are a few things that typically stay on my table. I like to keep flowers or a candle there, as well as the salt and pepper shaker. It's easiest to keep the bible and Jason's stuff that he takes back and forth each day there as well. The key at this point is stack. I stack my books in one stack and Jason's papers in another. It looks nice, it looks organized, it looks inviting.
If you must keep things in your trouble area, stack them when possible. Even multiple stacks will always look better than a general pile.
Keeping my home in a state of welcome takes me about 5 minutes each day. What can you do in 5 minutes to create a more welcoming home?
Share the encouragement via Twitter: "@aproverbs31wife is sharing how to make your home more inviting in just 5 minutes a day!"