How 20+ Busy Moms Stay Motivated And Inspired
If someone asked you "How do you stay motivated as a busy mom?" how would you respond?! Well, that's the question I asked myself recently. So, how exactly do busy moms stay motivated and inspired?
I'll start with me.
I stay motivated by leaning on God. Without God, at times I feel lost. At times feel like the worst wife, and the worst mom. Whenever these negative thoughts creep in, I choose to find God in those moments. Those are the moments where I am filled up and I feel like nothing can stop me. In those moments I'm truly able to focus more on my marriage, my children, my work, my writing, and even myself and self-care. Without God…it's very hard for me to stay motivated.
One of the most beautiful things is how we are all different. All of us moms are all parenting, raising our kids, but we all do it in our own way.
So, I recruited some other mom bloggers to help answer this question, too! It was so much fun and inspiring to see how many of these amazing women stay motivated as a busy mom.
Here are different ways these busy moms stay motivated!
1. Jessica from Cedarbirch Musings
"When I am losing steam, inspiration, energy, or motivation I know it's time to take a pause. Take a week or two in homeschooling to interrupt the program and let loose with a mini-unit on whatever the kid's interests are in. Look at nature, going for short nature walks, go to parks, etc.
We recently took an online course on architectural drawing which required a walking tour of downtown just for the fun of it and the mental break seemed to get the motivation going again. Since I participated in this creative class that was not something I would have thought to choose, my creative juices were flowing by the end."
Check out Cedarbirch Musings!
2. Rebecca from Out Upon The Waters
"I like to get up 20-30 minutes before my kids do and spend some time recharging. Usually that looks like Bible study or a walking prayer, through my neighborhood. Sometimes it's just a good book and a cup of coffee.
I find that if I spend some time connecting with God before I start the rest of my day, it makes a huge difference in my mood, energy levels, and motivation. Lately I've been going through The Bible in One Year (by Nicky Gumbel) and I find that some days, the Bible passage or the reflection for the day is exactly what I needed to hear."
Check out Out Upon The Waters!
3. Amy from Mom Fuel Empire
"I stay motivated by making sure to enjoy individual moments and following my passions. Too often, we moms obsess over finding balance, but I've found that experiencing each moment and task with passion helps motivate me in the forever-chaotic days of motherhood.
For me, this means block scheduling out my days and making sure to schedule time for the things I'm passionate about. I plan time for gardening, writing, church, devotions, anything that fuels my heart and passion. Making sure I spend time with Jesus, with my kids, with my husband, and with my hobbies ensures I stay focused and motivated, even during the rough seasons."
Check out Mom Fuel Empire!
4. Farwa from The Homemaker Mama
"I have stayed the most motivated when I stopped comparing my pre-baby life with how I live now. Looking back and trying to bring back that lifestyle again was demotivating me to reach the goals I have set for myself and my children.
Accepting the present and looking forward instead of turning back, again and again, was also a game-changer. Also, giving myself at least 30-60 minutes charge me for the rest of the day. I usually spend this time in activities I love like walking while listening to some music or reading a novel."
Check out The Homemaker Mama!
5. Catherine from Healthy Mum Happy Home
"Being a busy work from home mum with two kids I home educate, it can be challenging to motivate myself. Most of my motivation comes from my kids. They are with me 24/7 and look up to me for everything from work ethic, everyday household tasks, to education. As I work for myself, work can end up taking priority above everything else and I lose that balance in life. But my kids help to remind me to take a break and not to put aside the other important tasks.
Through them living in the present, they help motivate me to go out and spend time outside of my career. They motivate me to enjoy life enabling me to relax and spend quality time together as a family. As an entrepreneur, I have a lot of motivation and drive to pursue my business. Without my kids, that's probably all I would end up doing in life. My children are my motivation, to see outside of work and maintain that ever-important work/life balance."
Check out Healthy Mum Happy Home!
6. Lucy from Cheers To Life Blogging
"My kids are my motivation hands down! Seeing their beautiful smiles and being able to provide them a good life is what matters most to me. And even though they are tiny now and I wish they would stop growing, sometimes I can't help but visualize our family years down the road. It's a great feeling to visualize them as humble, successful, and amazing human beings. And then, of course, I go back in time and start looking at old baby pictures and videos because that never fails to put a smile on my face"
Check out Cheers To Life Blogging!
7. Katelyn From Freshly Brewed Mama
"For me, the motivation comes from the relationship I am building with my kids. Staying motivated with tons of competing priorities can be so challenging, but seeing our relationship flourish from being intentional in my parenting is the most rewarding aspect. At bedtime each night, they reaffirm how much joy we shared each that day, and I am reminded of why I do what I do."
Check out Freshly Brewed Mama!
8. Subarna From The Mommys Corner
"I always believe a mom inspires other moms. Whenever I see my friends managing so many things with a smile on her face, this motivates me the most. It works as an energy booster for me. My little girl always tells me that I am the best. Her saying these 3 words make my day and I firmly believe that I may not be perfect but I am giving my best to her."
Check out The Mommy's Corner!
9. Jenna From Just Homemaking
"For me, keeping a loose schedule to provide structure and routine to my days, while allowing room for flexibility, is key. In the same way that it's easier to clean when there's a place for everything and everything in its place, it's easier to get all the things done when there is a designated day and time to do them.
For particularly annoying tasks, I try to set timers, which is motivating, but also allows me to walk away before the task becomes too overwhelming. But ultimately, spending time with God and asking Him to take the reins on my day is the very best way to make sure my heart and hands are being used for His purpose, which is the greatest motivator there is."
Check out Just Homemaking!
10. Jasmyn From Just Jass
"I stay motivated by remembering the bigger picture! Things may be busy and chaotic now, but it won't always be. By working hard now, I can rest later and do what I want to do which is to be able to have financial freedom and be present with my family! I take on this mindset everyday and allow it to motivate to be better and push me towards that goal!"
Check out Just Jass!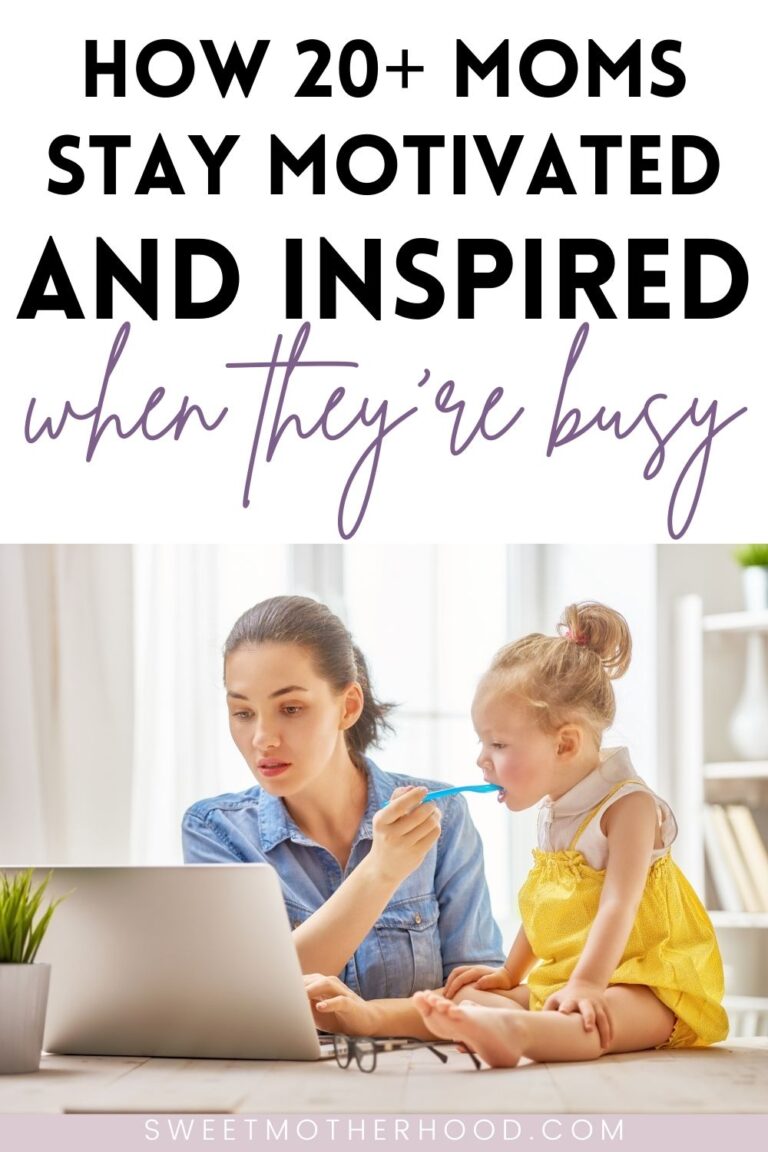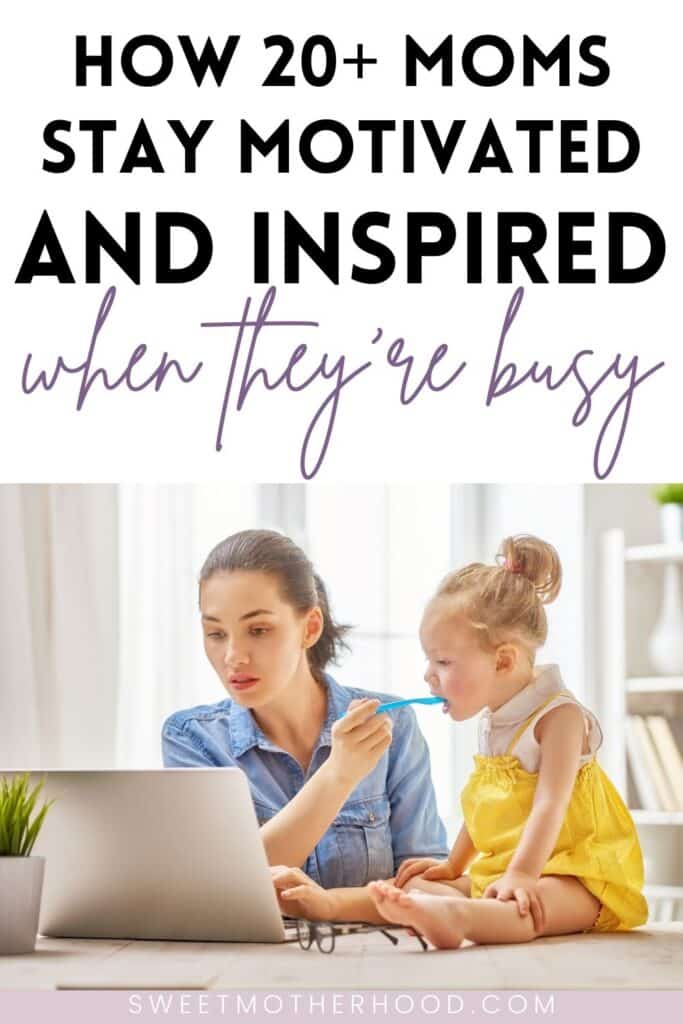 11. Emily From Honestly Emily Rose
"In my three years of motherhood, I have learned that I am best able to stay motivated when I take time to recharge and focus on me. Between my work as an elementary school teacher and the demands of being a mom to two young boys, this is easier said than done. But I find that to be the best version of myself and to stay motivated in growing as a mom, teacher, and individual, it is non-negotiable.
I listen to motivational podcasts on my commute to and from work and get the kids down early so that I have some time in the evening to journal or read a book. When I give myself that time to fill my cup, I am able to do more for everyone else."
Check out Honestly Emily Rose!
12. Amber From The Other Mrs Fields
"My journey through motherhood has taken me from single teenage mother to midlife mother. As a young mother, I struggled to stay motivated. I was working and found myself stretched thin with all of the responsibilities that come with parenting. After my boys left home I realized how much energy I wasted worrying about all of the little things and took for granted the journey of motherhood itself.
When I found myself pregnant at 42 with my daughter I wanted to embrace motherhood in a way I had not before and part of that was to let go of the idea that we as parents need to stay motivated. I enjoy those unmotivated, lazy, messy days. Sometimes they make the best days."
Check out The Other Mrs Fields!
13. Nahyun from Lifting Motherhood
"The only way I stay motivated is if I write a to-do list for the day and go over it with myself mentally over my morning cup of coffee. And I make sure that I don't overdo myself with my daily to-do list (meaning I don't add more than I know I can handle) so that I don't get stressed out and I'm able to easily accomplish everything I need to in that day."
Check out Lifting Motherhood!
14. Melissa From Life With Less Mess
"As a busy mom of three and small business owner, it can be hard to stay motivated, however, I know that if I do what I need to… plan ahead, stick to my routine, check things off my to-do list, stay organized… my day will go be smoother and at night when my kids are in bed, I'll truly be able to relax instead of looking around at everything I didn't accomplish and that's worth every moment of work."
Check out Life With Less Mess!
15. Jeanne From Have Twins First
"As a mom of three, including twins, I have learned (as all parents do) that parenting can be super challenging and exhausting. For me, it is extremely important to have real breaks from both work and the kids in order to reset and be able to be my best self.
By real breaks I mean something that is relaxing and you can do without your kids. In other words, running errands is not a break, but something like going out with friends for a fun evening would be a great thing to do. During the Covid-19 pandemic, parenting breaks have become difficult to non-existent. As things slowly return to normal, it has become obvious how important breaks from work and parenting stresses are in order to stay motivated both as a parent and in my work life."
Check out Have Twins First!
16. Gloria From Mums Invited
"What I've learned to do is to celebrate the small wins and reaffirm myself. For example, when I spend time being present with my kids, playing, laughing even just tickling them, I tell myself I am a good mom (even if a thousand other things that can go wrong, have gone wrong! lol). I'm also really motivated to leave a wealthy legacy for my kids. So, I work hard day and night to turn it into a thriving business enterprise. This really motivates me, even when my days are so full, long and I'm extremely tired."
Check out Mums Invited!
17. Samantha From RecipeThis
"I love being organized and it is key for getting everything done and staying motivated with all the jobs that us mums need to do. One area that is ideal for staying motivated is during the day-to-day meals. If you can plan your meals, freeze meals in advance then you don't have to worry about mealtimes. I like to buy some reduced foods and then make lots of meals in advance."
Check out Recipe This!
18. Alicia from Femmallure
"My "why" is what keeps me going. I want to be able to spend more time with my kids so I do everything thinking about the day that I will finally convert my income to passive so I'll have that time. I also try to remain as organized as possible so everything in my house has a designated spot. This reduces the amount of time I spend searching for things when I need something done. I walk or jog 30-45 minutes every morning. This leaves me with an AMAZING runner's high that last thought the day. I have so much energy I just want to do stuff!"
Check out Femmallure!
19. Jordan from The Motherly Heap
"I keep my motivation constantly flowing by setting realistic goals for myself and what I intend to do. Planning keeps me on track and helps me control the actions I take to achieve my goals. Then, when obstacles are looming around that I know can set me back, I try to deal with them head-on and find solutions to keep me going. As a busy mom, I can expect setbacks; even though I rarely care to admit it. That's okay. I learn that however small a reason it can be to derail my motivation, I can try my best to overcome it or at least manage it and not let it stray me."
Check out The Motherly Heap!
20. Robyn from A Dime Saved
"I try to visualize what I am working towards. I have an image in my head of what I want my life to look like. Whether it is the type of mother I want to be, the type of money I want to have, the type of life I want to lead- I have this image and I try to conjure it when I am feeling overwhelmed and stressed."
Check out A Dime Saved!
Final thoughts
So, there you have it. There's how a bunch of busy moms stay motivated and inspired on a daily basis. Being a mom is hard. But, through God everything and anything is possible and we are able to do really amazing things!
I hope you enjoyed this list of busy moms and how they stay motivated!
What is your favorite way to stay motivated as a busy mom? Let me know in the comments!
Related Posts: Biblical Wisdom For The Stressed Mom