California's Most Romantic City
It's no surprise that Carmel, California (Carmel-by-the-Sea) is one of my favorite destinations to visit. There is so much history, personality, and peacefulness that makes the beauty of this town what it is.
Just a quick drive from Monterey, Pebble Beach, and Big Sur, Carmel is home to luscious greenery, fairy-tale cottages, secret pathways, hidden courtyards, five-star dining, and, of course, the ocean.
Recently I had the chance to head back down to Carmel for a romantic weekend away. It is just a short 3-hour drive for me to get there, and since we didn't have the kids, we decided to head down the coast on Highway 1 from San Francisco to Carmel. If you've never had the chance to take that drive, I highly recommend it. The scenery is unreal, and there are plenty of spots to stop and take in the view.
For our trip down, we loaded up the Hyundai Santa Fe, which made driving a lot more comfortable as there is plenty of space to load your luggage, even if children were in the back seats. I loved how this particular model had 2nd-row cargo seats, which made putting our snacks for the trip within reaching distance.
While we didn't have a chance to use the 3rd-row seating, I was pleasantly happy to see that the 3rd row allows back passengers to control their own temperature and comes equipped with a USB outlet for charging your phone or tablet.
We arrived at my favorite boutique hotel to stay at while in Carmel—the Hofsas House. If you have been following our blog, you will know we have stayed here a few times, but each time has been a completely different experience. Not one has been the same, and I love that about the Hofsas House and Carmel.
Surrounded by lush gardens and a few blocks from Ocean Avenue, Hofsas House Hotel is a boutique hotel with so much history and charm.
Check-in was easy as usual, and the staff at the Hofsas House are truly the nicest people I have ever had the privilege of meeting. They are so welcoming and knowledgeable about the area. Whether you are looking for a place to explore, a delicious restaurant to eat at, stores to shop at, or wine-tasting rooms to try, they have recommendations for everything.
If you are worried about parking, don't be. While there is street parking available on the street, it can get filled up quickly. Hofsas House has a great sized parking lot in the back of the hotel, which we've never had an issue with. It makes getting into your car easy when you want to get out and explore the area.
We checked into room 45— which is a king suite with a kitchenette. In my experience of traveling, especially to smaller towns and at a boutique hotel, I have found it's a rarity when you find a room as spacious as the one at the Hofsas House. I loved having that kitchenette available to us, and you better believe we took advantage of the fridge, microwave, and countertop.
But my favorite part of the room had to of been the bedside fireplace. Imagine laying in bed with no kids, the one that you love, and a burning fire lighting the room. That is my definition of romantic.
The next morning, after we rested we walked a couple of blocks to Carmel Belle for breakfast. I will tell you right now, I have been here for both breakfast and lunch, and it is, without a doubt, one of my favorite spots I've been to. The food is wonderful, the atmosphere is awesome, and the staff is super friendly. Plus, the food isn't overpriced. Which is always a plus for me.
If you prefer to have a more relaxed morning, you'll be happy to know that Hofsas House has free pastries, yogurt, fruit, coffee, and juice in their lobby. You can either sit on the couches near the fireplace and eat, or you can load up a basket of the items you want and bring it back up to your room on a to-go tray.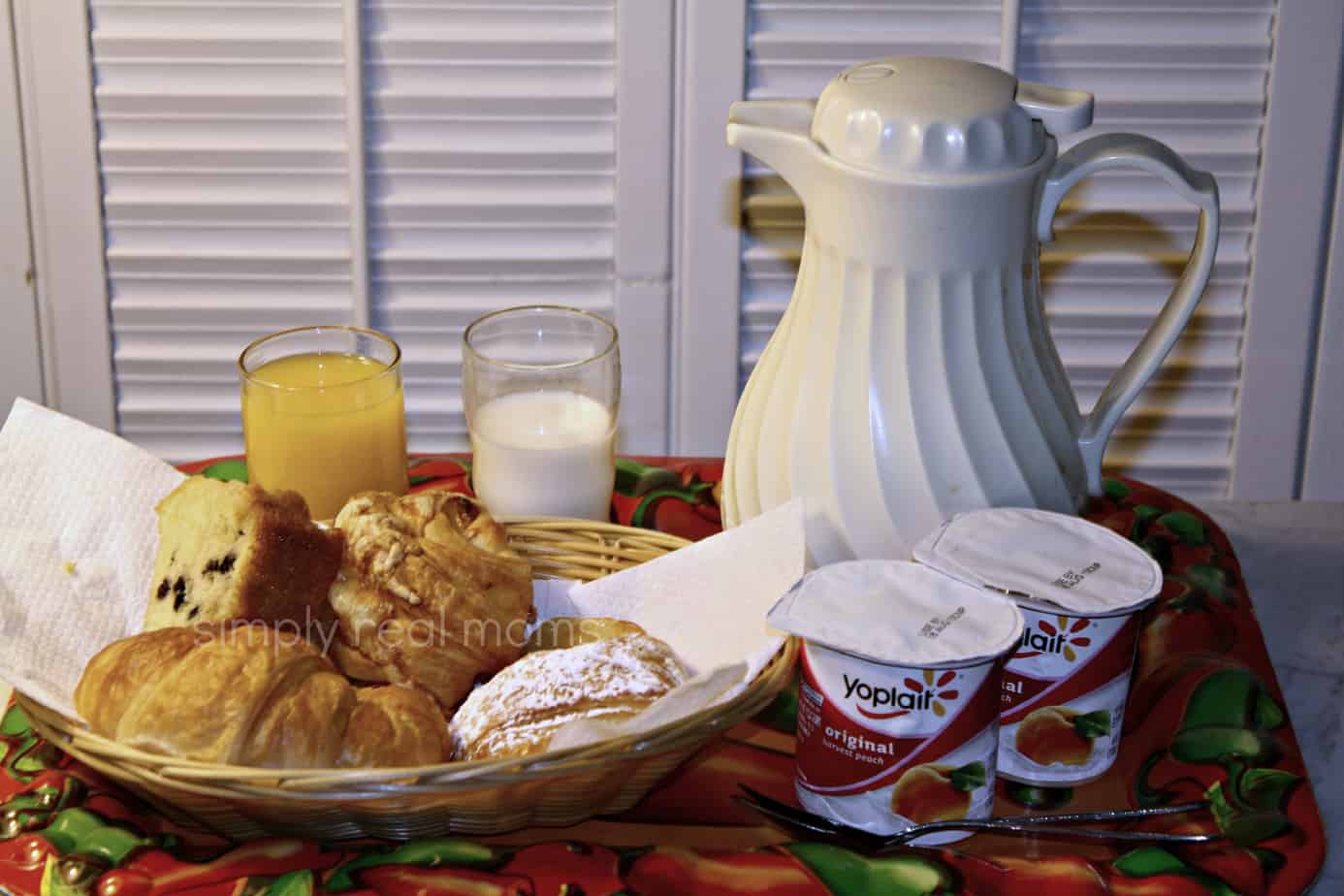 I have always wanted to explore Point Lobos in Carmel, so after breakfast, we took the short 10-minute drive to see what it was all about. I have never seen water so turquoise, blue, and clear in Northern California that I felt as though I was in the Caribbean (minus the weather).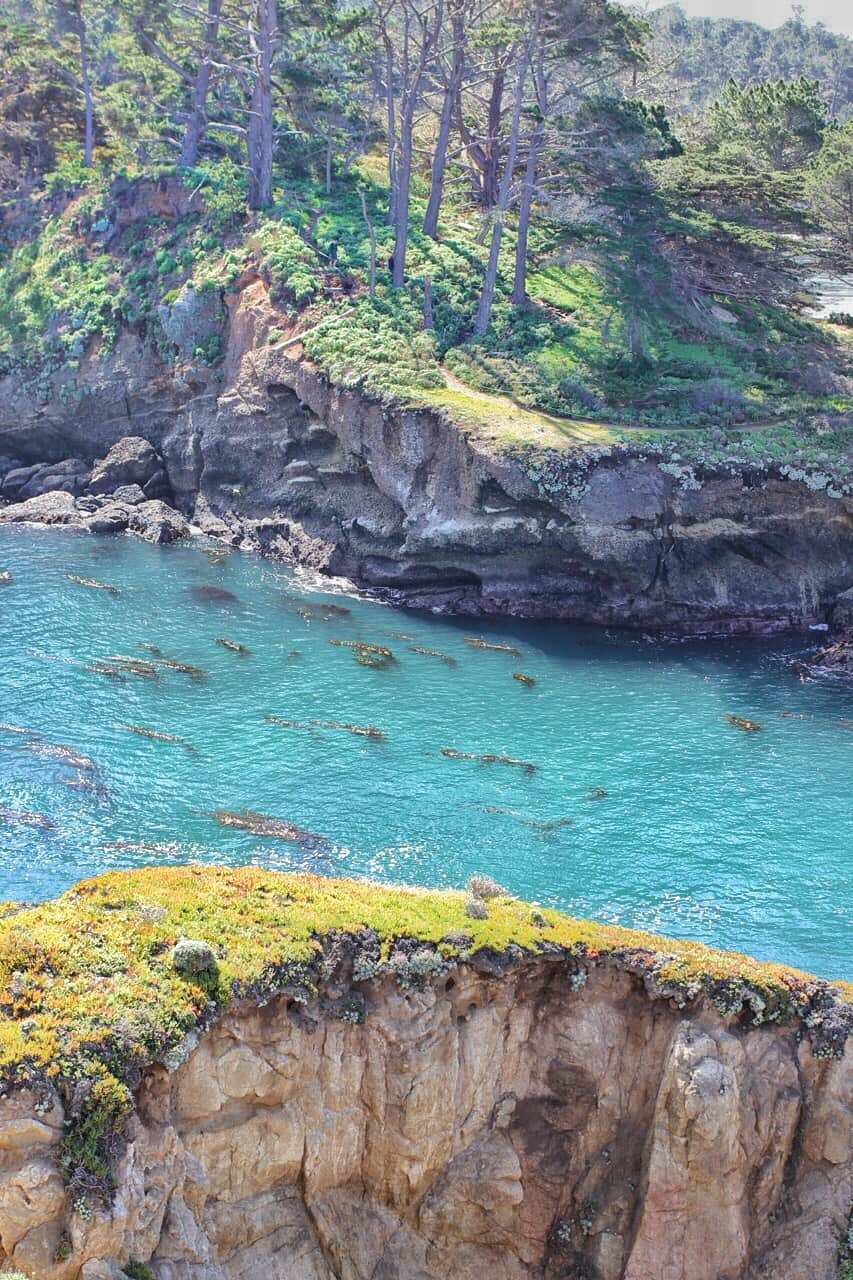 The trails were easy, and we even got to see sea otters and seals during our time at Point Lobos.
After our hike, we decided to take the 17-mile drive, which gets you up close and personal with some of the richest homes in the area. Homes that range from $1 million to $40 million dollars. You also get to drive along the famous Pebble Beach Golf Course. It will cost you $10 a car to do the drive, but it is worth it, in my opinion. There are plenty of stops along the way to see the ocean views and take in the beautiful scenery.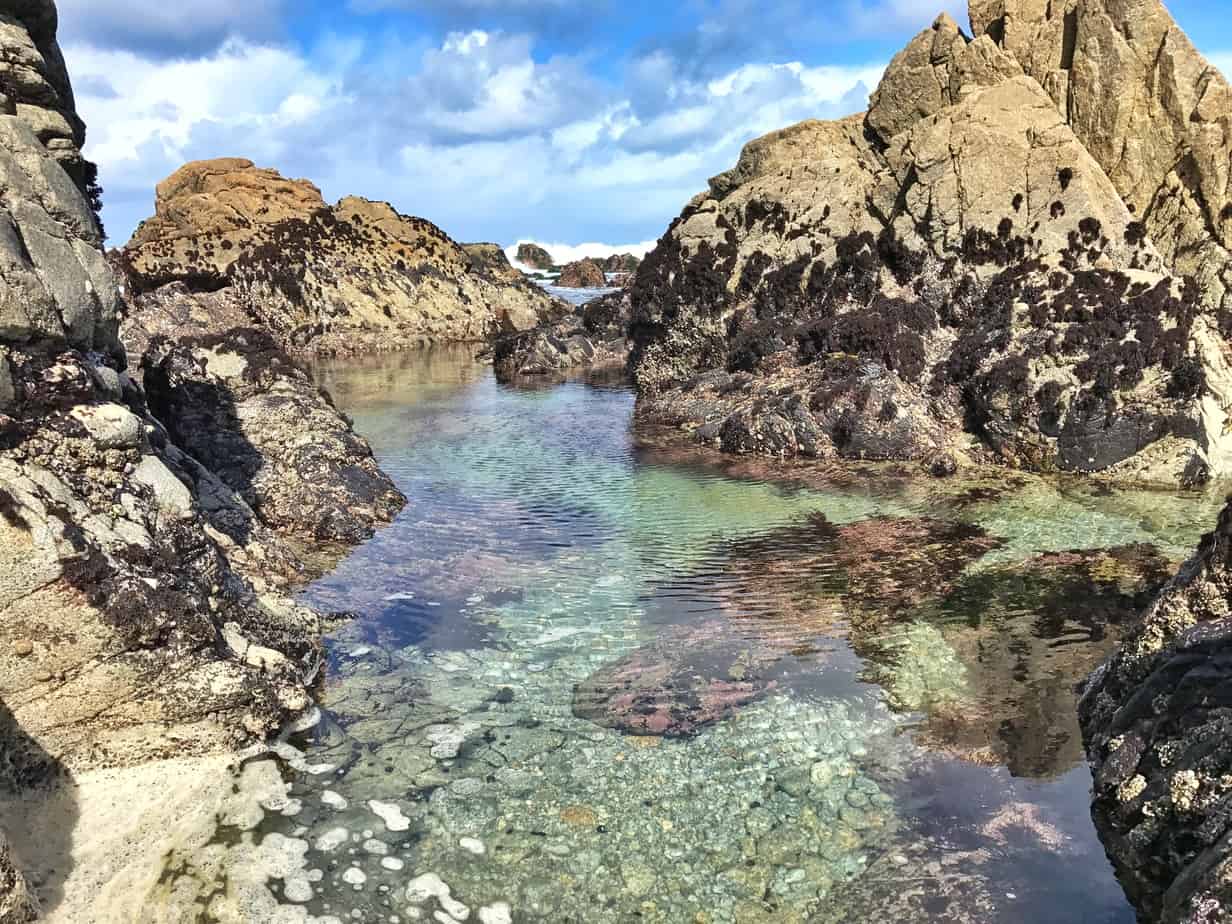 After our drive, we headed to Pacific Grove for dinner at Beach House at Lover's Point. There's nothing like a eating nice dinner while you take in the gorgeous ocean views.

The food at Beach House was delicious. I had Sand Dabs (which I learned was a local fish, similar to cod), and my boyfriend had the filet mignon. We both thoroughly enjoyed our dinner, and I recommend it to anyone in the area looking for a great place to eat and soak in the views of the ocean.
I had a wonderful weekend in Carmel and can't wait to come back.
If you'd like to book your next getaway, make sure to visit www.hofsashouse.com. You won't be disappointed!
Read our reviews of the Hofsas House Hotel:
Hofsas House: Boutique Hotel in California
Family Friendly Carmel, California
The Hofsas House in Carmel-By-The-Sea, California
Thanks to the Hofsas House for hosting our stay. While meals were comped, opinions in this article are my own.