Carpet Freshener Recipe ~Ready for Spring Naturally!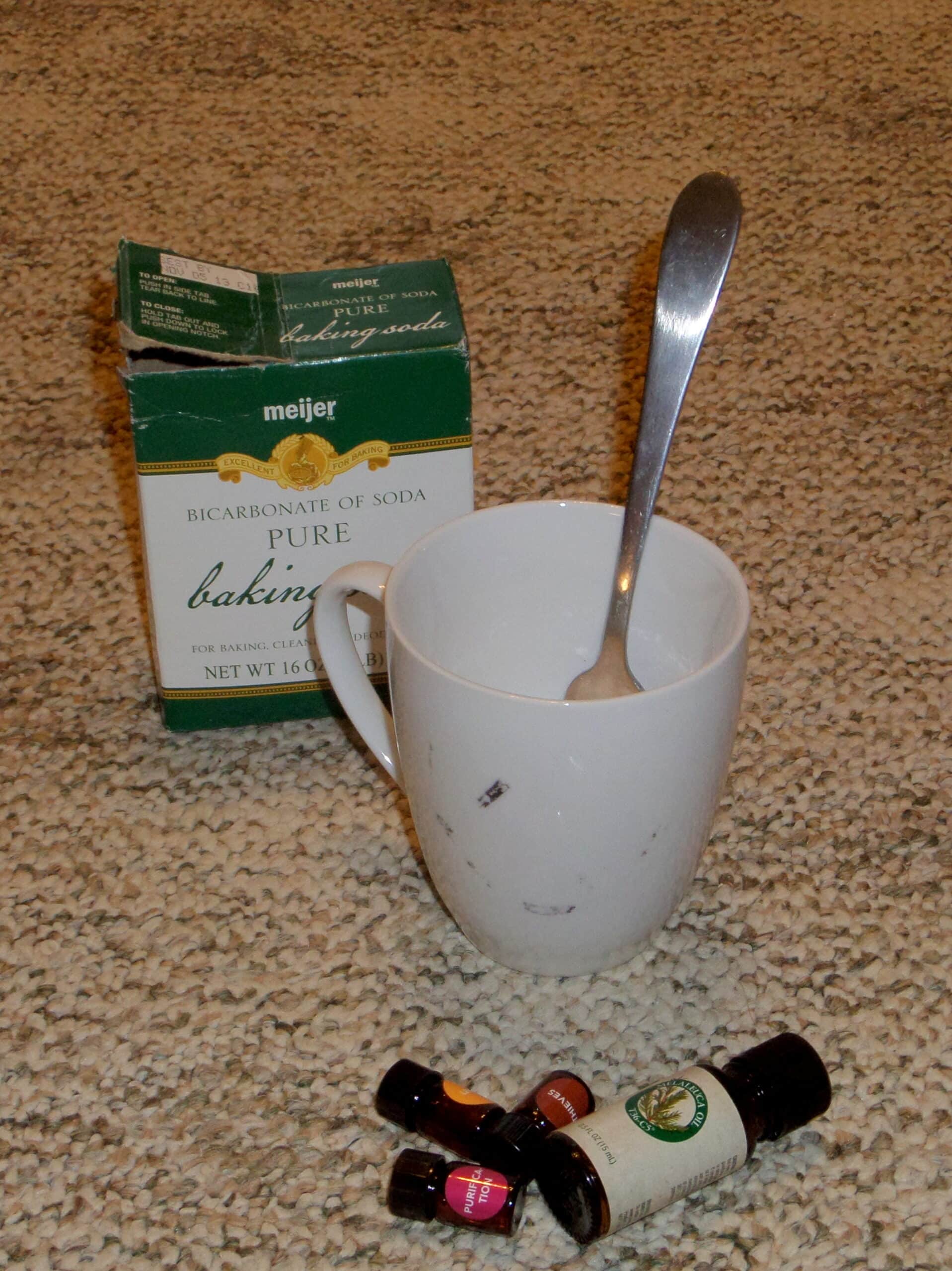 Who is in the middle of spring cleaning? I sadly, am not. At least not my normal spring cleaning. But our carpets are getting a good going over and a bit of freshening up. I thought perhaps you lovely readers would enjoy my carpet fresher recipe, to help get your carpets smelling a bit better.
Winter can be hard on carpets. Kids getting sick and puking on them, pets doing the no-no on them and so much more. The worse part is the smells that won't go away because your house is shut up tight against the cold.
Using my carpet freshener recipe I can both kill odors and germs. No chemicals like Fe-Breeze (please tell me you don't use that poison in your home!) or or Clorox products necessary!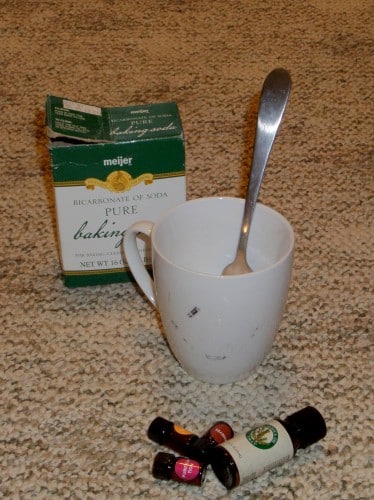 Natural Carpet Freshener Recipe:
Baking Soda
Essential Oils
You can use a variety of different essential oils. This can depend on the scents you like, and/or what you have on hand. Below are my recommendations.
Thieves blend. Spicy smelling and great for killing bacteria, and other germs.
Melaleuca oil: Melaleuca is antimicrobial, antifungal, antiseptic, bactericidal, and insecticidal, obviously a good choice for cleaning with.
Lemon oil: Lemon is antiseptic, antimicrobial, and bactericidal. It's also great for elevating your mood. (Not to mention the wonderful clean smell!
Lavender oil: Lavender contains antiseptic, antiviral, bactericidal, and fungicidal actions which make it a good choice for cleaning with as well.
You can use single oils, or mix a few. I used the Thieves blend which is amazing, but would also recommend Melaleuca oil with lemon oil. Lavender is great, but I don't care much for the smell of lavender, so I don't use is it much for cleaning.
I use 10-20 drops of essential oil per 1 cup of baking soda. Use a fork and stir the soda.  The oil will clump a bit at first so keep stirring. I notice I need to stir for at least a minute. Just keep watching for clumps and as they show up, break them apart. Soon you will have nice smooth powder.
Time to sprinkle on your carpet!
Use a broom and sweep briskly over the whole carpet until the soda disappears. Let sit for approximately 30 minutes and then sweep up. Bonus? Your sweeper will now smell fresh and clean too!!!
Disclaimer: Oils could cause some carpets to discolor or stain. Be sure to test in an inconspicuous area first.
I hope you enjoyed my carpet freshener recipe. Interested in learning more about essential oils? Check out Kate's webinars on using oils for health and fitness. There are 2 great ones coming up, so be sure to check them out!!!!
Want more Homemaking tips and ideas? The e-books below along with nearly 70 other homemaking resources are available for 95% off!!! This is a limited time deal, April 23rd through April 28th. Click below for all of the details!!!