Catching Raindrops By Crystal Hoblit (My cousin!)
A Review of Catching Raindrops.
Before I start telling you about the book, I would like to introduce you to the author! Her name is Crystal and she is my cousin! So yes, I am going to brag a little. 🙂
I remember being young preteens and Crystal, her younger sis Kaylee and I would hang out every chance we got.  One thing we did was write. I remember writing very elaborate stories about; I kid you not, Our Cats! Oh yes. 🙂 Then we would read them out loud to each other and giggle and giggle. 🙂
Crystal's dream even then was to be an author. I wasn't so much interested, I would start one thing and in the middle of it, start something else. But Crystal has persevered  and now has a published book with her name on the front!
So, who is Catching Raindrops written for?
Catching raindrops is the story of the Dayton Ohio Flood of 1913, following a young 12 year old, as she and her family try to survive.
A historical fiction book written for 8 to 14 year olds, but make no mistake, I enjoyed it as well. 🙂 The story is well written and flows in an easy to read style. Books like this one, was the way I learned history as a child. And an adult, I'm still learning.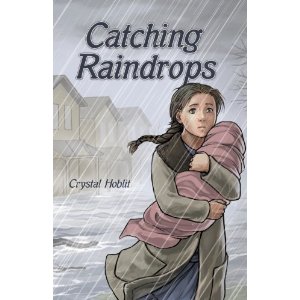 You can purchase your autographed copy of Catching Raindrops at The Brad, Crystal and Family blog!
Crystal Hoblit lives in the flat but lovely country of southwest Ohio. She is married to an awesome husband, and enjoys gardening, cooking, going barefoot and frolicking with their black lab. My sole purpose and desire is to glorify the Lord Jesus Christ in everything I do.