Chemical Free Cleaning – No Need to DIY!
A simple search on Pinterest will give you a ton of diy tips for chemical free cleaning. But what if you don't have time to make diy cleaning stuff?
If you don't have time to diy your own cleaning stuff, or if you've realized that diy cleaning hacks don't always work, you're probably in the same boat as I was. Stuck buying natural cleaning stuff every month or so.
Then a friend invited me to a Norwex party. Now I won't promise that Norwex will totally solve all your "natural cleaning needs" but I can promise you are going to love it for the needs it does solve!
In fact, they promise it too. 
"Norwex backs its quality commitment with a 100% satisfaction guarantee.  We will refund, replace or exchange any products that are not to your complete satisfaction within 60 days of purchase."
Cool right?
I'm not the type of person who typically goes to parties but I hadn't seen my friend for a long time so I went. What I learned, blew me away!
Microfiber, not your cheap run-of-the-mill dollar store stuff, but real micro-fiber with fibers 1/200th of a hair. It's amazing. The Norwex microfiber cloths contain electrostatic properties that just grab onto and hang onto dirt dust and grime.
The cloths simply wiped butter off glass and didn't leave a single smear. A simple wipe across counters removes all food proteins and bacteria leaving no need for disinfectant spray. The polishing cloth leaves my glass stove-top shiny my stainless appliances smudge and fingerprint free and my windows streak free.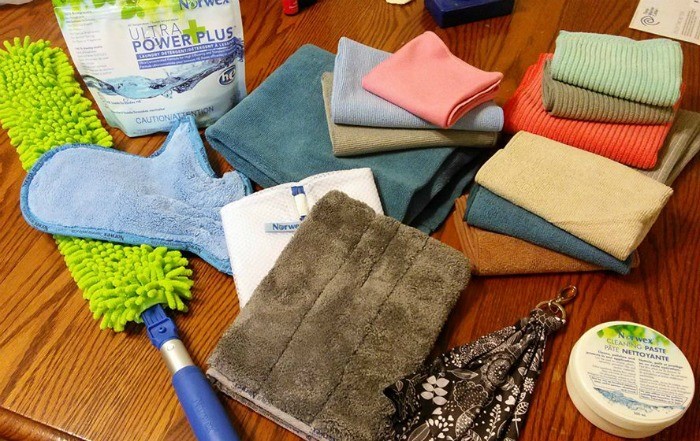 No chemicals, just simple microfiber cloths and water!
Another really cool aspect of these cloths is that many of them contain BacLock technology. That is, silver bound to the fibers of your microfiber cloths. Silver has been used for centuries for its bacteria fighting properties.
BacLock™ products contain an antibacterial agent for self-cleansing purposes only. The agent is solely designed to inhibit bacterial odor, mold and/or mildew growth within the product.
So why am I telling you all this? Because I'm excited about how easy it is to clean with Norwex. Because after attending my friend's party I hosted one of my own. And after hosting my own party, getting a ton of amazing hostess rewards and seeing how easy it is to clean with them. I wanted to tell every-one about it!
I love sharing tips and tricks to make life easier and this is a big one!
So I signed up to become a consultant. It only made sense, I was already telling everyone how much I love Norwex 🙂 Keep reading as I share some of my favorite items below!
Chemical Free Cleaning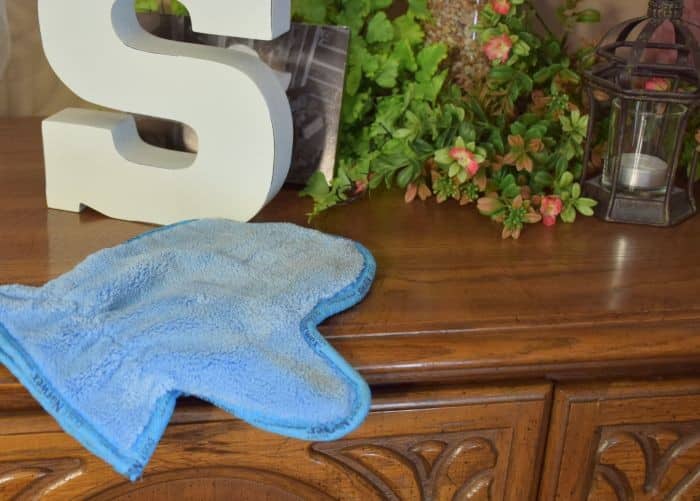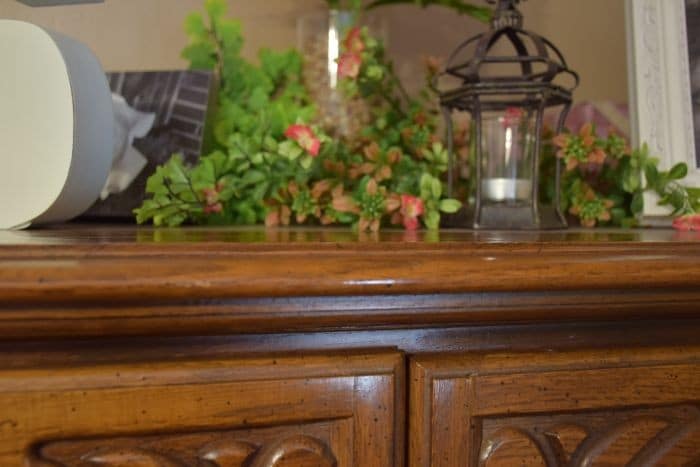 The Dusting Mitt
The first item I ever purchased. I hate dusting and used to buy Swiffer dusters to make things easier but I was ALWAYS buying them and when I did a budget cut a while back it only made sense to stop spending $20 every other month on sniffers.
The dusting mitt is $21 and guaranteed for 2 years (I imagine it will last longer than that).
The microfibers pick up everything. I used it on my bedroom furniture and loved how it left the wood looking shiny and polished even though I didn't use polish at all! In fact, my furniture stays dust-free longer now too.
Want to know how? Regular polish leaves a type of residue behind in very small amounts, but it actually attracts more dust to the surface. The dusting mitt picks up everything, leaving no residue and the dust tends to slide off rather than settle.
Previously I would dust and a day later see more dust. Now 2-3 days will pass before I see dust starting to build up again. This is pretty cool since I rarely dust more than 2x a month and seeing my surfaces stay dust free for more than a day is pretty encouraging. 🙂
The EnviroCloth
If you are looking for an all-purpose cleaning cloth this is it! At the first party I attended, the consultant smeared butter all over a window and the envirocloth easily lifted it all up and left the window entirely streak-free. Our mouths were agape for sure!
I use the enviro cloth to wipe down my cabinet fronts in minutes. It cleans my toddler's insanely messy high chair with just a few wipes. It turned my exterior door white again without any extra scrubbing needed.
If you cannot tell, I love my enviro cloth and I love the polishing cloth that came with it in the basic kit. Clean glass, stainless, marble, and more, then dry it to a shine with the polishing cloth.
The Cleaning Paste
Norwex offers a few cleaning solutions to complement their cleaning cloths. The cleaning paste is one of those items. Containing marble flour, natural soap, and traces of coconut oil, it's truly a cleaning workhorse.
I've used the paste to remove scuff marks from exterior doors, make my stainless steel sink look new, remove burnt grease from my pots and pans, clean my glass stove top, and get tough stains off bathroom tile and lots of other stuff.
The jar holds about 7 ounces and lasts a long time! I've used mine heavily for over 2 months and have barely made a dent in it.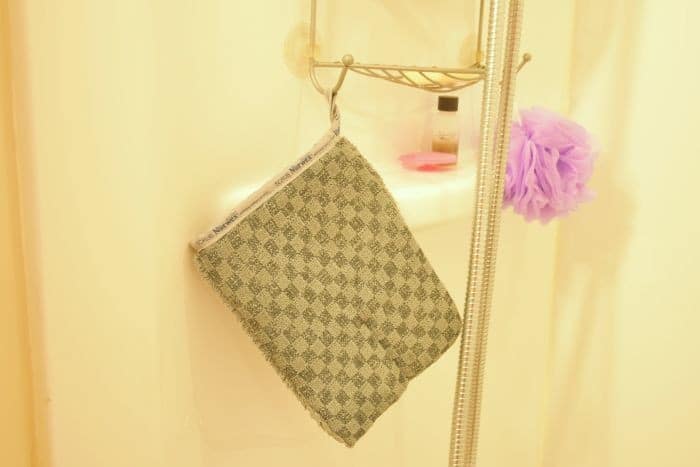 Bathroom Scrub Mitt
This handy little mitt hangs in my shower. The microfiber side works great for quickly wiping down the walls and faucets after a shower to prevent water stains.
The scrubby side is amazing at wiping away soap scum. No cleaners needed. 🙂
I typically use the scrubby part once a month and it gets all the soap scum leaving a clean shower and tub behind. A little cleaning paste works for rust stains and total time to clean it all up is less than 5 minutes.
No more spraying stinky cleaners, waiting for them to work and then using gloved hands to scrub and scrub. This is simple, easy and clean!
Chemical Free Cleaning is that easy!
I still like to diy a few things simply because they work well for me and are easy, but for the most part I use my Norwex cleaning cloths.
And here's some good news for you! Two of the items I mentioned above are on special for the month of March. The cleaning paste and the bathroom scrub mitt are on sale. Just look here for the specials.
Get even more deals when you book a party this month!