Children 30 Days of Thanksgiving day 7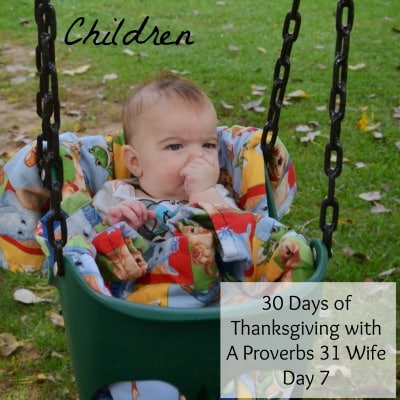 Children are a blessing. I have always loved children and truly enjoy being around them. But having my own child is so much more. Everytime I look into his eyes I feel overwhelmed by thankfulnes to our creator God.
Psalms 127:3 Lo, children are an heritage of the Lord; and the fruit of the womb is his reward.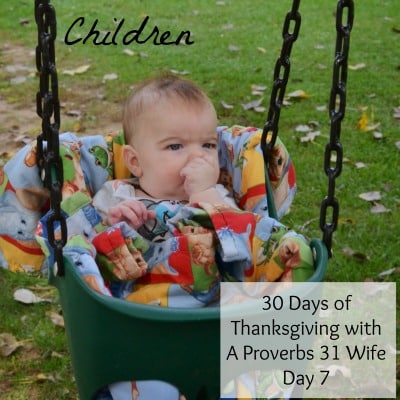 Even though we have much to teach our children over the first few years of their lives, they have much to teach us too.
Children teach us to be amazed at the little things. To investigate every bug, flower, rock, leaf, and anything else that may be at their feet while walking outside.
They ask endles questions, causing you to think harder than you ever did for a final exam. They cause you to reach deep inside of yourself, and find strength and wisdom that could only have come from God.
To be honest, my wee small son has caused me to cry out to God more times in the 4 months since he's been born, than I normally would in a whole 12 months time. Babies and children have a way of helping us to see who we really are. Kolton has also taught me more about the love our heavenly father has towards us as well.
A child's eyes are full of wonder, his hands constantly touch, his feet are always exploring, his mind constantly working. He asks "why", and wonders "how". He is filled with delight over simple things.
He trusts, and returns our love, when he needs something he simply cries, knowing he will be taken care of. He is carefree and trouble rolls off his shoulders, he rests in the faith that mommy and daddy are there.
When I look into the eyes of my son, my heart yearns to be a bit more like him. To know, and rest, and trust in faith that our heavenly father is right there and he can handle anything!
If you have children, what have they taught you?