Chocolate Graham Cracker S'more Cupcake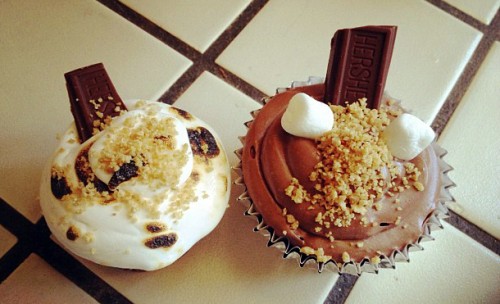 Earlier this week one of my good friends posted this photo on her Facebook page. I knew instantly I needed the recipe. How amazing do these cupcakes look? I am currently obsessing over s'mores and thought these Chocolate Graham Cracker S'more Cupcakes would be the perfect recipe to share for National S'mores Day, which happens to be today!
Chocolate Graham Cracker S'more Cupcake
Graham cracker crust for bottom of cupcakes:
1 1/2 cups graham cracker crumbs (1 full packet plus 2 additional sheets)
1/4 cup sugar
6 Tablespoons butter or margarine, melted
Mix all in bowl together and place a scoop in the bottom of each tin. I use a shaker to press down on the inside of each one to make it flat, then bake on 350 for five minutes or until the bottom is lightly browned.
Cupcake batter:
1 1/2 cups flour
1 cup sugar
1 teaspoon baking soda
1 teaspoon salt
1/3 cup cocoa powder
1/2 cup oil
1 cup water
1 teaspoon vanilla extract
2 eggs
1/2 teaspoon baking powder
Pour a large spoonful of batter in each cup and bake for 20-25 min until cupcakes are fluffy. I use the toothpick method for testing.
Toasted Marshmallow Frosting:
3 egg whites, room temperature
1/2 cup  sugar
1/8 teaspoon cream of tartar
1/2 teaspoon vanilla extract
Combine sugar, egg whites and cream of tartar in a medium bowl set over a pot filled with a couple of inches of barely simmering water. Whisk the mixture frequently to prevent the egg whites from cooking. Continue whisking until the sugar is fully melted. Remove the bowl from the heat and whisk the mixture on high until it is shiny and stiff peaks form, then stir in vanilla extract after.
Before frosting the cupcakes I cut out a cone shape in each cupcake and fill with the marshmallow frosting or the chocolate ganache.
Milk Chocolate Ganache:
4 ounces milk chocolate, finely chopped
1/2 cup  heavy cream
Place the chocolate in a heatproof bowl; set aside.
In a small saucepan set over medium high heat, bring cream to a simmer. Remove from heat and pour over the chocolate. Let stand for 10 minutes, then whisk until smooth. Allow to cool completely before using, whisking occasionally.
Top each cupcake off with the frosting, extra graham cracker crumbs, chocolate pieces and a few marshmallows. To toast the top of the marshmallow frosting I used a BBQ lighter, as I don't have a fancy kitchen torch.