Cloth Diaper Supply ~What are Your Options?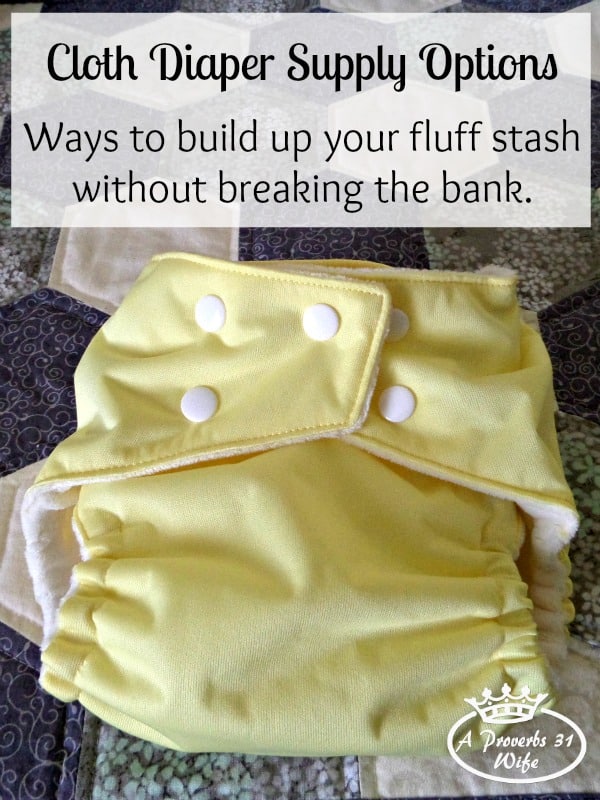 Long time readers will remember how I got my cloth diaper supply (aka fluff stash), my mom sewed pocket diapers for me as shown through the link. However, sewing cloth diapers isn't the only way to build up a nice stash.
There are tons of different cloth diapers out there, and finding the right one for you and your baby may be a challenge. Finding ones that won't cost you a small fortune can be even harder!
Now don't get me wrong, your cloth diaper supply can save you a lot by not having to buy disposables. All the same, if you are like me, you still want the best product for the least amount of $$$.
Cloth diapers will cost anywhere from $8 to $30 each, and most momma's recommend at least 24 diapers. That can add up fast if you are not careful.
Cloth Diaper Supply Options:
Sew your own cloth diapers. What we did cost about $9 each.
Sunbaby diapers. These cost as low as $7.50 even with inserts.
Cloth diaper Trader. A great way to buy secondhand for decent prices. I found Charley Banana, and Kawaii for half price. Of course there are all sorts of brands available there.
Cloth diaper trading groups on Facebook. I linked to one I am part of, but there are more if you look.
Giveaways. Google cloth diaper giveaways and and enter them. You can also search for cloth diaper pages on FB and follow them to enter giveaways.  I used giveaways to build up my stash before we were even trying for kids. 🙂
Ebay and Craigslist. I never found any that I wanted on either site, however I know of those who have, so it's worth a look.
Garage sales. Again you are buying used, but keep in mind, used diapers are nearly half the price as new, and if treated right they will still last you for years!
And finally, if you just don't find what you want by buying used, you can always buy new. Yes, you may spend a little more, but if you treat them right, you can still get about half your money back when you are done with them, by selling your diapers.
Building up your cloth diaper supply doesn't have to break the bank. Yes, they will pay for themselves, but if you are on a budget, definitely consider the above suggestions!
Did I miss anything? If you know of a fabulous ways to build up your fluff stash without breaking the bank, share it in the comments below!