Two of our favorite things, cookies and pizza. What happens when we mix the two? Cookie Pizza! A yummy cookie crust with all sorts of goodies sprinkled on top!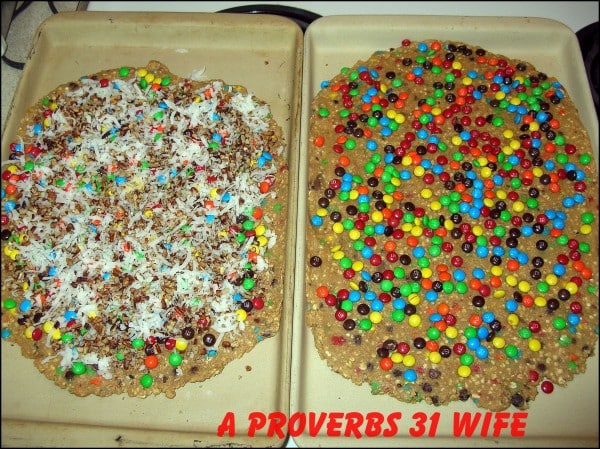 Above is a picture of two different cookie pizzas ready to go into the oven.
The one on the left has nuts, coconut, and mm's while the one on the right is for picky eaters and only has mm's on it.  These are super easy to make so I thought I would share the recipe with you!
Recipe for Cookie Pizza
1/2 cup butter, softened 3/4 cup packed brown sugar (I used 2/3 cup of raw cane sugar) 1 egg 1-1/2 teas. of vanilla extract 1 cup all purpose flour (I use half whole wheat and half white flour) 1 cup quick oats 1/2 teas. of baking powder 1/2 teas. of baking soda 1/4 teas. salt 1 pkg (12 ounces) M&Ms minis, divided 1/4 cup chopped walnuts or pecans 1/4 cup flaked coconut any thing else that you would like to sprinkle on top!
In a small mixing bowl, cream butter and sugar. Beat in the egg and vanilla extract. In a separate bowl combine the dry ingrediants and 1 cup of the mini M&Ms. Mix the dry and wet ingredients together and press onto a pizza pan. I used a stone pan and it wasn't a pizza pan at all, but it will fill most of one dish. Sprinkle on the remaining M&Ms, the coconut, nuts and any thing else you would like to add. Press lightly into the dough.
Bake at 350 for for 18-22 minutes or until golden brown. Cut into wedges or squares and serve cooled.
The recipes says it will make 12 servings, but when I make it I cut it into 24 pieces.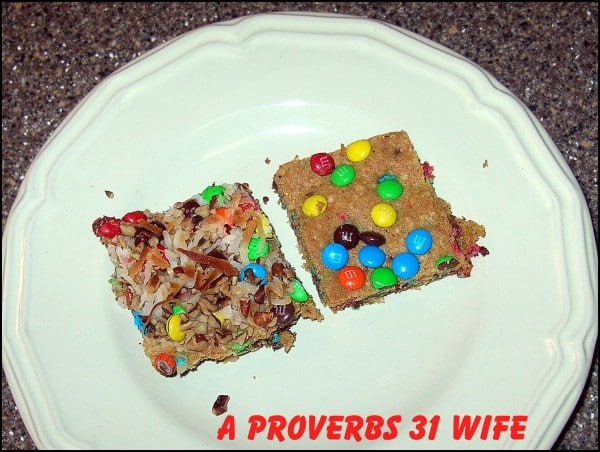 Disclaimer:  This recipe isn't completely mine. I have changed the original recipe to suit me. I have it in a book I created by pulling recipes from various types of cooking catalogs. I do not know who the original creator is or I would happily give them credit.