Countdown To Summer and #RaiseACone!
We love summer evenings around our house. We like to go for walks around the neighboorhood after dinner, stopping to say hi to the neighbors who are out and then bust open the freezer for a treat to enjoy on the front lawn.
My son is a little obsessed with ice cream cones. He asks for them for snacks, for breakfast, and anytime we are at the store, so he was thrilled when I brought home a box of his favorite ice cream cones, Drumsticks! These tasty ice cream cones are not just his favorite, but I love them too because they aren't messy! I hate when we have ice cream cones and the ice cream drips out the bottom of the cone, all over the place. Drumstick conveniently has a chocolate plug at the bottom that prevents the extra mess from happening!
Nestlé Drumstick is the Original Sundae Cone. In 1928, the Parker Brothers took the waffle cone to the next level but adding a chocolate coating to ice cream and covering the top with nuts. One of the brothers' wives said it looked like a fried chicken leg and thus, the "Drumstick" novelty was born!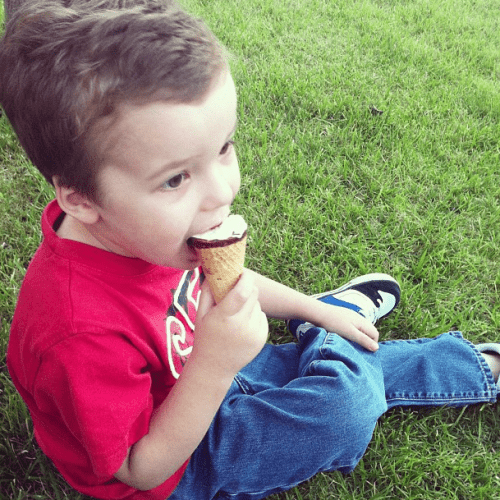 Right now, Nestlé Drumstick is counting down to the first day of Summer, and they want our help! They are inviting fans to "Raise a Cone to Summer" and submit a photo of them raising a Drumstick cone (real or virtual) for a chance to win a lifetime supply of Drumstick cones! Score!
It's so easy…Just snap a picture of yourself raising your cone (or a fake cone…you can add one in on their site!) and upload it to their contest site.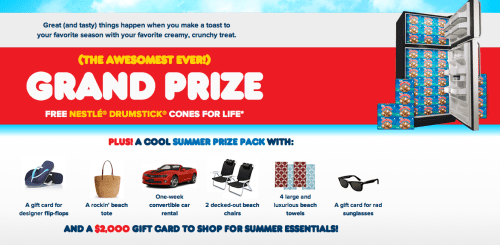 Visit raiseacone.drumstick.com between now and June 21stto submit a photo of you getting into the summer spirit by raising a cone!
Friend Drumstick on Facebook
Visit drumstick.com to learn about our flavors and products
*I received Drumsticks for review and picture purposes, but all opinions are my own.