Creating a 3 Dimensional Planter
So on Tuesday I offered a little teaser to today's post. It focuses on garden planters. Have you not seen my 3 dimensional planter yet?  If you are a fan of A Proverbs 31 Wife on Facebook, you would have seen this picture.  What!? You're not a fan yet? Well you can fix that problem by going right here!
I asked my fans to guess what this post would be about, and the best answer was a guess that the raccoons had gotten into my garbage!   Fortunately that was NOT the case. 🙂
The summer after we moved to this little house, my wonderful hubby who is so handy at this kind of thing, landscaped our back yard.  He put in a paver patio and a sitting wall on one side of it. The sitting wall had this lovely column on the end, and I thought would be a perfect place to put a wide shallow planter.  That was 3 years ago.  I never could find the type of planter I wanted. There were the cheap, looks-like-Terra-cotta but were really plastic planters. The really expensive takes-my-whole-paycheck planters. And then there were the ones in my price range that were just ugly!
So I got creative, I started with 1 large shallow, 1 medium, and 2 small cheap looks-like-Terra-cotta plastic pots,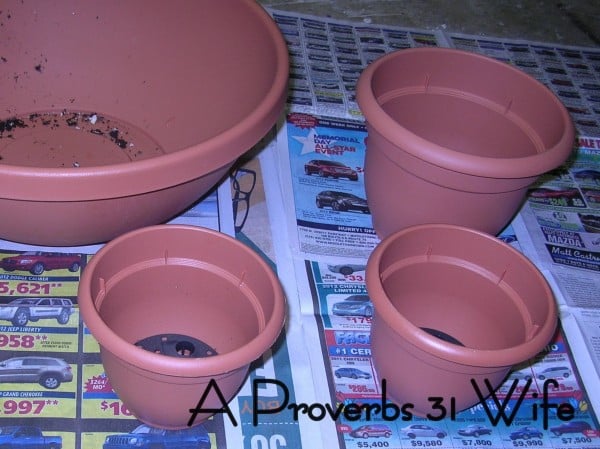 and painted them.
This is after the first coat.
Next I needed my plants, obviously.
By the way, plants are NOT cheap! I saved big time on my planter, but the cost of just a few plants… Ridiculous!
I got way to wrapped up in my project and forgot the d.i.y. pictures. 🙁 Sorry guys. However it was pretty simple. I planted the medium and small pots. Then I filled the large planter most of the way up, set the medium and small pots inside and then planted the rest of the plants in the big planter around the smaller pots.
Here is a close-up.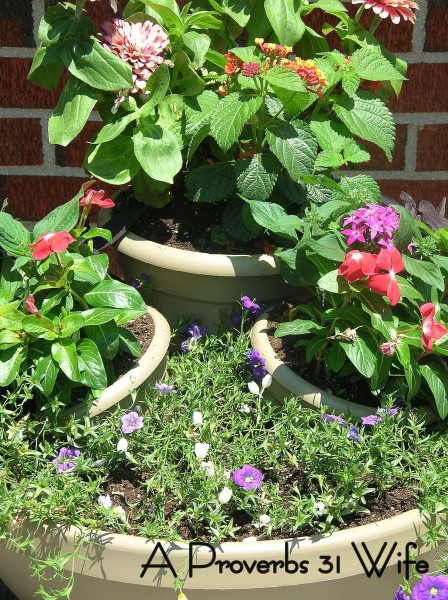 You can see how I added height and depth by stacking like I did.
Here is the result, I am very pleased with it! I know by July it will be absolutely gorgeous!
Oh and finally here is where it belongs.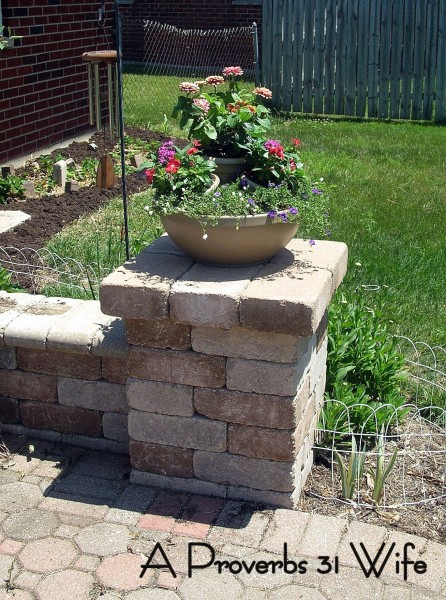 You can't see to much of the patio here, but you can see the wall and column pretty well. Didn't hubby do an amazing job?