Dairy Free No-bake Chocolate Cookie Recipe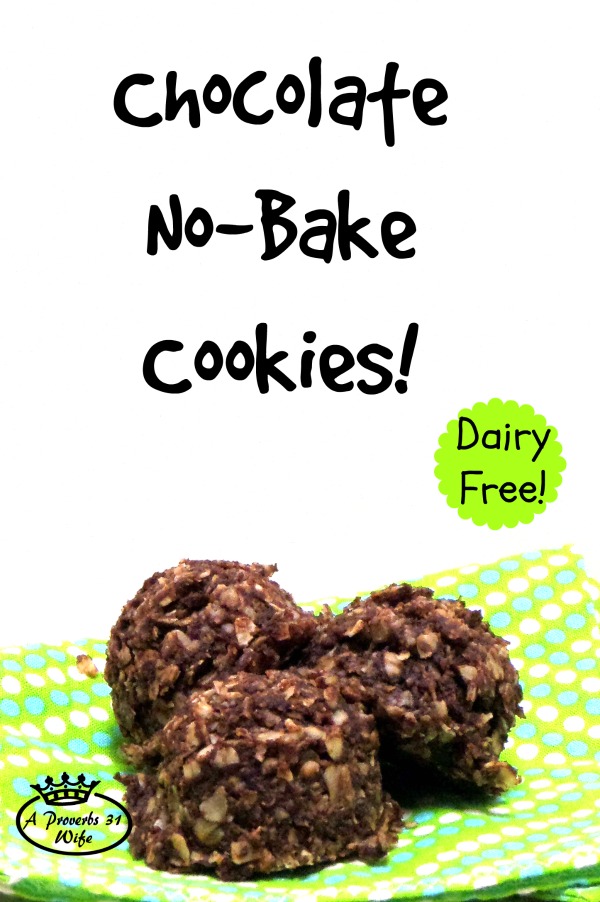 Besides cheese, chocolate is the biggest thing I miss since going dairy free. Of course I'm willing to give up dairy for my little man, but I don't want to give up chocolate unless I have too.
I decided to re-vamp a recipe of mine the other day and made dairy free no-bake chocolate cookies. Here's a little bonus for you: They are also gluten free!!!
These cookies are easy to make and will disappear in as much time as it takes to make them.  In fact, I often feel like I need to hide them from myself, but then I would just be asking me where I hid them!
Disclimer: affiliate links below.
Dairy Free No-Bake Chocolate Cookie Recipe:
Dairy Free No-bake Chocolate Cookie Recipe
Author:
Kendra ~A Proverbs 31 Wife
Ingredients
1 cup raw cane sugar
½ cup of cacao powder
1 cup Silk Coconut milk 80 cal
1 cup coconut oil
5½ cups quick oats (use Bob's Red Mill oats for a gluten free treat!)
½ cup raw unsweetened peanut butter
Instructions
Mix the first four ingredients together and bring to a boil.
Boil and stir for one minute and then remove from heat.
Add peanut butter and stir until mixed in.
Add the quick oats and stir until coated. It will a bit runny at first but the oats will soak up all the moisture.
Scoop by tablespoonfuls onto a cookie sheet.
Allow to cool and then enjoy! (some notes below)
Notes
If you are in a hurry you can press it into a pan and make no-bake cookie bars. 🙂
There are a couple variations to this recipe that you can make if you want:
#2 Coconut Flavored: Add ¼ cup of shredded coconut and use unrefined coconut oil. (the oil that tastes like coconut)
#1 Almond: Use almond milk instead of coconut and almond butter instead of peanut butter.
Finally, quick oats are the secret to no-bake cookies that stay nice and round instead of running into a puddle. 🙂
I use a cookie scoop like this
one here
(affiliate link) for the perfect sized cookies.  This recipe makes approximately 4 dozen cookies. It could be more and it could be less, all depending on how much dough you eat while scooping them out!
If you are wondering why I use cacao powder instead of cocoa powder you can read this post here.
If you like my dairy free no-bake chocolate cookie recipe, you may also enjoy my peanut butter energy bars.