Decadent Peanut Butter and Chocolate Cupcakes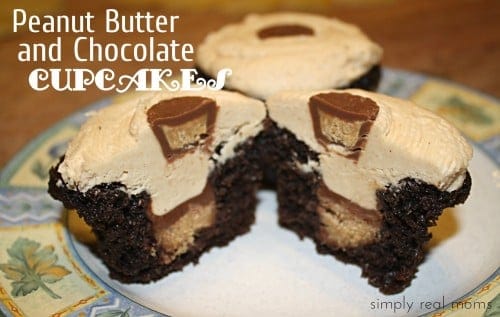 At a recent potluck picnic, someone brought the BEST peanut butter and chocolate cupcakes I've ever had. Now, I am a bit of a cupcake aficionado, so I don't dole out this kind of compliment to just any old cupcake. But this one was truly decadent and deserves all the accolades I can heap upon its rich, creamy frosting top!

Cupcakes
1 (18.25 oz) package devil's food cake mix
1 (5.9 oz) box instant chocolate pudding mix
1 cup sour cream
1 cup vegetable oil
4 eggs, lightly beaten
2 teaspoons pure vanilla extract
1 tablespoon instant espresso granules dissolved in ½ cup warm water (or ½ cup coffee)
24 Reese's Miniatures, frozen (peel off wrappers before freezing)
NOTE: Cake mix sizes vary a bit, so you can use a smaller one if that's all you can find. This may make slightly more than the standard 24 cupcakes.
Peanut Butter Buttercream Frosting
3 sticks unsalted butter, softened
1 cup creamy peanut butter
2 tablespoons pure vanilla extract
1 ½ pounds confectioner's sugar, sifted
6-8 tablespoons heavy cream
Optional garnish
Reese's Minis or chopped peanut butter cups
Cupcake directions
1. Preheat oven to 350. Line muffin tin with paper liners.
2. Beat together the cupcake ingredients until well combined.
3. Using a large cookie scoop, distribute batter between 24 muffin wells (about three tablespoons batter per well). Press one frozen Reese's Miniature into center of each cupcake.
4. Bake for 18-22 minutes or until tops of cakes spring back when lightly touched. There will be a small sink hole in the top of the cupcakes from the candy. Allow cupcakes to cool inside muffin tins for about 10 minutes.
5.  Remove cupcakes from muffin tins and allow to fully cool on a wire rack. Once cupcakes are cool, prepare frosting.
Frosting directions
1. In a large bowl, cream butter and peanut butter on medium speed until fluffy.  Turn mixer to low speed and slowly add the confectioner's sugar, mixing until well blended.
2. Add vanilla and four tablespoons heavy cream. Blend on low speed until moistened.  Add additional tablespoon of heavy cream until you reach desired consistency. Beat at high speed until frosting is smooth and fluffy.
3. Pipe frosting onto cooled cupcakes and garnish as desired.