Decorate Your Best Dressed Home This Holiday Season!
Thanks to Kmart for sponsoring this post! All opinions belong to Simply Real Moms.
Like a lot of families across the US, the day after Thanksgiving is our day to decorate for Christmas. We take out all of our holiday decor boxes and get to it. We take out our many many ornaments we've collected over the years, we hang the lights on the house, put out our Christmas blankets and quilts, and make our home warm and inviting to celebrate this winter time! We love to have friends over, enjoy company with hot chocolate and treats, listen to festive music and keep up with family traditions each year.
One of our traditions in my family is the kids get to place the star on top of our tree. They sit on Daddy's shoulders and place it (as well as they can) onto the top of the tree. We explain the significance of the star to them each year and the kids love to feel like they've completed the most important part of our decorating!
In my husband's family, we celebrate with an ornament exchange. We each choose an ornament and wrap it up. One by one, each family member chooses a gift and opens it up. We play it a little dirty though…if you like an ornament that has already been opened, you may take it-leaving the person who had that ornament to open another! It is always a joyous time of family fellowship and laughter as we see the different personalities come out and the fun ornaments each person has chosen to gift. There are always some very funny ornaments thrown into the mix to make the night that much more fun!
We bring our ornaments home and pick their spots on our tree. This year, I am keeping the tree traditional and simple with pine cones and white and gold tones (along with our fun ornaments too!).
We are so in love with the holiday decor available at Kmart this year! We wanted to show you a few items that would be perfect for a gorgeous traditional Tree and Hearth Decor in your home:
1. Cashmere Pine PreLit Tree
I used to be very anti-fake trees. Then I had to clean up the pine needles 4 times per day while my young son was toddling around trying to eat them. We are all about the fake tree now and I LOVE the look of a gorgeous white bulb Cashmere Pine!
2. Linen Pinecone Tree Skirt
Simplicity is key, and I love the pinecone theme this year. Natural and beautiful, it goes along well with our white and gold color scheme!
3. Pinecone and Berries Wreath
We love to decorate with wreaths inside-why just leave them on your front door?! Hang one over the hearth for a festive touch of the pinecone theme.
4. Gold Mercury Ball Ornaments
5. Pinecone tree decor
6. Ice White Ball Ornaments
7. White Owl Ornament
8. Gold Vine Star Ornament
9. Stag Head Ornament
10. Charlie Brown Christmas Tree
Our holiday decorating is never complete until my son's Charlie brown tree is up next to the fireplace. There's something so sweet about this little scrawny tree and we love having it in our home.
11. Red Knit Stocking
12. Metal Stocking Holders
13. White Knit Stocking
How do you decorate your home for the holidays?? Think you've got what it takes to be the "Best Dressed Home"? Why not capture the beauty of your decorated home and share it with Kmart…They have launched the Best Dressed Home Sweepstakes for a chance for you to win Shop Your Way Points! 60 people will instantly win $50 in Shop Your Way Points, while one lucky Grand Prize Winner will walk away with 1 Million (MILLION!) Shop Your Way Points! That's a lot of amazing decor for your home!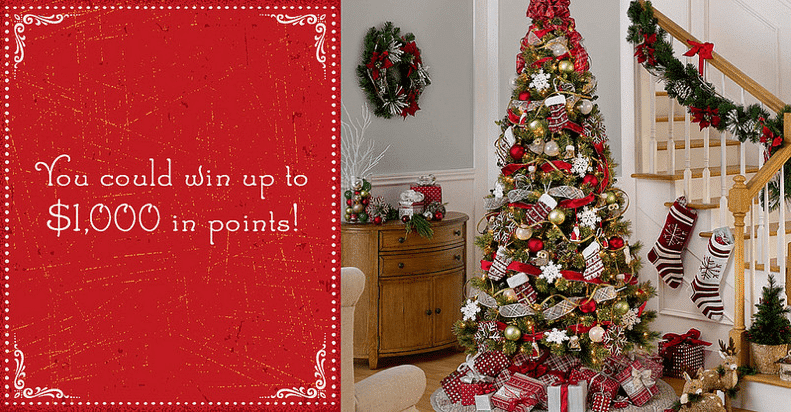 Sweepstakes Ends December 26, and you can enter daily!
*This is a sponsored post written by me on behalf of Kmart.