Devotional For Christmas ~A 25 Day Guide for Families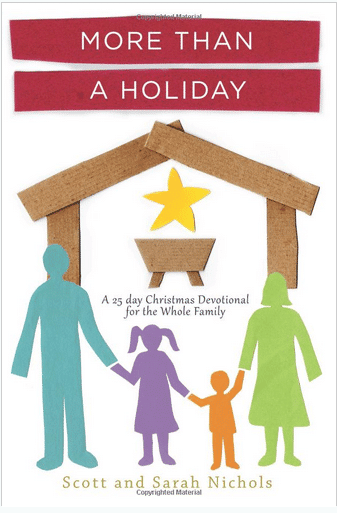 If you are like many families, you like to have a devotional for Christmas that you can go through with the whole family in the days before Christmas. And if you are like us, you find a great one, buy it and then have to continually do more than one lesson a day to make up for the days you keep missing
lol  🙂
Disclaimer: I was sent a devotional for Christmas in exchange for a fair and honest review. All opinions are my own and I only share items that I feel may be of interest to you. This post also contains affiliate links.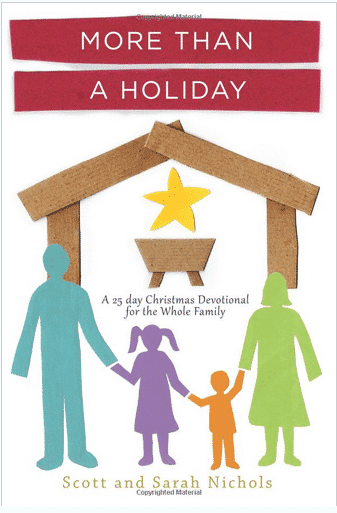 Christmas: it's more than just a holiday.
A Devotional for Christmas:
The first few days focus on whether or not the Christmas story is real. Drawing not only from the bible, but also from anti-Christian writers of that day, I read of different accounts where "Christus" is mentioned. I believe every word the bible says is true, but hearing of non-christian historians backing up the facts, simply helps to build my faith.  I believe this is the case with children as well.
After that comes a detailed look at the entire Christmas story. How all the characters are part of this one big plan. Day 4 is really neat. All that day four includes is a simple reading of the gospel story. The story is divided up for 4 different readers. Each reader reads different parts and it's divided up in a really neat way.
Finally the last four days answer the question of Why is Christmas Important to Us? This topic covers why it was important for Christ to be born and what his ultimate purpose here on earth was.
Each of these lessons (except for day 4) contain 6 different sections.
A Closer Look: Ideal for parents and older children. This section gives extra insight on the day's lesson.
Read: All scripture readings are from the New American Standard Version. You can easily read from your own bible though.
Daily Devotions: This is a short reading that is great for the children. If you have really young children you can skip that part and read from the suggested story books. These story books are easily found at your local library.
Let's Talk: Great discussion starters.
Prayer
Family Time Activities: These are really fun activities that you can fit in throughout the day as you have time. If you do this study in the evening, it would also be a great way to have fun together as family while helping cement the scripture you have just learned into your child's mind.  Each day also includes a song to be sung.
Okay, now for my thoughts on this Christmas Devotional:
This is definitely a family themed study. While I know I will enjoy going over this in more depth with Jason, it is set up for family participation.  It's laid out simply enough that I feel children as young as 3 and 4 will be able to grasp the simpler concepts while kids 6-14 will enjoy the entire thing.
While I feel older teens could benefit from this study, I think it is best directed towards the aforementioned 6-14 year range. That's not to say older children couldn't join in with the family and younger children during this study.
The only thing I really dislike is the fact that they don't use the KJV when it comes to the scripture readings. Of course, like I said before, it's pretty easy just to have your own bible available and read from it instead of the study.
My final thoughts are this: I really wish my mom and younger brothers (9&12) lived closer, this would be such a fun study to do with them!
The devotional for Christmas ~More than a Holiday can be purchased as an E-Book at More Than A Holiday Devo for $7.95.  Or you can buy the physical version on Amazon for $10.18.