Ditching the Chemicals and Cleaning with Water

I have never been into direct sales.  I had nothing against anyone who did it, I'm just, as a general rule, a terrible sales person.  So when I went to a Norwex party last year, it was mostly to humor my aunt.  I never had the slightest thought that I would then host a party, or especially become a consultant.  But I love this stuff that much.  You may think I'm biased because I sell it.  But I was biased before that.  All I had to do was see it work.   The proof is in the pudding, as they say.  So of course I had to share with our wonderful readers how you can remove 99% of grease, dirt, and debris by using just water.
What is Norwex?
Norwex is a Norwegian based company founded in 1994 with the mission of, "Improving quality of life by radically reducing chemicals in our homes."  And it all began with their microfiber technology.  To be considered microfiber, a cloth has to be 1/6 the width of a human hair.  Norwex microfiber is 1/200.  I can't even fathom how tiny that is.  The tiny fibers combined with the super tight, star-shaped weave allow for them to act like tiny fingers picking up 99% of everything on a surface.  So now, when you would usually spray your counters, maaaaaybe wait the amount of time it says on the directions on the bottle of chemical cleaner, and then wipe up your countertops, you can wet a cloth and wipe instead.  There's nothing left behind but clean counters.  

The Products
So this flagship product, this magical wonder cloth that I speak of, is called the Envirocloth.  And it is the first of the things I'm going to tell you about in an all-too-short wrap up of my favorite things.  The Envirocloth (remember E for Everything) is your do-it-all cloth when you're ready to clean.  Get it wet, fold it up (fold it in quarters so you can have eight cleaning surfaces), and go to town.  It's crazy how many things get cleaned more frequently in my house because all I have to take with me is a single cloth.  And one of the greatest things about this cloth (and any product that says "antibac" on its handy dandy little hang tag) is that it self cleans!  When you're done using it, rinse it, wring it, and hang it up.  It has micro silver woven in with it that prohibits the growth of nasty stuff, so by the time it dries within 24 hours, your cloth is ready to go again without the stink of a standard rag! Magic (or, science).  I even keep a travel-sized one of these in my diaper bag for on-the-go messes.  The envirocloth's best friend is the Polishing Cloth.  When cleaning any shiny surface (mirrors, windows, chrome), just clean with your enviro, and dry with your polishing cloth (also antibac) for a seriously impressive shine.  You may never use window cleaners again (I dumped a box of all kinds of cleaners a couple weeks ago). The final musketeer that makes up the trio of the Household Package is the Dust Mitt.  It's a soft and fuzzy mitt that picks up all of the dust.  No, seriously.  It picks it all up.  There's no pushing dust around and seeing it fly into the air.  As a bonus, you can get it wet and clean your screens.  Yay, easy spring cleaning!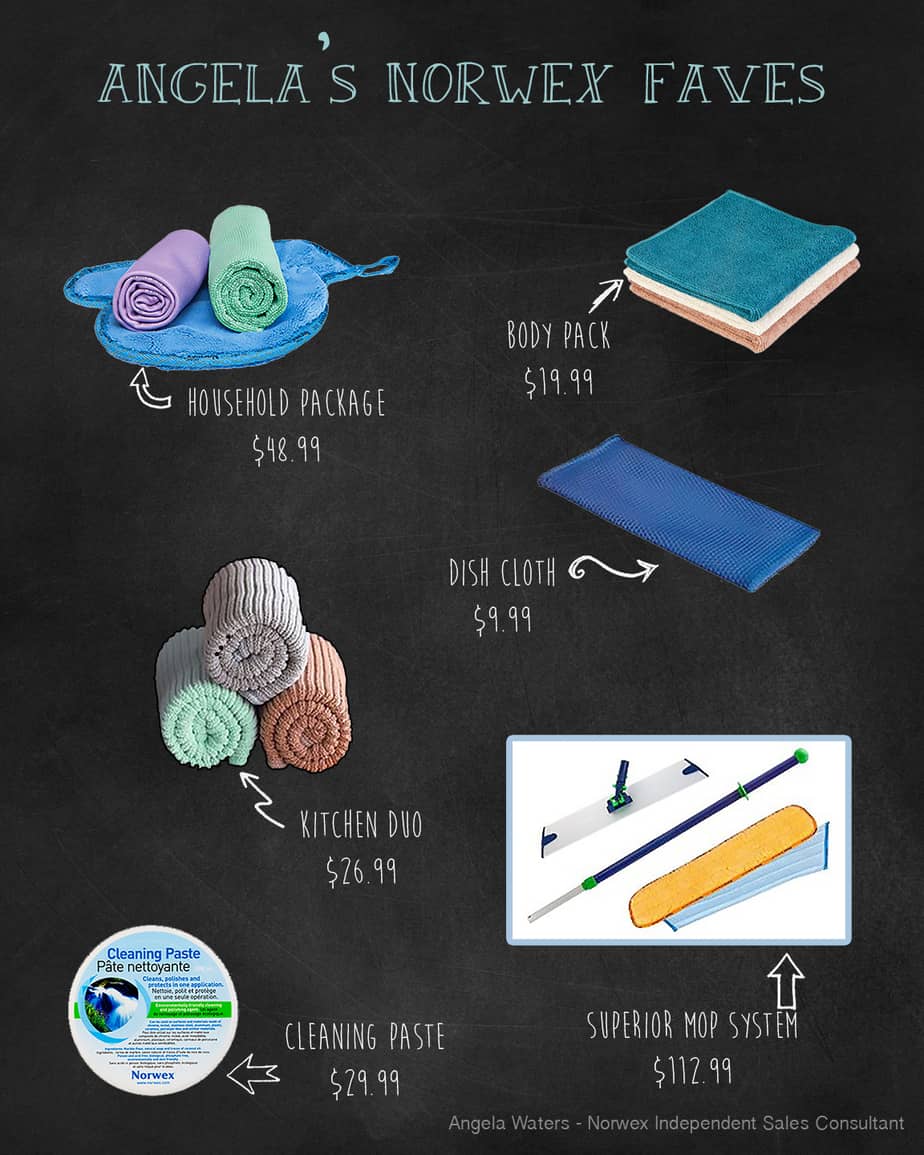 My next favorite product is the Cleaning Paste.  The cloths by themselves are great.  Amazing, actually.  But sometimes you need a little bit of elbow grease, and this is it, in a jar.  With just three simple ingredients, the cleaning paste can cut through the nitty gritty and clean things that you may have thought were long gone.  You just rub a little bit of it onto your wet cloth (this stuff lasts forever) and go to work.  And you get results like this: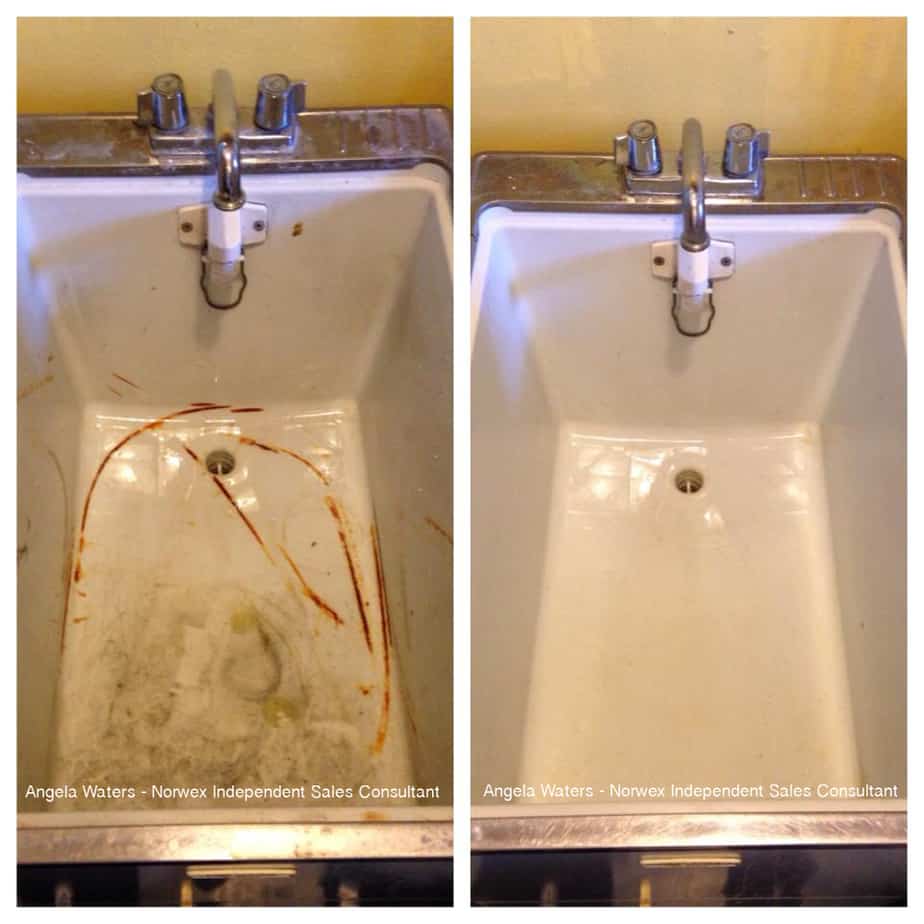 There are SO many uses for cleaning paste that I don't think I've even tried them all yet.  But I get a serious feeling of satisfaction whenever I put it to work and end up with awesome results.  I've also removed hair dye and permanent marker, and gotten myself and my kids out of trouble on numerous occasions.
So that's all you need to clean about 95% of your house.  Boom.  And it all has up to a 2-year warranty.  All of it comes with a 60-day, no questions asked guarantee.  That's how confident we are that it works.
But, if you're like me, you don't clean your whole house every day.  I do, however, use these every.  single.  day:
The Kitchen Cloth and Kitchen Towel.  They come in a bunch of pretty colors so they're sure to fit right in with any kitchen.  The kitchen cloth is my go-to instead of paper towel.  I wipe the counters after cooking, I clean my kids' hands and faces, and clean up spills (and more spills) with this guy.

I use this cloth about a zillion times per day and save a ton of money on paper towels.  And, unlike a regular kitchen rag, it has the silver woven in, so it doesn't get that nasty mildewy smell (yuck).  And the kitchen towel?  Yeah, it can dry an entire Thanksgiving dinner's worth of dishes in one go.  It holds a lot of water.
Speaking of that all-too-familiar mildew stink… I don't have to deal with it in my sponges anymore, either, because of the dish cloth.  I wish I had thought of this one, because it seems so simple, and yet it works.  It's a mesh cloth that suds up wonderfully and has awesome scrubby power, but there's no pores for yucky stuff to grow.  So you get the dish washing power of your favorite smelly sponge without the stink.  Yes, please.

Now, as if getting your house clean with just water wasn't good enough, Norwex also makes body products.  And my favorite is the Body Cloth.  Here is where I tell you that you can also remove dirt, oil, and make up on your whole body with just water, too.  I haven't used soap, except to shave, in months, and I haven't lost any friends yet.  I know it sounds gross, but seriously.  Soap is just the middle man.  It grabs onto the dirt and oil so that you can wash it away with water.  But not before whatever chemicals and fragrances sink into your skin, and the residue is left.  Those same tiny Norwex fibers grab all of the dirt and oil for you.  And yes, your makeup, too.  And my favorite part?  This is all that I use to clean my kids, too!  For $20 for a three pack (with a 2-year warranty), I no longer have to worry about recalls, chemicals, or allergies, and I can be completely confident that my kids are getting clean safely.
I'm also confident that they're not ingesting terrible things when they inevitably eat the-newest-thing-they-found-on-the-floor.  Because the Superior Mop System cleans my floor with the same amazing technology.  And my floors are a pain in the butt.  They're super shiny, so they show everything, including streaky residue from every cleaner I've tried (even vinegar).

Pretty good, right?
If you've made it this far, thank you.  I know that there are a zillion products out there that claim to be safe and natural, and when you're trying to figure out how to clean your house with your family's best interests in mind, it can be daunting.  But I assure you, and Norwex's warranties assure you, that these products are amazing.  Google it, YouTube it, do whatever you need to, to believe me.  Because there's nothing more safe or natural than water.
If you want to try out Norwex, you can check out the full line of products or order on my website.  You can also feel free to email me any questions you might have at AngelaWaters.Photo@yahoo.com.  Or, if you want to, you can go directly to the main Norwex website and find a consultant local to you.  I don't care how or where you get it from as much as I care that you just try it.  And I assure you it will be love at first clean.