I have a huge jar full of buttons that my grandma had given me that has been sitting in my craft closet for close to 8 years. I really had no idea what I would do with these buttons until I saw these beautiful button projects floating around Pinterest. This sparked an idea in my head. My son loves nature and I thought having him help me create something for his room would not only be a fun way to spend some time with him, but something unique we could frame and hang up in our home.
Creating art with buttons is fun, easy and the options are truly endless. Whether you want to recreate a tree like ours or do something completely different, definitely think outside the box and use miscellaneous buttons. It really gives the artwork that magical, unique touch.
Creating your button tree is easy! All you need is:
Poster board or thick paper
Modge Podge
Buttons
We had my son lay out the buttons exactly how he wanted and then we traced it with a pencil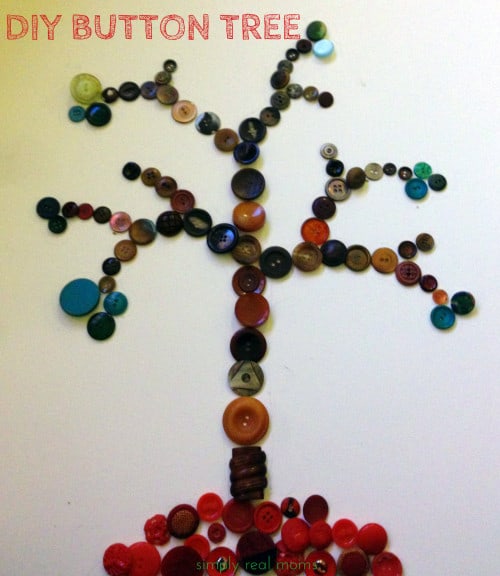 Then we took the buttons off and let him color inside the lines with the color the buttons were.
After he finished coloring we took our Modge Podge and coated the inside of the tree and laid the buttons back onto his tree until dried.
*Note: For a more secure painting, you can do a coat over the buttons after they have dried or you can spray some sort of coating over it.
I wish we had made his button artwork to fit into an actual frame so we could frame it easily, but for now it will be put up unframed.