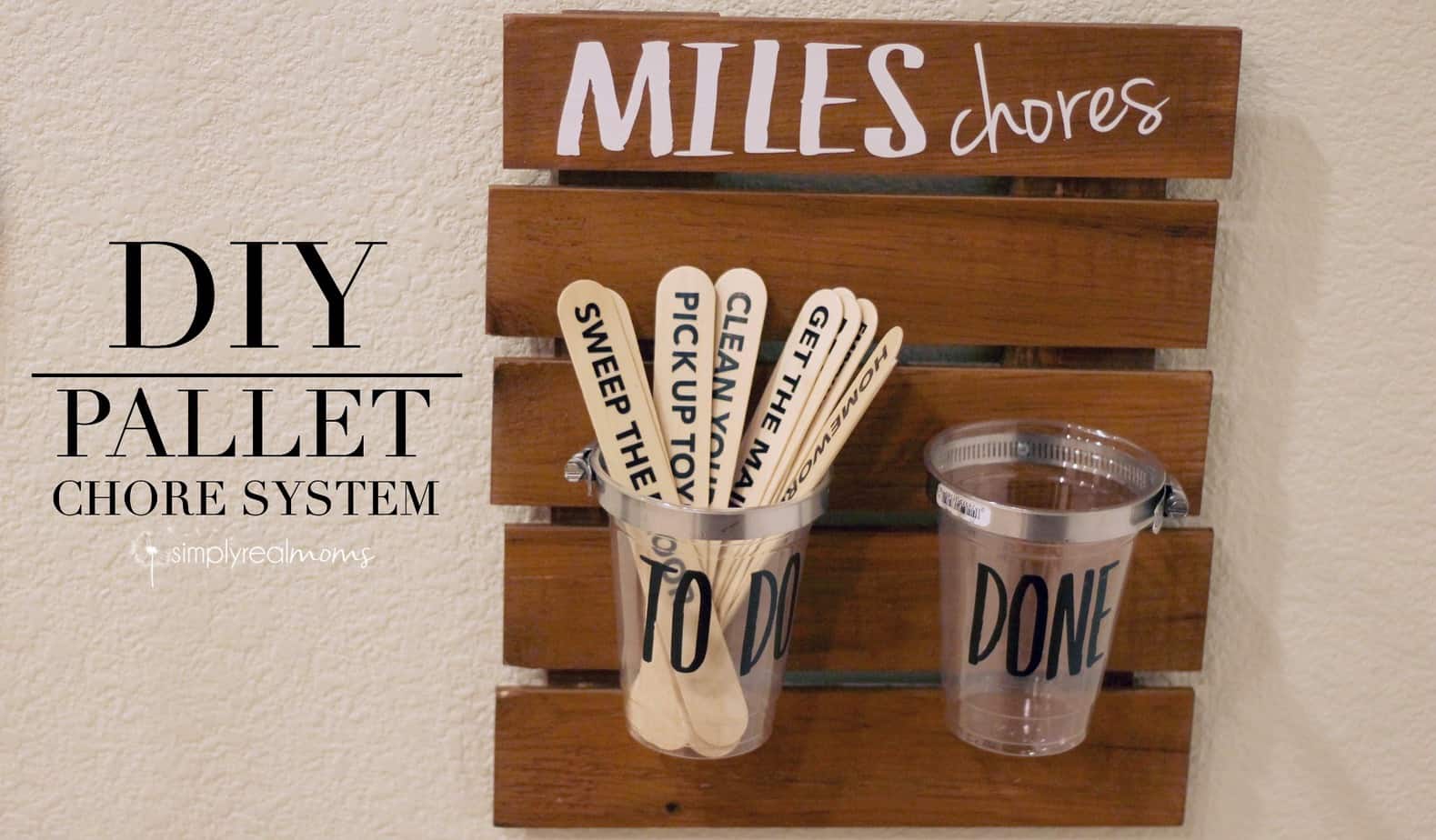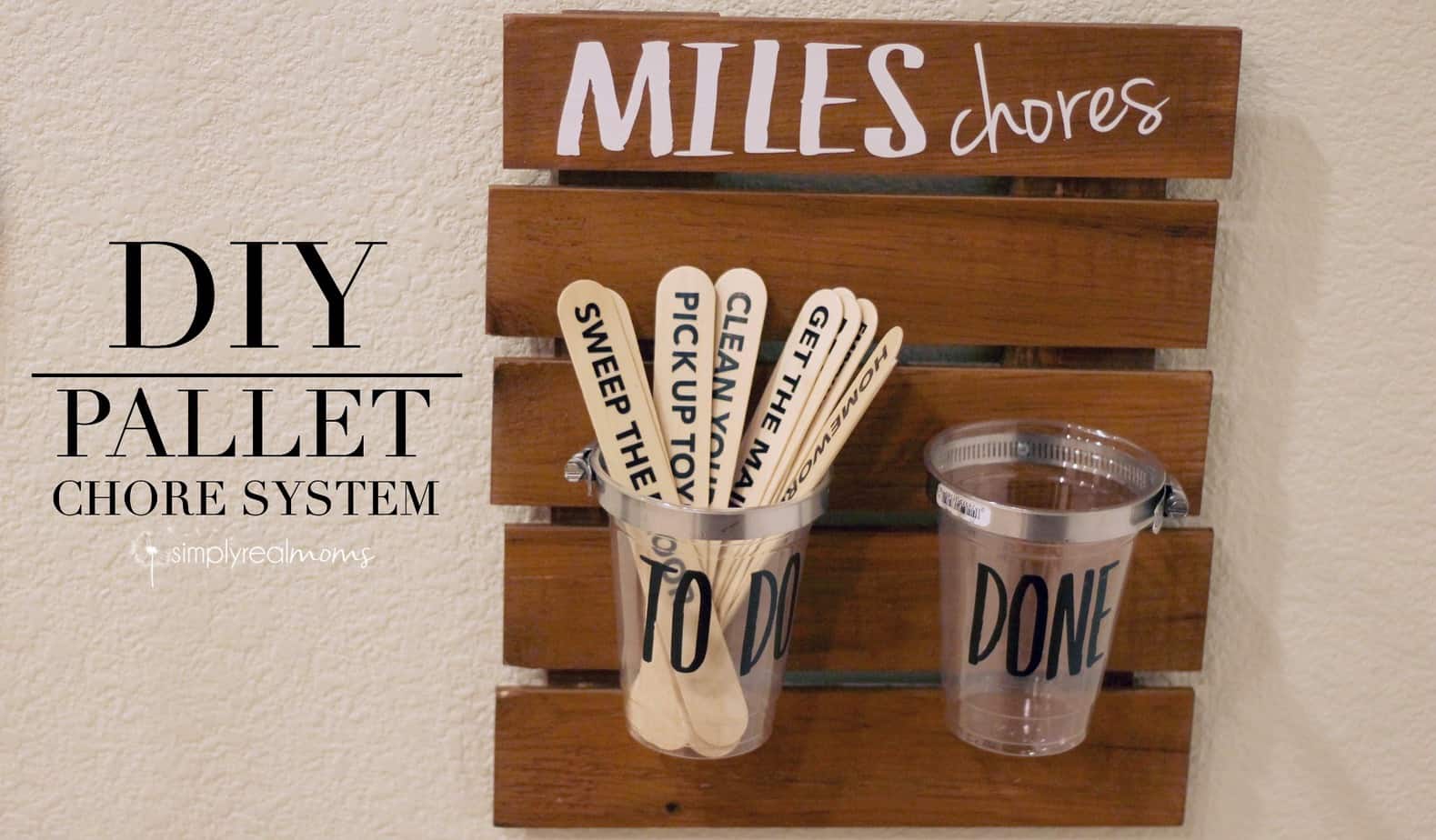 Life has been rough in our home lately. We've had family coming and going for visits and my oldest son just isn't handling it well. Just like any other part of parenting, what works one day may not the next and our normal behavior/chore system is getting seemingly outdated in my son's eyes, so it was time to freshen it up a bit.
I wanted something a little more tangible and easier to see what needed to be done to earn a reward. My son responds well to a visual system a reward so we wanted a chore system that he could see the progress he was making on his goal and get excited about earning a reward.
I started with an unfinished mini pallet I found on Amazon, and we sanded it and stained it using a vinegar and steel wool mixture for a vibrant color. To make your own stain, pour vinegar (we used white vinegar) over grade #0000 steel wool in a glass jar with a metal lid like a mason jar. Let it sit for at least 3 days or until the steel wool is dissolved completely. Shake the container and apply to your wood! Make sure you test the stain on your wood in a small spot-it takes a few minutes to show the color and every wood species stains differently. This pallet turned a red color but I've had wood barely stain at all and wood that turned a gorgeous grey color too. ALWAYS test a stain somewhere that doesn't show before using it on your project!
I added some vinyl lettering I cut on my Silhouette Cameo, but you can buy vinyl letters at any craft store already cut. You can also paint your lettering on using THIS method. 
After sealing the wood with ModPodge, we attached some hanging hardware on the back of the pallet
And screwed on two hose clamps (hardware store) on the front. I used a drill but you can easily do it with a screwdriver too.
I added some vinyl lettering to two clear plastic cups. I wanted to use mason jars, but they seemed a little heavy for this project and we wanted to keep it as simple as possible just in case the pallet was to get pulled off the wall by one of the boys. No broken glass on my watch.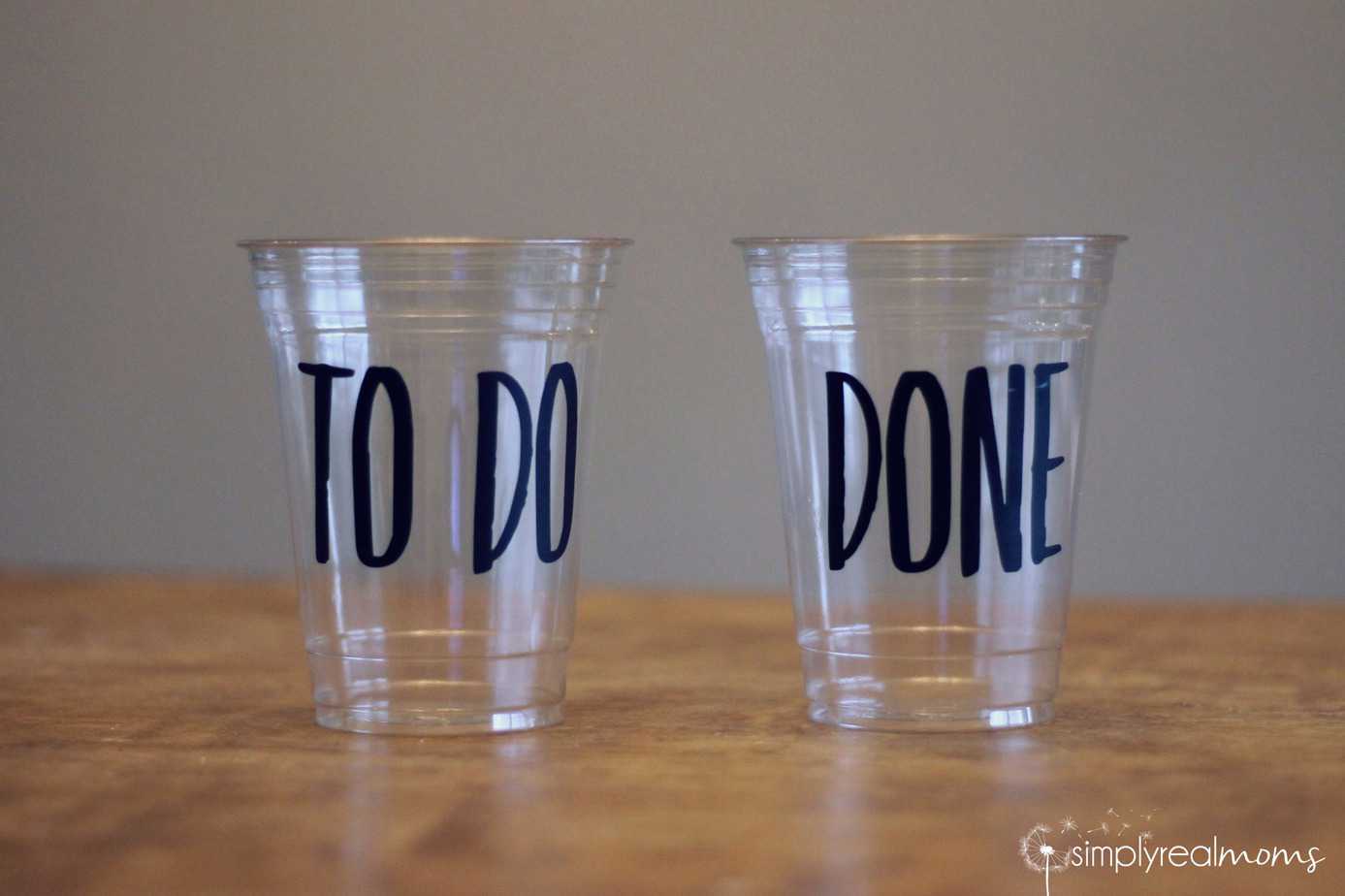 The cups sit right in the hose clamps and it was ready for the chores to be added.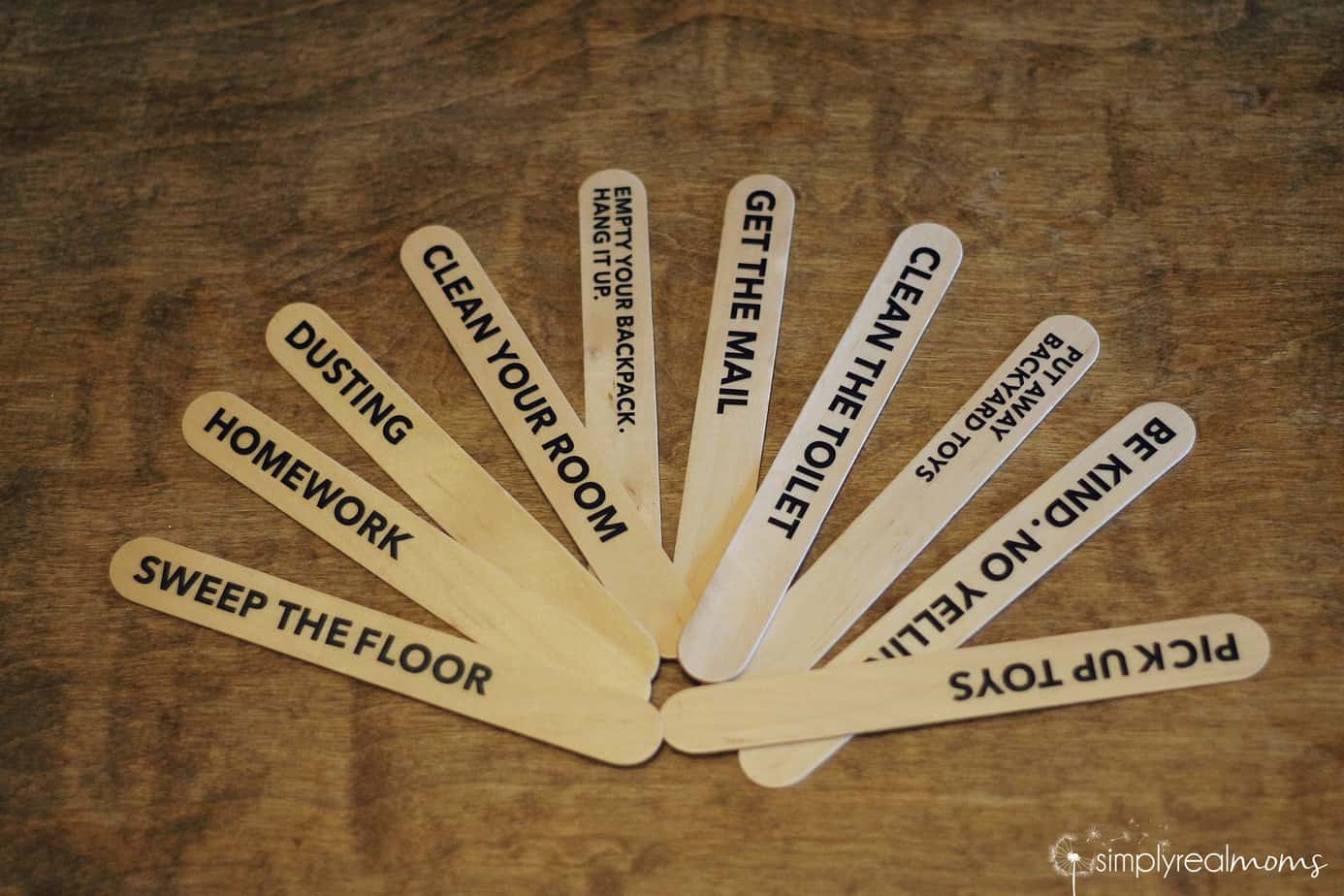 Our chores were simply made using tongue depressors and vinyl letters sealed with ModPodge.
My son can choose his chore to complete and then place it into the "Done" jar once a parent checks to be sure it's finished. Some of his chores are weekday only and some weekend only.
So far, this system is working great! For each day all of his chores are finished, he earns a sticker for his reward chart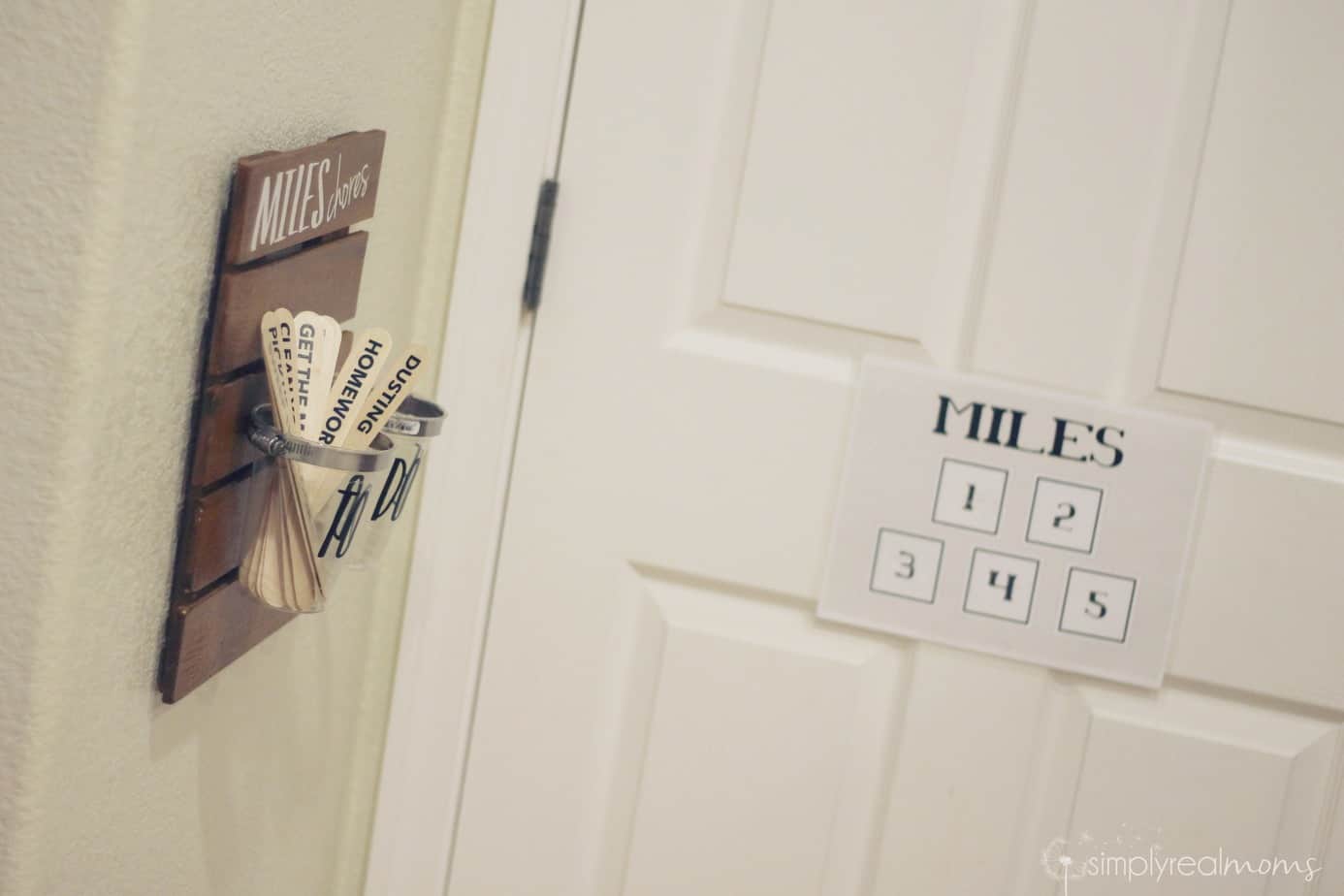 We keep the reward chart right next to his chores, and when he earns 5 stickers he earns a reward. Each week his reward is different depending on what we decide with him. We've been pleased with his willingness to help out more with this very visual aid, and we are looking forward to expanding his chores as he grows!