Doomed to a Messy House and Public Tantrums?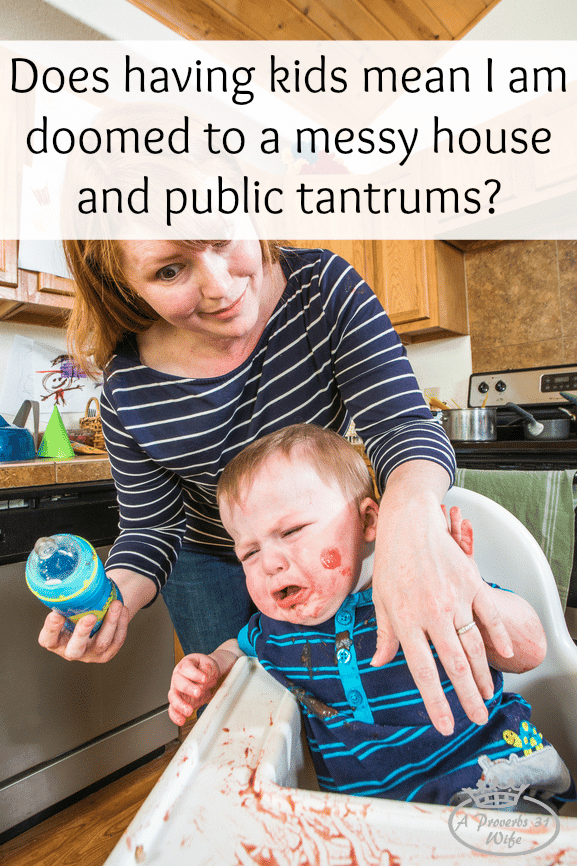 Parenting today.
It's hard.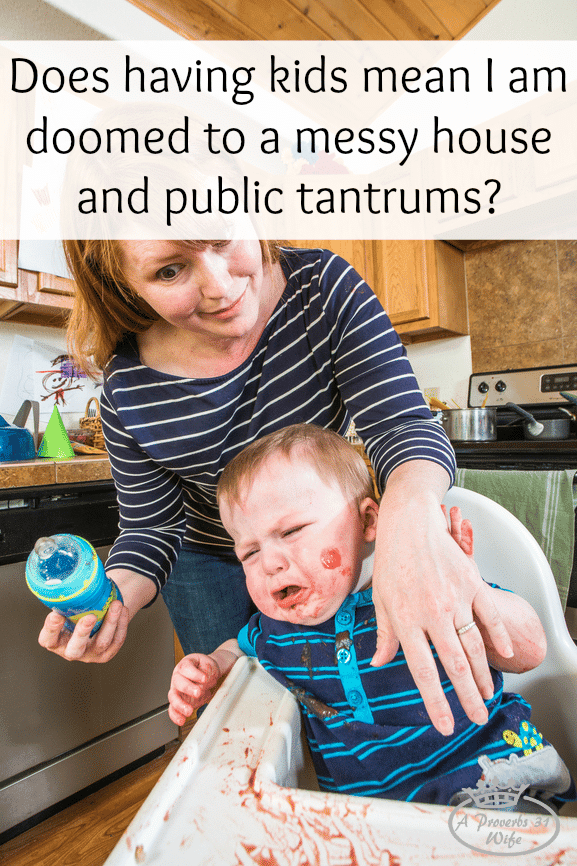 According to 75% of what I read online about, as a parent, I'm doomed to a messy house and public tantrums.
Oh yes, I will also be fixing separate meals to cater to each of my children; and of course I will be cooking them, because if I try going out to eat at a restaurant, I can be sure the little brats, er, darlings will be running wild all over the place.
We won't get started on how my kids will all eventually run around half naked because the laundry piled up so bad that there are no clean clothes for them to wear. Or, it could just have to do with the fact that I was too tired to fight my toddler, so I decided that he didn't need dressed after all.
I will also have to lie to my kids in order to have a moment's peace, and I will get really good at yelling.
Honestly? After reading these funny(?) parenting stories I find myself wondering why in the world I ever decided to have kids.
Why did I decide I want kids, if that's my future?
Let's look at the past.
I didn't grow up with a messy house and public tantrums. I grew up as the oldest of 6, the two youngest were 14 and 16 years younger than me. I actually had a lot to do with raising them, including (but not limited to) baby wearing, potty training, doing schoolwork with a baby on my lap and general training.
My mom was a stay at home, work at home mom. She ran her household well. Yes, sometimes it was messy, but she gave each of us chores and we were responsible for helping keep the house clean. Each Saturday the house was swept and dusted if not perfectly, then at least better than nothing.
Monday's we did laundry. 8 people make a lot of laundry, especially so considering there were 4 boys, and the fact that we lived on a farm. Despite all that, we were usually done washing, drying and (gasp) ironing by Wednesday.
There were a few times that nakedness happened, mostly the whole shirt but no pants thing. However, it wasn't the norm or encouraged at all.
Each of us kids had a few foods we disliked. However, with 8 people, one didn't just fix separate meals for everyone. We ate, or we didn't. There weren't many mealtime battles because mom and dad always won. We ate it, or went hungry. It worked. Restaurants were rare anyways, but we had to stay sitting on our seats. Yes, we were rowdy and loud at times, but we were having lots of fun. (Ever stuck a straw into a jello cube and sucked? Hilarius!)
And the tantrums.  Here's the deal, I remember the little boys both threw a few tantrums when they were 1-2 years old, but I really do not recall that ever happening in public. Not saying we were angels in public (there was a time 3 of us knew we left little sis behind in the toy isle, but didn't tell mom b/c we were mad at her) but tantrums were not permitted. At home, or in public.
The yelling… Okay, so my mom yelled, she yelled a lot. 🙂 But my dad didn't. He almost never raised his voice at us, but we listened to him, oh we listened. When daddy had to paddle us, we knew we were in deep doo-doo for sure.  I would like to know the difference, between the yelling and not yelling. I would like to be like my dad and be calm, time will tell what will happen there.
Back to the present and my worries of being doomed to a messy house and public tantrums. What is the difference between parenting in the time I grew up in, and parenting now? Or is the difference my mom?
I know we weren't perfect kids, I know it wasn't easy, but my mom managed to keep a home that wasn't filthy. She and daddy trained us and tantrums were not permitted.  In spite of her many imperfections, mother managed what a lot of parents claim is impossible and unrealistic, when it comes to raising children.
Yes, my house is sometimes dirty, yes, sometimes we run a bit low on clean clothes. I don't know what my child will be like as a toddler, but that's going to be an adventure I'm sure. However, I do know this. With the wonderful example that my mom set, I don't have to just give up and say, "well, this is just how it is".
I still need to allow myself a small amount of grace though. And if you are reading this and feeling discouraged, let me finish.  I work outside the home full time. This is not something my mom ever did.
I believe that properly caring for my home and family is glorifying to God, but if I allow the idea that I must be perfect to rule me, then I am glorifying self and not God.  I've been praying that God will help me find balance. A home with God at the center glorifies him. If there is a little dust around the edges, but the center is bright with God's love, perhaps that is all that matters.
So, am I doomed to a messy house and public tantrums? Only time will tell. In the mean time, I think I need to talk some more to my mom, and the moms in our church who have raised a family of God fearing young people, who are now raising their families of their own. I want to be the mom who's children rise up and call blessed.