DORIDORI BABY: Where Fashionable Comforts Start
Shopping on Etsy has become my new obsession—with so many adorable hand-crafted items for babies and children, I have considered getting a second job to help support the shopping habits I have developed on that site. One of my new favorite Etsy stores is DORIDORI BABY.  They seriously have the most adorable baby products I have ever seen—these have now been added to my MUST BUY products for my expecting friends!
DORIDORI BABY is a tiny little studio located in Chicago that creates beautifully designed and meticulously crafted baby essentials including baby swaddles, play mats and changing pads. DORIDORI BABY boasts that their items are heirloom quality and they certainly do not disappoint. I have owned several changing and play mats for my children and these by far are the best quality and the most adorable I have seen. I absolutely would hand these down to my children some day; the play mat and changing pad are made from such high quality fabric that they almost feel and look like a beautiful quilt!
I LOVE that the play mat is very large but yet it folds down very neatly to fit in a diaper bag. I always find that play mats aren't large enough and if my baby rolls over, she is already off the mat! But not with the DORIDORI BABY play mats, measuring at 26in x 32in my miss Maelie could roll around a few times and still be on her super fab play mat.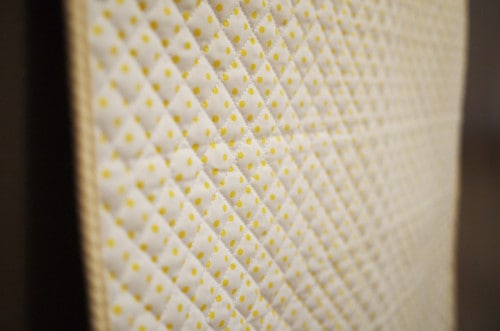 My favorite feature about the play mat is that it can also double as a changing pad. One side is made of beautifully quilted cotton fabric while the other made of a cotton canvas that has been laminated with a lead free non-toxic finish that makes them waterproof. Because of this, you can easily just flip the mat over when you want to change your baby. It doesn't get more convenient than that! Here is a picture of both sides of the mat: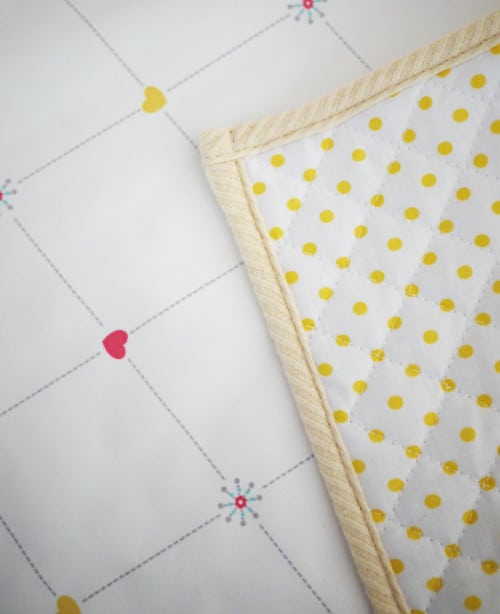 This is the my Maelie-bear playing on her play mat. This picture only show half the mat, it is huge! She LOVES it, and as you can see, there is plenty of room for rolling around!
The changing pad is also the best I have ever owned. It is made of a very sturdy and beautiful fabric and is large enough to cover my daughter's entire body while on it—let's face it moms, when our baby's little tushie or feet hang over her changing mat (especially in a public bathroom), we cringe!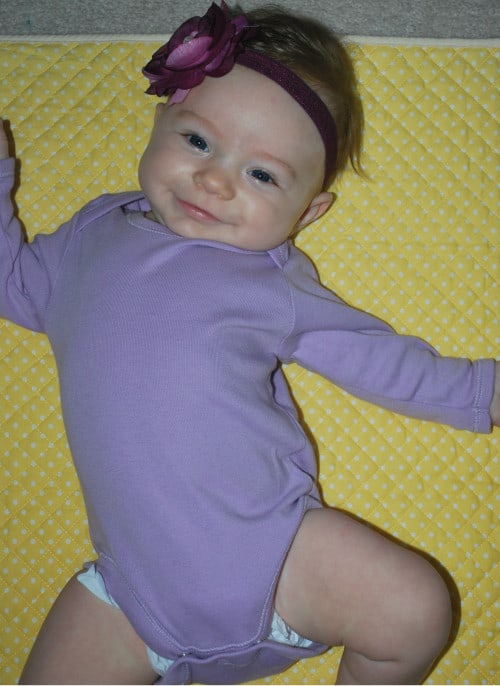 I promise, there will be no cringing with the DORIDORI changing pads. Not only will your baby be completely protected, she will always be changed in style!
And last but not least, the DORIDORI Baby swaddles are not only adorable, they are plush and soft just like your baby's skin. They are perfect for sleeping—my daughter will sleep peacefully for hours in them—which all moms know, that is a MUST for any swaddle. They are also the perfect size—measuring at 34in x 34in, there is plenty of fabric to completely wrap and cover my daughter with plenty of fabric left over so it will still cover her as she grows. Their versatility is so convenient—they can also be used as a stroller cover or even a nursing cover too!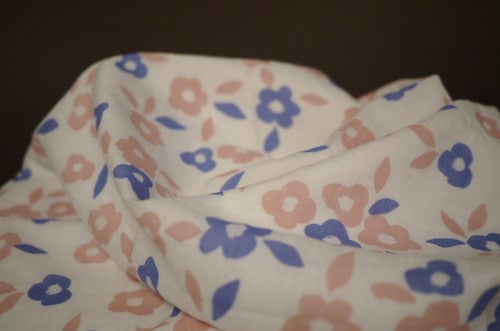 DORIDORI BABY products are the perfect shower gift, new baby gift or even a holiday gift for that special baby in your life. They are all made of high-quality beautiful fabrics that are perfect for any new special little one. Be sure to purchase your DORIDORI products for this holiday season! To shop DORIDORI BABY products visit their online store. You can also follow their blog and find them on Facebook for specials and product news!
*I received this product for review, but these words are strictly my own.