Easter Egg Gardening With Children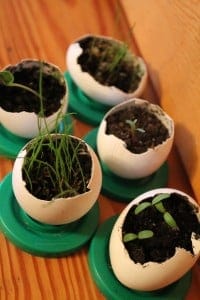 Looking for a simple way to bring some live greenery into your Easter decorations? Try planting seeds in eggshells with your children. It's not too late to have things blossoming around Easter! There are many things that will sprout quickly such as grass, marigolds and zinnias. Or you can wait for Easter to come and use eggshells from the dyed hard boiled eggs that you've decorated with your children for this activity. Here's the best part about planting seeds in eggshells- Eggshells are biodegradable! This means when you are done enjoying the plants in your home, you can transfer them to your garden.
Half eggshells
Soil
Seeds
Thumb tack or needle
Step 1
Save rinsed eggshells. I simply used white eggshells. However, if you wanted to add a little more color, you could let your children paint or color on the shells with marker! Poke a hole in the bottom of your eggshell with a thumb tack. Don't worry about breaking the shell because egg shells are stronger then you think! You can use them so they lay horizontal or vertical. I found it's harder to crack eggs in such a way to only open on one side horizontally. However, if they are horizontal, they don't roll. Vertical eggs need something such as an egg carton to keep them upright.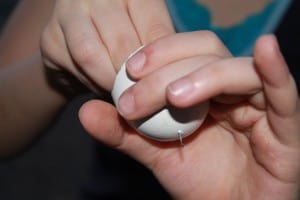 Step 2
Have your child add soil and seeds to your eggshells. My daughter and I went outside for this step. You'd be surprised how easy it is to make a mess with such little soil! In my example, there are 6 eggshells- 2 grass seed, 2 zinnias and 2 marigolds. I chose these because of the quick sprouting time.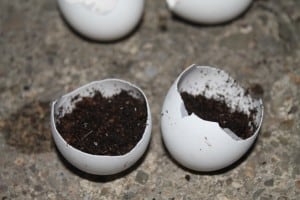 Step 3
Place the shells in or on something that will keep them in an upright position. The easiest thing to use for this is an egg carton. I happen to have lids I had saved that fit just right. Water them and place them in an area where they will get the amount of sunlight needed for success! A simple way to have your children be able to water plants without over-watering or making a huge, wet mess is to get a spray bottle from the dollar store. A couple squirts and you are set!
I hope you enjoy the added greenery to your home this holiday!