Easter Leftovers? Make some Peepshi!
Easter is over!
We hope your family had a lovely weekend, and your baskets were overflowing with eggs and candy. But now what are you supposed to do with those Peeps? No one in our house actually eats Peeps, but somehow they always find their way into our Easter baskets. It's a mystery!
Luckily, the mystery of what to do with them has been solved!
It's not sushi, it's PEEPSHI!
You may have seen some of these adorable takes on Peeps sushi floating around the internet over the last few weeks, but we think this one is the cutest! Submitted to SeriousEats.com by Grace Kang, a platter of Peepshi is sure to make your table a little brighter. You can eat them, of course, (maybe even serving them with Peep-a-tinis?) but being Peeps-haters in our house, we just like to look at them.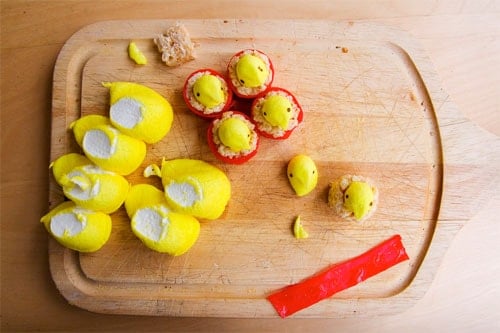 Author:
Grace Kang: Serious Eats
Ingredients
Peeps
Rice Krispies Treats
Fruit by the Foot
Instructions
Slice off six 3/16th inch slices lengthwise from a Rice Krispies Treat (Please don't kill yourself trying to get exactly 3/16 inches. There are more important things to worry about, like beheading Peeps!).
Execute six Peeps of your color choice by decapitation. Cut off more neck than you think is appropriate. If necessary, you can trim off more later.
Portion out a length of Fruit by the Foot slightly longer than the Rice Krispies Treat slice.
Flatten and elongate the Rice Krispies Treat slice slightly and shape it into a hollow circle. It's okay if it breaks, just mold it back together again.
Take a Peep head and tuck it into the top of the hollow Rice Krispies treat cylinder. Use a toothpick or tip of the a knife to help get it snug.
Wrap the Fruit by the Foot strip around your roll. Some folding and nipping may be necessary to get the cleanest look.
Serve at room temperature.
For more details and step-by-step photos, check out
the recipe
on Serious Eats and enjoy!