A good friend shares the savings!
That being said, I am very grateful for the friend who introduced me to Ebates last year around Christmas time.  Today I am going to be that good friend and (attempt to) explain how Ebates works.
Ebates has developed advertising partnerships with hundreds of stores online. A store such as Kohl's will pay Ebates a % of every sale that Ebates sends their way and then Ebates gives a portion of that % to people like me who shop through them.   It's a win-win situation for every one involved. Kohl's gets online advertising, Ebates gets a commission, and I get a rebate! I love it!
To get started go here.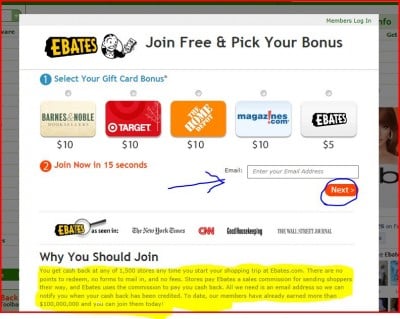 A page like this will pop up, you will want to choose one of these five bonuses. The Ebates bonus is the form of a $5 check. Whichever bonus you choose will be sent to you after your first $25 purchase.
This is what your account page will look like. Because I just created this account for demo purposes only I choose the $5 Ebate cash as the bonus. Up in the right hand corner I circled the promos that are going on right now, those change on a monthly basis.
I need to purchase some wedding gifts and because both couples are registered at Target I am going to see what kind of cash back Ebates offers for Target… 6.0% Yeah!!!  As well as cash back Ebates also offers some great coupons as well so I always check for coupons before I start shopping.  You want to make sure you go to Target.com through Ebates so the little orange button is what you want to click.
Ebates opens the tracking ticket for you and if you make a purchase, then within 2-3 days there should be a rebate posted to your account!   It really is that simple!
If you sign up to Ebates through one of the links I've scattered through out this post then I may receive a credit, it's still free and won't cost you anything. It's just Ebates way of saying thanks for sending a user to their site. Yet another win-win from Ebates!
Whether you sign up through my referral link or elsewhere I know you are going to love Ebates!
One more thing and then I promise I will quit talking, err typing 🙂 Around Christmas time I bought a couple of gifts online through Ebates and the coupons saved me a lot (ave of 15% off) and I also got over $10 back in rebates!