eco-kids play dough: creative play the natural way!
Kids love art, they love to use their imagination to create different shapes and figures, and they certainly love the mess! As an eco-conscious mom, I want to be sure my son's art supplies are non-toxic and environmentally friendly.  I bought the eco-kids eco-dough a couple of months ago and am absolutely in love with this product! My son will play with this dough for hours.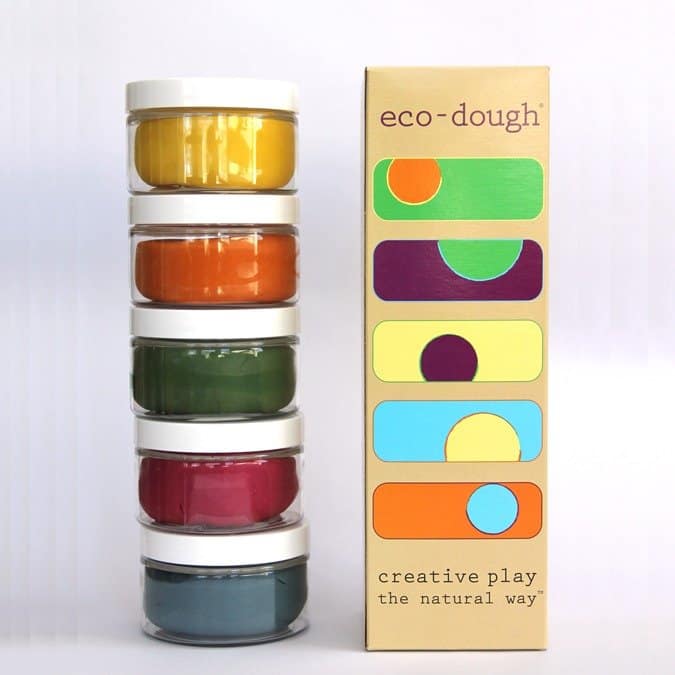 I love that I can let him play without the worry that he will stick it in his mouth—if he does, no problem—it's all natural so it certainly won't hurt him. The play dough is made with natural plant dyes. I have found the dough smells a little like some of the plants it's made with and it's fun to guess what plant is used to color each set of dough. Eco-dough is not only unique because it's all natural, it also has rich and vibrant colors like I have never seen in play dough before.
Eco-kids is a family-run business that produces all-natural art supplies. It began with the molding dough recipe Cammie's mom (eco-kids owner) made for her when she was little girl. As an adult, Cammie decided play around with her mom's original dough recipe and try it with all-natural ingredients. After incorporating natural ingredients into the recipe, the dough was transformed into Eco-dough. In 2008, Cammie and her husband, Kip began selling it at farmers markets and it was a big hit. From there, eco-kids evolved.
This family business lives by their mantra — creative play the natural way. Not only are their art supplies eco-friendly, so is their packaging.  They also work with environmentally friendly companies based in the United States—just another reason to try eco-dough. Be sure to celebrate Earth Day by purchasing some eco-dough—the planet and your kids will thank you!
In addition to the play dough and the finger paints, eco-kids also makes eco-art pads, eco-crayons, eco-eggs egg coloring kit and eco-glue; be sure to check out their cool art supplies today! They can be found at eco-kidsusa.com or you can follow them on Facebook or Twitter.
* I personally own and love this product.  I was not compensated in any way for this review.