Edible Paint for Toddlers | Good Messes Gone Bad
Last week I decided to try out for the "Mom of the Year" slash "Best Nanny EVER" awards. I was going to let the babies (11mo & 22mo) finger paint! There was a slight glitch in the program when I recalled how babies put everything in their mouths.
"Most Health Conscious" seemed like a good award as well, so I decided to qualify for that one by making edible paint for toddlers.
I spent well over an hour making my color and then making the paint, but knew it would be sooo worth it! I just imagined how much fun those two mess-loving little boys would have while happily smearing paint all over paper, each other, and themselves.
I also imagined being able to take a small break while they were so happily employed.
It was looking good.
Little fingers went wiggle-wiggle in the paint, and papers were getting smeared faster than I could cut new ones.
It would be a great morning. Babies painting and momma getting a little chill-time.
Then THIS happened:
I have NO IDEA why it happened, but one minute I'm taking pictures of them smiling and playing and the next minute they are BOTH bawling their heads off! Over an hour of work spent for 5 minutes of play that ended in tears over something I have yet to figure out!
The 4-year-old and I couldn't quit laughing over it and I snapped a few more photos before rescuing(?) them. Which of course means not only did I NOT achieve "Mom of the Year"/"Best Nanny Ever" award, I'm pretty sure I put myself in the finals for "Worst Mom Ever!"
I did do something right though. I totally scored the "Most Prepared Mom" award, for remembering to grab my package of Huggies Natural Care ® wipes as we went out to paint.
Comprised of 3 absorbent layers, these wipes are perfect for cleaning up good messes gone bad! I'm a huge fan of using cloth and reducing waste, but sometimes a disposable wipe is best.
That's why I'm really thankful for the #TripleClean technology found in the Huggies Natural Care ® wipes. In simple terms, that just means that they are very absorbent and it takes fewer wipes to get the job done (e.g. baby clean) than other brands.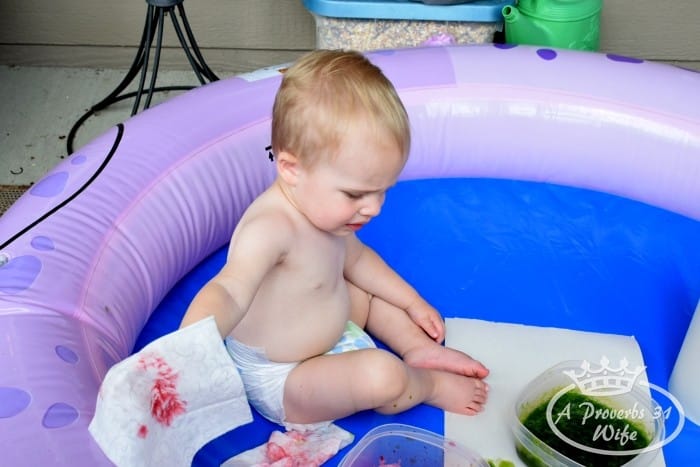 Edible Paint for Toddlers ~ 3 Ing. Recipe
Gelatin
Water
Natural coloring
It is very easy to make natural coloring out of veggies and as you can see, the colors are bright and vivid.

Edible Paint for Toddlers Instructions
Pour 1/2 cup boiling water into a glass dish.
Whisk in 1 package of plain gelatin.
Add 1 cup of ice-cold water, and 1/2 cup of desired color.
Chill for an hour, whisking briskly every 15 minutes to prevent complete jelling.
Give to toddlers in diapers and watch them play. (or cry!)
Each recipe, makes 2 cups of paint, so I just made 2 cups of each color figuring they eventually would dump the paint and just smear it around with their feet. However, the cry-fest started before that happened!
I highly recommend putting the babies in a pool for this project. It nicely contained the mess and made clean-up easy. I used the Huggies Natural Care ® wipes to clean up arms, legs and faces, and later took the garden hose to the pool.
With Huggies Natural Care ®, #TripleClean Technology, we get to keep the play, not the dirty. Because Kids Outgrow Diapers, Not Messes*!
Want more fun? Check out these videos below!
Have you ever thought you would be the "Best Mom Ever" and have it go hilariously wrong?